Which online terms do I need to know? Stannah's digital glossary of online terms
2 February, 2023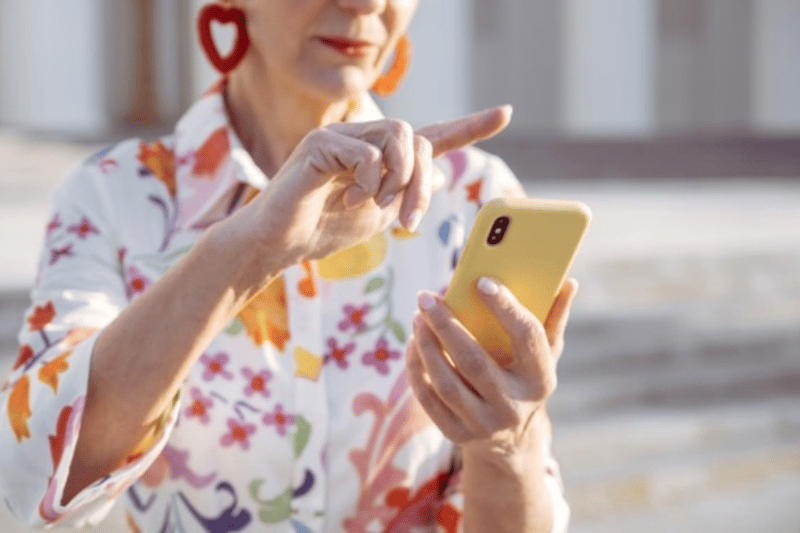 Creating dating profiles, playing games on the internet, and using social media platforms have become the norm for many online – but that's not always the case. For those who are digitally shy or tend to turn to traditional uses of computers, operating a modern digital landscape can be challenging.
Technology is constantly evolving, so it's more important than ever to be aware of the (also ever-changing!) jargon we find on the internet. What's more, technology can be life-enhancing at any age; the internet can be used to find out how homes can be adapted for mobility needs and is a hub of advice on navigating life's challenges.
Our digital glossary includes terms relating to the internet, online dating, financial protection, and social media platforms to ensure online safety and open up opportunities to enjoy all that the internet has to offer. Navigating the online world needn't be a challenge – get clued up on your digital terminology and discover how technology can help you keep on being you.
A | B | C | D | E | F | G | H | I | J | K | L | M | N | O | P | Q | R | S | T | U | V | W | X | Y | Z
A –
Account takeover - When a fraudster makes unauthorised use of another person's internet account, typically for financial gain.
Android- A tech giant, like Apple, primarily specialises in mobile operating systems.
Anti-virus software - A program to find and get rid of viruses and other dangerous software from your laptop or computer.
App – Short for applications, apps are programmes that are downloaded and installed onto mobile devices or computers.
Apple – Another tech giant in mobile operating systems, famous for the creation of iPhones, iPads and Mac computers.
B –
Backup – Saving files, media or data to a cloud-based database is known as backing up.
Bio – Social media users write a short biography for their profile that describes them, often with details of their job, hobbies or interests.
Blogs - Blogs are often run by an individual or a company that posts articles on a regular basis about a certain subject or brand.
Bluetooth – Bluetooth allows mobile phone users to take calls from separate devices (like headphones and cars) and listen to music or share data.
Bot – Bots can be found on social media or dating apps and are automated accounts, usually used to lure users into fraudulent activity.
Browse – A term used to describe searching the internet.
Bitcoin - Digital money (or cryptocurrency) that can only be exchanged over the internet.
Bumble - Bumble is a unique dating app, in that women have to start the conversations when a match is made.
C-
CAPTCHA- When logging into an online account, you may be asked to complete a CAPTCHA – by selecting, for example, images containing traffic lights (among other things). This is a system made to distinguish between real people and computer software.
Cache- A computer device known as a cache—either hardware or software—is made to store data, for example, within a user's web browser.
Comment- Responding to a user's post on social media or a news article is known as a comment.
Cookies- Cookies are embedded across the internet, with websites asking you whether you'd like to enable them upon your first visit. They allow web browsers to deliver ads that are relevant to you by accessing stored data.
Catfishing- When a person pretends to be someone else to attract users into giving them personal information or money, they are known as catfish. This term can also refer to someone who looks more attractive in their online presence than they do in person.
Cuffing Season- Cuffing season (autumn and winter) is when single individuals start looking for relationships to get them through the drier months of the year.
Cyberfraud- This is the general term given to any internet fraud.
D-
Dark web- The dark web, which is said to be hundreds of times bigger than the web we use every day, is a part of the internet that can't be accessed via search engines and is home to lots of illegal internet activity.
Desktop- Quite simply, your desktop is the screen you're looking at when using a computer.
Direct Message- Commonly known as "DMs," direct messages are where social media users can have a conversation, either one-on-one or in groups.
E –
E-commerce- This is the term given to any commercial activity online, whether buying or selling goods or services.
Ebook- A book's electronic equivalent is known as an ebook, allowing you to read on mobiles, tablets or computers.
e-Skimming- To steal credit card information and personal information, cybercriminals embed skimming codes on e-commerce payment card processing web pages.
Emoji- Cartoon-like symbols used in place of feelings, concepts, or things in online and text messages.
Encrypted- The process of converting information into a secret code that conceals its real meaning is known as encryption, ensuring that users' private information conversations are kept safe from fraudsters.
Error 404- A response code used to show that a web server could not find the web page or resource requested.
F-
FaceTime- A video calling service created by Apple, exclusive to iPhones, iPads and Macs.
Facebook- One of the most popular social media platforms, Facebook allows users to connect with friends and loved ones to share updates, photos and video content.
File- An internal component of a computer that contains data, information, or media.
First-party fraud- Usually referred to as "credit mulling," this is the practice of giving false information to get a good or service for free.
Folder- A digital database where your files are stored.
Follower- A follower subscribes to your account on social media to see your updates.

G-
GIF- GIFs (Graphics Interchange Formats) are short animations and video snippets used prominently on social media.
Ghosting- When a potential partner you've been dating or messaging suddenly disappears without explanation, leaving you questioning what has happened.
Google- The most popular search engine in the world, Google also allows you to create documents, search maps, and has an email service.
Groups – Groups are popular on Facebook, where users with similar interests can share content and connect with each other.

H-
HTML- HyperText Markup Language, or HTML, is the code used by a website to instruct web browsers on how to display its content.
Hacking- Scammers use advanced technology to access internet users' accounts, information or websites – usually for financial gain.
Handle- Social media users' usernames are commonly known as their handle, starting with an @ symbol.
Hashtag- Hashtags (#) attached to the beginning of words or phrases on social media allow users to search the platform by keywords.
Hinge- Hinge is a dating app that deviates from the standard swipe-right/swipe-left pattern. Instead, users can 'like' individual images or statements made by other users to prompt a match.
Hyperlink- A hyperlink, or simply a link, is a digital pointer to another information source on the internet.
I-
Icon- Small symbols or images on websites that act as buttons to direct internet users to another webpage.
Identity fraud- A scammer who impersonates another person in order to make financial gain is committing identity fraud.
Instagram- Instagram is a photo-sharing programme that enables users to capture pictures or reels, edit them with filters, and post them right away.
Instagram stories- Instagram Stories are full-screen, vertical images and videos that vanish after a day. Instead of the news feed, they appear at the Instagram app's top.
J-  

K-
L-
Like- A social media user can show appreciation for a piece of content by giving it a 'like'.
LinkedIn- A social media network for businesses and workers.
Live (social media)- Live streaming is a tool that allows users to post unedited, live videos in real-time on social media.
Loan fraud- When fraudsters knowingly offer false information to get financing, such as a mortgage, for which they are not qualified.
Log-on- All internet and social media users have to log in with a username/email and password to access their accounts.
M-
Malware- Malware (malicious software) is software that is designed to damage, attack, or take control of a computer system without authorisation.
Match- Matches are created on dating apps when two users mutually like each other – usually indicated by swiping right on each other's profiles. This allows those users to start a conversation.
Meme- Usually comedic, a meme can be made of text, imagery, video, or GIF content and appears on social media and messaging platforms in conversation.
Mention- Social media users can mention others in posts by tagging their accounts with their @, handle or username.
N-
News Feed- On social media, news feeds (or timelines) are where users can view the most recent updates from people they follow or are friends with.
Netflix- One of the most popular video streaming services, with users paying a monthly subscription fee to access the content.
Nostalgia stanning- In the dating trend known as nostalgia stanning, potential partners are assessed using dating trends from previous decades – more recently, the 2000s for millennials.

O-

P-
PDF- A pdf is a digital file typically used for online documents that need signing.
Password- A password or passcode is the name given to a set of letters and numbers that protect online accounts from fraudulent activity.
Phishing scams- The most common form of digital scam, phishing scammers use fake messages, phone numbers, organisations or websites are used to trick other users into providing personal, financial, or password information.
Podcast- A podcast is a form of on-demand radio show that can be accessed on most music streaming services.
Pop-up- Web adverts that pop up on computer screens in an effort to convince users to subscribe to newsletters, promotions or sign up for an account.
Q- 
Query- Search queries are questions asked to search engines, like Google, to find an answer – users could, for example, Google: "Why do dogs bark?"
R-
Red flag- Red flags are signs that you could be about to enter into or are currently in a toxic relationship – usually attributed to your partner.
Refresh- All Internet browsers include a refresh button that tells the browser to show you the most current version of the page being viewed.
Retweet- When someone reads your tweet on Twitter and decides to share it with their followers, this is known as a retweet.
Router- A device that offers Wi-Fi and is often connected to a modem called a router. It transmits data from the internet to portable electronics, including laptops, smartphones, and tablets.
S-
Selfie- A self-portrait taken using a camera, computer, or mobile phone.
Share- Social media users can send another user's content to their connections, groups, or particular people using the 'Share' button.
Slow Dating- The tendency for singles to spend a long time getting to know potential dates on dating apps before deciding to meet.
Snapchat- Snapchat is a social media software that enables users to send and receive "snaps," which are time-sensitive (usually 10-second) photographs and videos.
Software- The operating system, programs and information used by a computer.
Spam- Not to be confused with tinned meats, spam refers to often fraudulent emails or messages that usually encourage users to share personal information.
Spotify- Spotify is a social media-enhanced music streaming service. A subscription-based service, users can access millions of songs and see what their friends are listening to.
Spyware- A program that watches what users do and forwards information to a scammer. It is most commonly found when free software is downloaded from the internet.
Stannah Live - Stannah Live is a one-way video call that allows you to browse our range of products wherever you are.
Story- Media that appears on a social media user's profile for a limited 24-hour period.
Swipe Left/Swipe Right – Dating apps encourage users to swipe left or right on others' profiles to express whether or not they are interested in the user.
T-
Tag- Social media users can notify others that they appear in an image they post by tagging their accounts.
Thread- A series of social media posts or a discussion connected by an original update.
Third-party fraud- The most common kind of scam. A scammer uses another person's personal information to conduct fraud.
TikTok- TikTok is one of the most rapidly expanding social media sites, drawing users in with endless short-form video content
Tinder- The dating app that started the "swipe right/swipe left craze", which remains among the top dating sites globally.
Trending Topic- The most popular topics and hashtags on a social media network are "trending".
Troll- A user who posts unpleasant, irrelevant, or malicious comments online to provoke others.
Twitter- A social media platform that lets users exchange 140-character updates with those who have followed them. Users can get involved in discussions using @ mentions and hashtags.
Two-Factor Authentication- As part of a security mechanism known as two-factor authentication, a user's credentials must be verified using two different means.

U-
Upload- Saving data onto a computer or cloud-based database is known as uploading, which can also apply when attaching images or videos to social media posts.
URL- Also known as a Uniform Resource Locator (URL), this is the web address of a website that appears in the search bar.

V-
Verified- Social media users are verified if the platform recognises that they are noteworthy, usually signalling an authentic account to other users.
Vlogging- Vlogs are popular on sites that host videos, such as YouTube. A video-based version of blogging, where users typically document an event or activity through personal videos.
Viral- A piece of content – whether video, blog, or written social media post – is considered to have gone viral when it's seen and interacted with by a large number of web users.
Virus- A malicious program that infects other applications and files without the user's knowledge, causing harm to computers.
W-
www- This stand for the World Wide Web - an information system that allows access to web resources over the Internet.
Wi-Fi- Wi-Fi refers to a wireless internet connection allowing your device to access the internet.
Webinar- A webinar is a seminar or presentation that takes place virtually.
Web browser- You can access any website using a web browser, whether searching for information or directly visiting a webpage.
WhatsApp- WhatsApp is a social media messaging programme that allows users to message via an encrypted internet connection.
 
Special characters (domain extensions)
These usually appear after a website's address, showing the type of organisation the site belongs to.
.com - Commercial business 
.co.uk -  UK business
.edu - Educational institutions 
.gov - Government agencies 
.mil - Military 
.net - Networks organization 
.org - Organizations (non-profit) 
Find out how you can set your family up for life with our top financial tips and the benefits of embracing a digital lifestyle in later life with our handy advice.
Stairlifts made for you
All our stairlifts whether straight or curved are customised to suit you and your home so call now to arrange a visit to get your FREE personalised quote!