Richard Allinson's musical moments: pioneering performances that changed music forever
4 February, 2021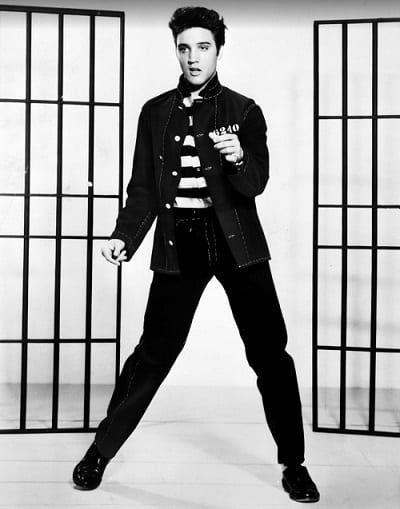 We're delighted to welcome the brilliant broadcaster Richard Allinson as Stannah's Entertainment Aficionado. With his passion for music and illustrious radio career, no one is better placed to shine a light on the glittering world of entertainment and its remarkable impact on our lives. Join us on a journey down musical memory lane and feel inspired by Richard's recommendations on must-watch and must-listen-to media.
Welcome to part one of two blogs to start the series, here, Richard shares powerful performances by iconic musical acts that kickstarted legacies the world will never forget. So, over to Richard and rock 'n' roll royalty…
Hello! Here's a little about me and my radio roots
Radio is a special place; I've spent the majority of my life in there. Whether you turn on the radio to discover what's going on in the world, or to escape from it, you're in your own unique environment.
Radio remains that rare place where we broadcasters can have an idea, develop an argument or become inspired by a thought and 30 seconds later it's on-air. And it's been like that for the best part of 100 years, since the government gave the BBC permission to go out and play in 1922. Even as digital technology grows into a more trustworthy partner, I still mostly sit in a padded room talking to myself. Most of the big stuff is happening outside my window.
Now I will delve into the pivotal moments in music history that continue to inspire us, and the seismic shifts in technology that enabled our listening pleasure. Radio is where the two meet; we listen to musical legends — past and present — via revolutionary automation.
Alongside radio, TV has been a 20th century broadcasting breakthrough that lives on. Let's take a look at iconic events that changed the face of music.
The Beatles vs Elvis — how hormones drove their dizzy heights of success
Hormones. Not biology so much, but how to turn on an audience. Look at so many of the timeless ground-breaking outrageous performances of our youth and they seem… tame. Maybe the lighting's better or we're just used to seeing them whenever on YouTube, or maybe they just pale into insignificance when we watch just two performances by two of the greatest.
We're into well-charted territory here and the jury's permanently out on this one; Elvis fans seem almost magnetically opposed to Beatles fans when it comes to who remains the greatest but I'm with The Beatles. There, I've said it.
Yes, Elvis remains the artist who introduced rock 'n' roll to the whole of planet Earth. The last published figures I saw show his estate still making more money than when he was alive. It is no cliché to call Elvis an icon, an idol, a hero.
The night 'The King' was crowned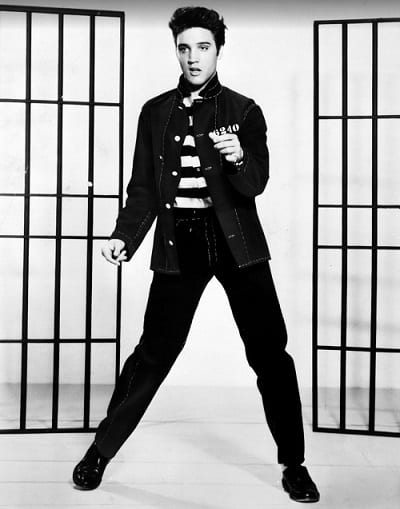 As an artist, Elvis' early recordings with Sam Phillips at Sun Records in the 1950s defined the sound of rock 'n' roll. As a performer, he re-defined the visual image of popular music on national TV with his appearance on the Milton Berle show on NBC in 1956 — he lost the guitar, he grabbed the mic, he gyrated his pelvis. He was 21. That was the night Elvis was crowned 'The King'. Then eight years later, The Beatles took this to another level.
The birth of 'Beatlemania' — a lesson in winning over an audience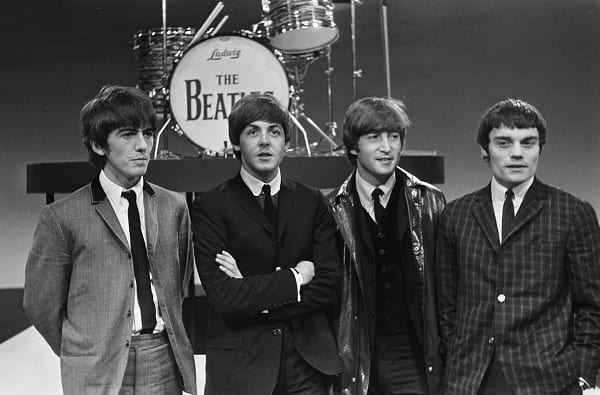 It was 1964. Elvis was mainstream — just look at those movies — and America was ready for something new. The Beatles couldn't gyrate their hips; they were playing their instruments. They sang their own songs. They shook their hair. They were a band.
Sunday 9th February saw The Beatles do their record-breaking first live performance of 'Twist and Shout'. Ed Sullivan had the big show on CBS. George Harrison was ill, so had to miss the rehearsals and the recording. But he made the show itself. When Ed Sullivan began his introduction, he played that trusted showbiz trick, taking a quick peek through the stage curtains to check if the boys were ready. He knew they were ready; it was all recorded. If he'd intended to say more than "Ladies and gentlemen, The Beatles" he dropped that idea — the audience's screams had already rendered any mic completely useless. The playback started, the boys sang along, the screaming never stopped — over 73m Americans were transfixed.
This is the clincher for me: it wasn't their performance, it was the audience. Elvis knew that a little pelvis action was all it took to turn on the screams. All The Beatles had to do was stand still. In a little under nine minutes, and with three songs, The Beatles began a seven-year helter-skelter ride that would make them the most influential and popular artists of all time. That night on CBS, they introduced 73m TV viewers to the overwhelming power of female hormones.
The beauty of YouTube — yet another media miracle — is that we can tune into these moments and be transported to another time, at any time. Nostalgia is proven to boost memory and mood, so treat yourself to a trip down a toe-tapping time tunnel today.
From trailblazing performances to pioneering technology…
Join me on the road to recorded sound in part two of my 'Music that changed music forever' series. Here I chart a timeline of music technology — from tin to turntable, shellac to streaming. The future sounds exciting, too…
Stairlifts made for you
All our stairlifts whether straight or curved are customised to suit you and your home so call now to arrange a visit to get your FREE personalised quote!