We've been spending more time than ever at home, which for many of us is set to continue in the 'new normal'. You may have paid closer attention to your décor, noticed certain rooms need a little TLC or questioned your furniture arrangement. Indeed, UK Google searches for 'home improvements' steadily climbed through lockdown before spiking in July.
As we move into the darker winter months with shorter sunny hours, it's worth considering improving your lovely space to let in more natural daylight, so your home remains a welcoming, bright place for you and your family to enjoy. Exposure to natural light is important for our wellbeing, with just 13 minutes of sun each day proven to offer 'reasonable' levels of vitamin D and significant antidepressant benefits. If you experience Seasonal Affective Disorder (SAD), also known as the 'winter blues', simple changes to your space can make this more manageable. If you're working from home, greater exposure to daylight will reduce the chance of strained vision and improve productivity too.
But, making the most of natural daylight during autumn and winter can be difficult - particularly if your home has dark décor or is surrounded by high shrubbery. No matter what your age, our homes are so valuable to us; arguably more so as we grow older. That's why we've collated seven enlightening tricks for bringing more brightness into the home. There's no need to take drastic measures; whether it's a lick of paint, a spot of window cleaning or shiny new accessories, you'll see the light and feel a warm glow in no time.
TIP 1: Lighter is brighter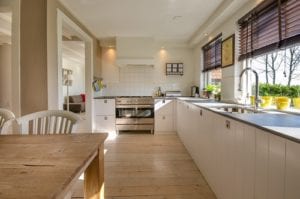 The darker the décor, the smaller and dimmer a room will feel. If possible, replace dark block colours and statement wallpaper with a lick of lighter paint. Use one with a satin finish as it's more reflective than matte. Another technique is to paint the ceiling a couple of shades lighter than the walls to create the illusion of height and space. Paint brushes at the ready!
TIP 2: Let it shine
Incorporating more mirrors into your home is the quickest and easiest way to create more light. Whether it's investing in larger mirrors or buying mirrored furniture and accessories – light will bounce off these reflective surfaces allowing the room to feel bigger while adding a stylish touch in any room. For example, open up your kitchen or bathroom by installing backsplashes which reflect other light sources. Try hanging a big mirror directly across from the largest window in your room or use a selection of smaller mirrors to help brighten a darker area of the house.
TIP 3: Windows and doors
It may sound obvious, but the smaller windows are, the less daylight will get in. Installing bigger (or more) windows will eliminate this problem. Skylights are a popular way to achieve a bright and airy feel at home, even on a cloudy day. It's easy to forget, but doors are also important to catch lots of light in our homes. Solid doors can't reflect light as much as those with windows, so consider swapping them for doors with glass.
TIP 4: Keep windows sparkling
It's a chore that many of us try and avoid but ensuring windows and reflective surfaces are thoroughly cleaned is a quick and relatively easy way of increasing the amount of sunlight that's able to shine through. A little elbow grease goes a long way and can make a remarkable difference. If you're unable to do this yourself, then contact a local window cleaner who will make your windows sparkle.
TIP 5: It's what's on the outside that (also) counts
It's not just improvements to the interior of a house which make a difference to daylight levels inside - light needs to be able to get in in the first place! You will be surprised how much of a difference manicuring your outdoor space can have. Check your garden to see which tall trees or shrubs may be blocking daylight from entering and consider trimming them. It's a wonderful way of drawing light into your home, without changing your interiors.
TIP 6: Look down
Changing one element of a room can often make a huge difference to the look and feel of a space - and dark wooden floors can often be detrimental to lighting. Changing the colour of flooring tiles or choosing a lighter shade of laminate flooring will help to brighten and enlarge a room or hallway. Alternatively, rugs are an inexpensive way of covering dark floors, whilst injecting personality into your home.
TIP 7: Fake it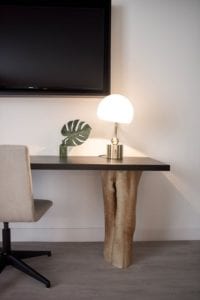 Artificial lighting is the next best thing to daylight. Lamps, chandeliers and fairy lights will all help to enhance natural daylight, whilst creating a homely ambience. There are different types of lights available to get the desired effect you're after, from warm LED to bright white bulbs, spotlights and dimmers. They are especially useful for brightening awkward alcoves, whilst providing the perfect furnishing or accessory. For example, transform an unused nook in the home by adding in a lamp to create a cosy reading corner.
Light boxes can also be effective during the darker seasons. A type of light therapy, they produce a very bright light to stimulate the sunlight that's missing during this time of year. These are often recommended for those who suffer with Seasonal Affective Disorder (SAD) due to reduced exposure to sunlight during shorter autumn and winter days.
Homes are our havens, especially during the colder seasons. So, look on the bright side and consider this an exciting opportunity to create and enjoy a light and lovely space.
Stairlifts made for you
All our stairlifts whether straight or curved are customised to suit you and your home so call now to arrange a visit to get your FREE personalised quote!