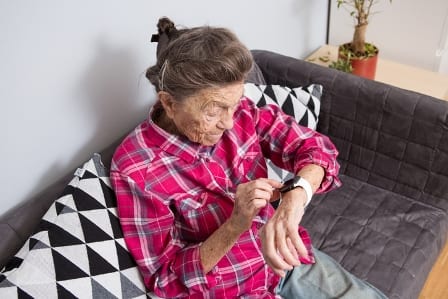 Technology has come a long way over the last 20 years or so, but the digital world has lots of benefits and can open many doors in later life. The number of seniors connected to the internet is increasing, with our own research showing that nearly a third (32%) of over 65s spend more than half an hour on social media each day. But this means many still aren't making the most of potentially life-enhancing technology.
Here are five reasons why you should embrace smart phones, social media and wearable devices for a more fulfilled life:
1.Technology can make your life easier
Technology can be adapted to suit you in order to make your life simpler, especially around the home. For example, enlarged text on your tablet or your Kindle can make reading and messaging much easier. Being online can assist with shopping tasks, with necessities being delivered straight to your front door. Also, voice recognition software like an Amazon Echo can provide huge support around the house.
2. You don't have to be in the same room to have a chin wag
With more than a third of over-75s feeling that their loneliness is beyond their control, embracing the digital world can help remedy this. Social media channels such as Facebook and video chat sites like Skype are a great way to keep in touch with your loved ones, no matter where they are. Who knows – at the speed that technology is moving, robots may be the next big thing to keep us all company in old age!
3. There are endless hours of entertainment at your fingertips
With the internet comes a never-ending choice of entertainment, but our research found that only 9% of over 65s are taking advantage of this. Whether it be Sudoku and puzzle apps, catching up on your favourite programmes or watching YouTube videos to learn a new skill – why not try something new today?
4. Technology can help to keep you healthy
Wearable technology such as smart watches, can help you monitor and keep track of your health. They can help remind you when it is time to take your tablets, or when to get up and move around if you have been sitting down for too long. So, why not impress the grandchildren and ask for some tech gear for your birthday this year?
5. Enjoy your independence for longer with technology
Telecare is widely used in homes for the elderly to provide invaluable security and reassurance to those who may be in need. For example, personal alarms, fall detectors and bed sensors which detect a lack of movement can be used to provide peace of mind to you and your family. This technology will alert a monitoring centre which will be able to organise appropriate assistance – allowing you to stay in your home independently, for longer.
Whilst technology can seem complicated, it can have many benefits which are enabling in later life that leave you feeling more fulfilled. So have some fun – the benefits will be undeniable!
Stairlifts made for you
All our stairlifts whether straight or curved are customised to suit you and your home so call now to arrange a visit to get your FREE personalised quote!