Amateur gardeners, this one's for you!
Our seasonal garden planner is co-created with our green-fingered gardening expert and BBC Gardener's World presenter Mark Lane. Here, Mark provides a beginner's guide to polishing up on prepping, planting and pruning throughout the year.
Taking care of your garden can become a taxing task. With Mark Lane's expertise, our planner helps to ease the pressure of keeping your outdoor space looking beautiful.
Essential garden maintenance
For each month of the year, there are three essential garden maintenance tasks for any green finger: preparing, planting, and pruning. Cramming your planting into traditional pre-summer months can be exhausting. Why not stagger planting throughout the year to ensure your garden is in constant bloom? Of course, some garden activities need to happen all year - lawn mowing is not an annual activity!
 Throughout the calendar, Mark advises on the perfect planting months for peonies, daffodils and potatoes amongst other blooms. Whether deadheading blooms or hedge trimming, there's always some pruning to be done to complement planting. Your garden will soon become a haven for both you and the wildlife you'll attract.
Make most of your garden in summer
Mark's handy year-round preparation tips mean that spring cleaning is a thing of the past. By cleaning greenhouses and tools during the winter, time will be spared to enjoy your outdoor space throughout the warmer months.
 Look out for monthly updates on our Facebook channel along with Mark's expert advice and gardening tips throughout the year.
Download the Seasonal Garden Planner.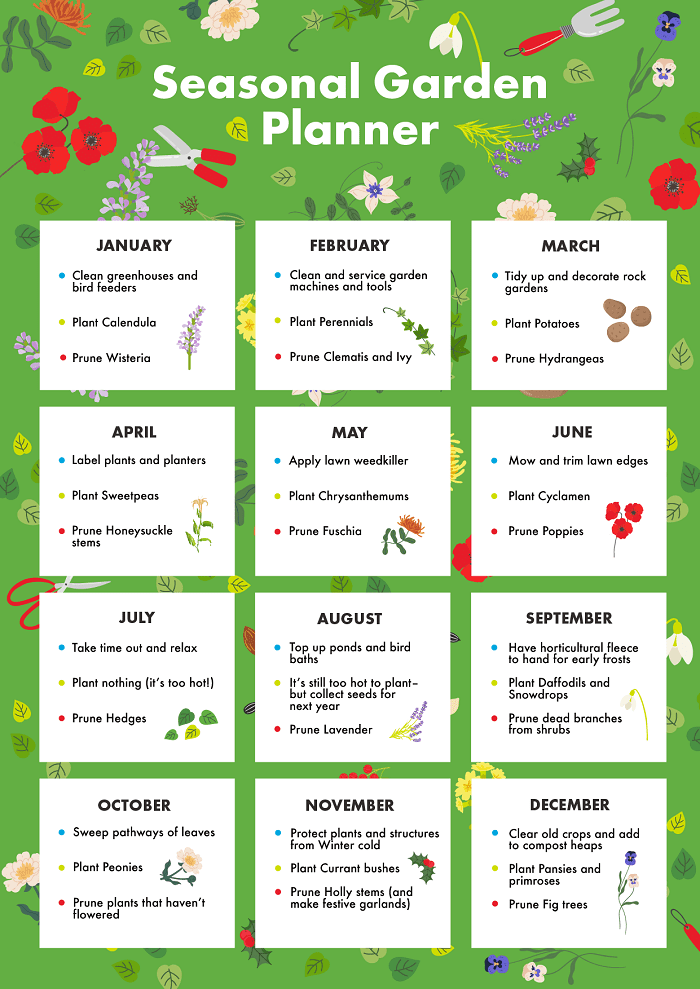 Looking to brush up on perfecting your outdoor space? Read up on Mark Lane's advice for designing an accessible garden and this year's gardening trends.
Stairlifts made for you
All our stairlifts whether straight or curved are customised to suit you and your home so call now to arrange a visit to get your FREE personalised quote!