As the weather warms up, Stannah's Gardening Expert, Mark Lane — who you may enjoy watching on BBC Gardeners' World and BBC Morning Live — shares his advice on getting kids out and helping in the garden.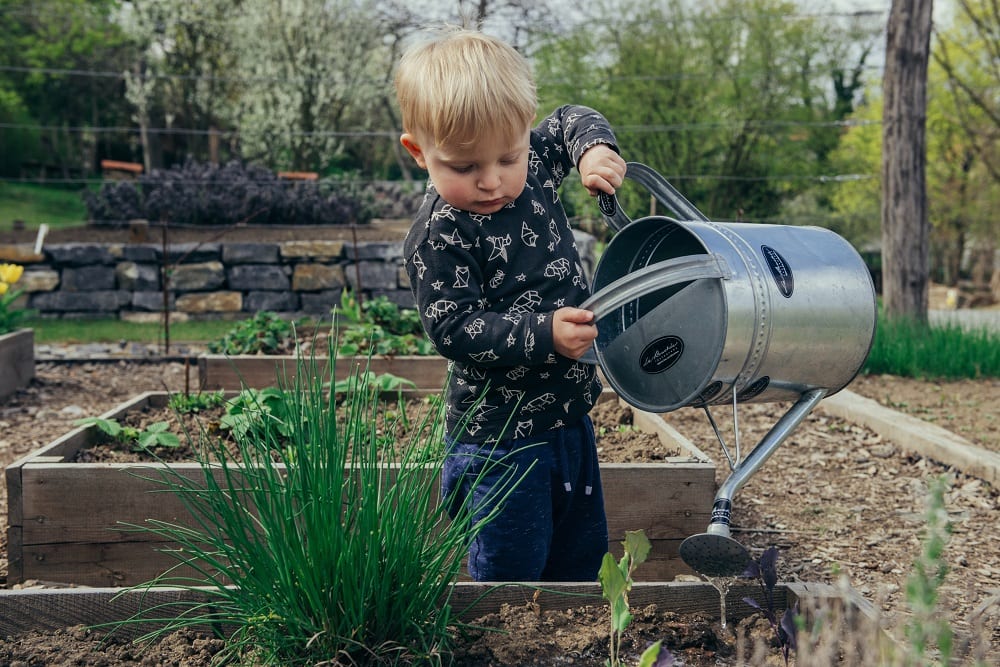 For a lot of gardeners, we hold dear memories of grandparents – or older aunts and uncles or another significant adult – teaching us how to grow plants, care for the soil, and sharing their tips and tricks.
I used to follow my grandfather around his vegetable garden, which was at the end of the main garden, divided by a handmade wooden pergola, small pond and a hammock. I used to pull along a blue wooden truck that contained a blunt pair of scissors, some garden string and packets of seeds. My grandfather taught me the importance of looking after the soil, how to sow seeds, how to prick them out, how and why to tie in climbers and a whole lot more.
This connection between an older person and a child has been well documented and researched, and gardening is the perfect outlet for connecting with each other and the environment around us.
Not only did I learn from my grandparents, but at the same time it also kept them active, both physically and mentally. Now, as a great uncle I hope to share my gardening tips with my great niece.
Start simple with seeds and cress on the windowsill
One of the first things I remember is growing cress on my grandparents' windowsill on a damp piece of kitchen towel and checking it almost hourly to see the first signs of growth. The great thing about this activity is that it doesn't take up much space and is an easy way to engage with the grandchildren (and if it doesn't work, not much has been spent on it).
Of course, seeds of all kinds are a great way to involve the kids and with some forward planning you can get ahead of the game and make 2021 a year to remember. 2020 wants to be forgotten quite quickly by many of us; but as a gardener, I was uplifted throughout last year by the number of people, especially children, getting into growing their own, creating a new outdoor space to enjoy, or simply picking up a trowel for the first time and having fun with the kids to grow veggies for the plate.
Last year saw record number of sales for seeds, as people worried about short supplies in grocers and supermarkets. Even I, with more time on my hands, got back into growing delicious veggies and ornamentals from seed. I have always done it but spending more time in the garden, especially my greenhouses, meant that I could focus my attention on the smallest details – seeds being one of them.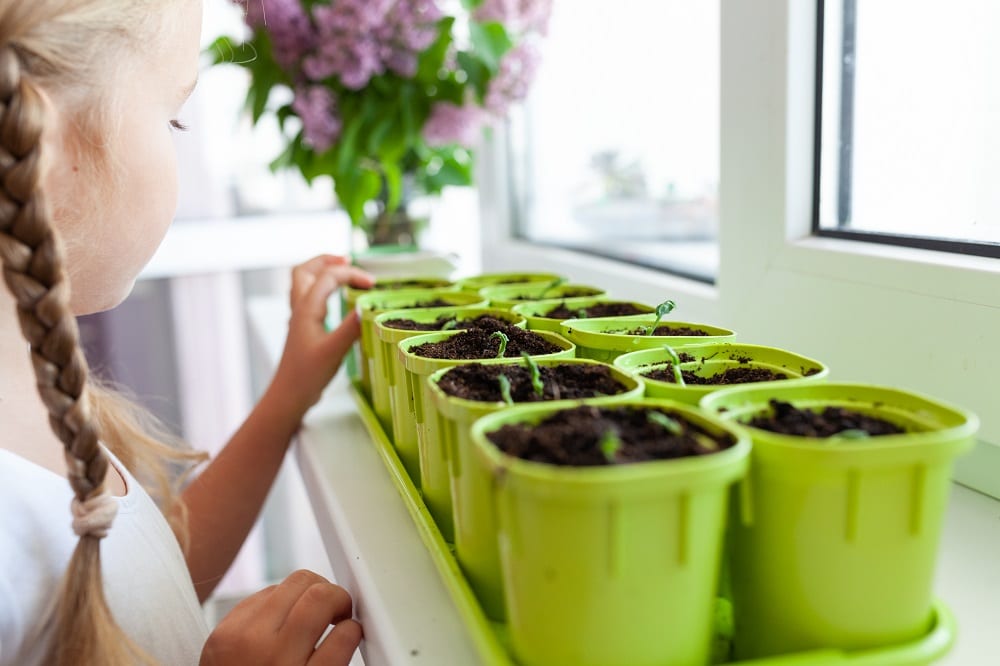 Try not to be seduced
Seed catalogues can easily seduce you with their stunning photographs and descriptive, enticing texts. If, like me, you order way too many year-in-year-out, it really makes sense to be prepared by making a list of what you and the children want to eat and grow in your raised beds, containers or borders. Of course, it's always good practice to try something new each year, especially for the kids to taste something different, but keep such plants to maybe one or two packets of seeds.
I should also point out that many of us, me too in the early days of gardening, forget that some seed packets can contain hundreds of seeds – way too many to sow for the average household. Perhaps, chat with neighbours, friends and other family members and see if you can share the cost and share the seeds between households. As much as I love gardening on my own, I also love the way that gardening brings us together, and seed buying is a great place to start, especially with grandchildren.
Sunflowers, wildlife and childhood memories
When it comes to flowers, nothing beats the cheery faces of sunflowers, and of course the grandchildren will love growing these. Some are very tall, while others are short. There are yellow, orange and red sunflowers and its great fun having a family competition to see who grows the tallest or the most floriferous. Tall sunflowers will need a support structure of some kind, but again have fun with the kids and plan for this ahead of time.
Sunflower seeds are a delicious snack for you to enjoy. Birds love them, too — and we really need to look after our feathered friends, pollinators and other beneficial wildlife. This will open new discussions with the grandchildren about spotting particular birds, listening to their bird song, why wildlife is so important, and hopefully seeing them nest in the garden.
A lasting memory I have is lying on the lawn at my grandparents, looking up at the sky. I closed my eyes and listened to bees humming, the birds singing in the trees, the sound of the water fountain in the pond and the feeling of the breeze on my skin and the grass between my fingers. When I opened my eyes again, my grandmother called me inside and we arranged some cut flowers from the garden in a vase.
My paternal grandmother used to do the floral arrangements for the local church (where my paternal grandfather played the church organ). She taught me about colour, texture, form and scent and how to put them together to create what can only be described as a living piece of sculpture, an art form. To this day, half a century later, as an award-winning garden designer and broadcaster I remember the advice given to me by my grandmother when designing borders and planting schemes.
The importance of soil
Other great plants to grow from seed are nasturtiums and marigolds. These come in a range of warm colours and can be added to salads as edible flowers.
But it's not just seeds that can bring you together. Getting fingers and hands dirty in the soil is good for both you and the children. Soil releases endorphins and serotonin in the brain, which are 'feel-good hormones' so enjoying gardening as a regular hobby will help keep your spirits high, all year round. It also teaches us what the soil is like. Is it clay, loam, sand, chalk or silt?
Perhaps start a compost bin with them, and teach them about household waste, recycling, sustainability and enriching the soil.
A bug's life
I used to love drawing and painting, and when visiting my maternal grandparents we would do a bug hunt, catch and draw insects (and release the insects back into the garden afterwards). This is a simple gardening activity for both adult and child. All you need is a dry, clean margarine tub and add some soil or leaves to go into it, before adding the insect. Earthworms, beetles and ladybugs are normally quite easy to catch.
After drawing the insects, you can look through books or the internet and learn more about them. Counting butterflies, taking photographs and drawing them afterwards is another simple, but effective pastime. You can teach them about caterpillars, the pupa (chrysalis) and the adult butterfly or moth and why they are attracted to particular flowers. Gardening is a great educator.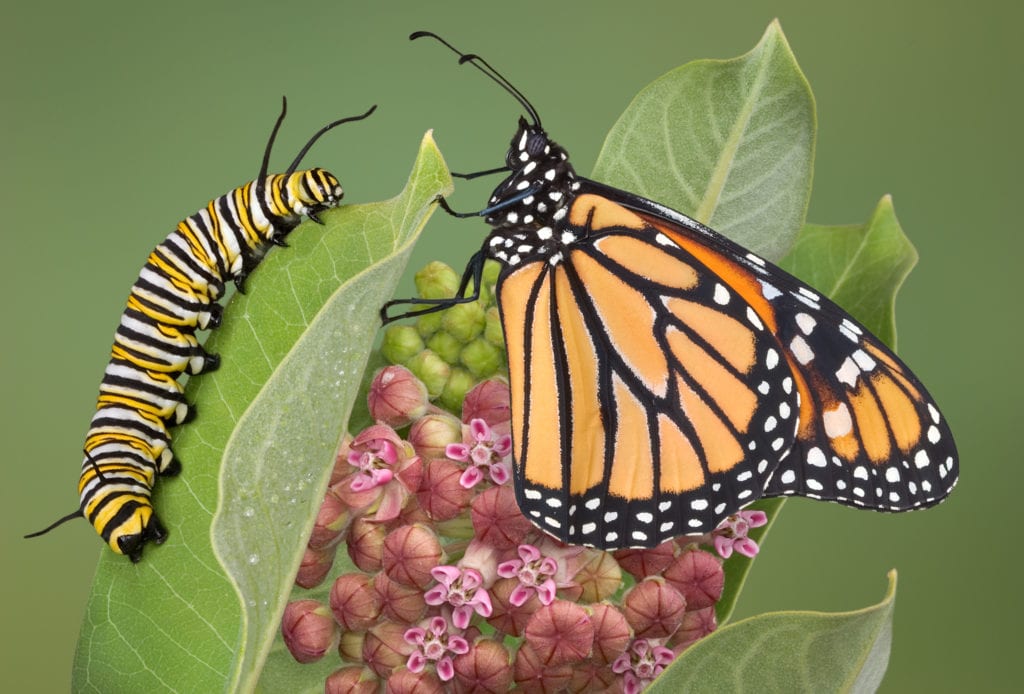 Collecting leaves, especially at different times of the year, is a great way to learn about deciduous and evergreen plants, the lifecycle of the plant, how changes in temperature and light breaks down chlorophyll, which creates the wonderful red, orange and yellow leaves in autumn and so much more. Again, I used to draw these, normally by tracing around the outside of the leaf.
Nurturing their own plant
One of the greatest shared gardening activities is growing a plant in a pot, nurturing it, watering and feeding it, and simply watching it grow. The great thing about this interest is that it can be done both inside and outside.
Houseplants are great gifts for children. It helps them to understand responsibility and if the plant flowers or has fruit then even better. All you need is a pot that can hold soil, holes in the bottom for drainage a seed or young plant and, depending on the plant's requirements, the correct amount and type of daylight (direct or indirect light, for example) and how moist the soil needs to be kept.
My grandparents taught me about sticking my finger into the soil, down to the second knuckle, to test to see if the plant needed watering. If the soil is dry, then water, but if the soil is moist then hold back on watering. This has stuck with me, and I always test the soil this way before watering.
Succulents make excellent gifts for grandchildren
The other great thing about caring for a plant is learning about propagation and seed collecting. Succulents make great first-time plants and it's easy to grow baby succulents from a single plant (the parent plant). This way the children can share the young plants with their friends or other family members. All you need is some soilless compost, a seed tray or small pot.
Succulent stems break off quite easily, alternatively they can be cut with a knife close to the soil (aided by an adult). Sometimes you will see young roots forming already at the base of the stem. The stem and leaves will produce new plants.
Simply place the leaves on the surface of the moist potting mix. Do not bury the leaves; in fact, the cut ends (where the roots form) do not even need to be touching the soil. Place the tray in a warm (room temperature) spot in bright light but out of direct sunlight. Water gently when the soil surface begins to dry out, adding just enough water to keep the soil moist but not saturated.
Within a few weeks, you will see roots forming at the cut end of the leaf. Soon after, tiny succulent rosettes will form, which when about 3cm across, can be gently transplanted into another tray or pot to continue growing.
Creativity and imagination
Finally, why not give the children their own area in the garden, or their own large pots. They can get creative by painting the pots with your help. They can create their own plant markers from recycled wooden lolly sticks or by painting flat stones with a flower or the plant name. All you need are some emulsion testing paint pots in a range of colours (the brighter the better), paintbrushes and some varnish to seal the paint.
Gardening is a creative pastime, and anything is possible with imagination, and children normally have this by the bucket load (so don't panic if you think you are not a creative grandparent!).
At the end of the day, children just love spending time with you, and gardening is a great way to keep them entertained. However you decide to garden together, you will be forming memories that they will look back on fondly for the rest of their lives.
Stairlifts made for you
All our stairlifts whether straight or curved are customised to suit you and your home so call now to arrange a visit to get your FREE personalised quote!