Our resident baking expert and GBBO Contestant 2016, Val Stones aka The Cake Whisperer, shares her favourite pastimes. From baking, to posting on Instagram and reading multiple books on-the-go, her hobbies are what make her happy!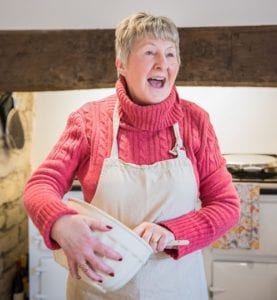 Over the past few months many people have re-discovered their hobbies and interests. In fact, Stannah's recent Silver Census survey* found that that the average person enjoys three hobbies per week, dedicating more than eight hours of their free time to them.
As an ex-teacher and headteacher, my hobbies were mainly a luxury, as the time I gave to them had to be carefully scheduled. But I've enjoyed hobbies for as long as I can remember; one as an addiction, one a passion and the third for pure escapism.
My addiction…
I can already hear you saying, "Val had an addiction!" Yes, I did, but it was quite legal! I belonged to a gym for 27 years and went five times a week. I did weights, aerobics, yoga, spin classes and boxing. Staying fit in my younger years enabled me to stay strong for my work and my family.
When I retired I continued to exercise but rather than go to the gym I developed my own exercise regime, which consists of basic stretching and balance exercises, as well as lots of walking - which turns out to be the UK's favourite hobby. I walk daily and I use the time to plan my day, as well as what bakes I'm going to make. Walking gives me the chance to take in the beauty of nature and put the world to rights.
I often find that some of the best hobbies are free, such as walking, spending time with friends simply chatting over daily events, and dancing whilst I bake. Although it's of course not always the case, as I also enjoy drawing, painting, photography and sewing clothes for my one-year old granddaughter when the mood takes me.
My passion…
It goes without saying that my family are my first passion, but they are closely followed by my second: baking. I have baked all my life so I have never really thought of it as a hobby, but I can whole heartedly recommend it to anyone looking for the perfect way to de-stress.
I was a stay-at-home mum for nine years and worked my way through the 'Le Cordon Bleu' cookery book, as well as Mary Berry, Prue Leith and Delia Smith's recipes. Each day my children and husband were my guinea pigs for whatever new delicacy I had worked on.
I love to bake, and it was always my way of relaxing after work before I retired. I once did a headteachers' 'wellbeing' course and was introduced to 'Bio Dots', whereby a dot is placed on your wrist and changes colour depending on your stress levels. The only time I could ever get them to turn blue on my wrist (which indicates 'stress free') was when I was baking. This is because when I bake, I become so involved with the therapeutic movements of weighing, mixing, stirring, and kneading that I am truly 'in the zone.'
I can't recommend baking as a de-stressing hobby enough, so long as you start easy and work your way up to more technical challenging bakes. Basic essential equipment is a good place to start if you want to pick up baking recipes as a hobby.
I also never thought that my passion for baking would turn me into an Instagram "influencer". I am certainly an anomaly in this regard, with those aged 44 and under eight times more likely to have an Instagram account than over-55s like me! It gives me happiness to share with others the hobbies and interests I love, so I will continue to use social media as a hobby for as long as it gives me such pleasure.
My escapism…
My third hobby is for pure escapism: I love to read. What I read is quite eclectic depending on my mood and what I am hungry for. I say 'hungry' because I cannot live without books. To me they are a window into the world - and to imaginary worlds - that take me out of my own reality for a while. Settling down with a good book was found to be enjoyed by 68% of over-55s in Stannah's Silver Census survey, so I know I'm not alone in my love for reading.
My choices include science fiction, historical novels, humour, philosophy, and poetry; I often have four on the go at any one time. On my bedside is a history novel for when I wake in the night. On the coffee table I keep a thriller, for snatched minutes throughout the day. In the kitchen is a philosophy book which I dip in and out of as I wait for a bake to be ready.
Lastly, I have my bath time book, which can be anything as long as it's a charity shop book because after a hard long day I often fall asleep in the bath, and gradually it sinks into the water and I wake up with a start. I was within five pages of the end of a book not so long ago before I had to spend 30 minutes blow-drying it and then leaving it in the airing cupboard to dry completely before finishing!
Stannah's Silver Census survey found that 50% of respondents said their pastimes put them in a good mood. My hobbies certainly make me happy, and if you're thinking of giving baking a go, then biscuits are an ideal place to start for beginners. In better times when I can visit my family again, I can't wait to bake these Spelt Ginger Biscuits with my grandchildren. It gives me such great pleasure to teach them how to bake, and it feels good knowing that I'm passing on a skill that may become a rewarding hobby for them one day.
Spelt Ginger Biscuits
Makes approximately 50 biscuits
Preparation time: 15 minutes
Cooking time: 7-9 minutes
What you will need:
4 flat baking sheets (I use flat trays that make it easy to lift the biscuits off, which I line with silicon liners. But alternatively, you can use a baking tray and baking parchment)
Offset spatula
Ingredients:
125g unsalted butter
125g golden syrup
125g finely chopped stem ginger (I buy a ready chopped one)
125g soft light brown sugar
2 egg yolks
500g spelt white flour (I use either Waitrose or Sharpham Park which can both be ordered on Ocado)
1 teaspoon vanilla extract
4 teaspoons powdered ginger
1/4 teaspoon bicarbonate of soda
Method:
Set the oven to 200C fan, 250C, 475F, gas 8-9
Place the butter, golden syrup and stem ginger into a microwaveable bowl and put on a medium heat until melted together. About two bursts of heat for one minute should do the trick
Beat in the sugar, then the egg yolks, flour, ground ginger, bicarbonate soda and the vanilla extract
Stir well until all combined and you have a soft dough
Place the dough balls about 6cm apart on the baking try so they don't stick as they spread out when baking
Bake in the oven for 7-9 minutes until golden around the edges, but not too dark around the edges as they can taste burnt
Remove them from the oven and you will see that they sink down a little and have a crinkly look about them. Let them cool for a moment and lift off with a spatula onto a cooling rack
Once cool they can be stored in an airtight tin and will keep for up to a month (but you will have eaten them before then)
Val's Top Tips:
Use your scales to make sure that the biscuits turn out the same size, by taking a teaspoon sized ball of dough (20g) and placing it on the scales. Keep a small piece of silicon on the scales to stop the dough from sticking
Pre-heat your baking sheets in the oven and slide the silicon liners onto the heated trays so that the biscuits begin baking straight away
My family loves ginger (and these biscuits), so from my family to yours - enjoy making these delightful, spiced treats which are perfect for elevenses with a cup of tea on a wintery day!
*Study of 2,000 UK adults conducted by OnePoll in September 2020
Stairlifts made for you
All our stairlifts whether straight or curved are customised to suit you and your home so call now to arrange a visit to get your FREE personalised quote!