Last year we conducted a survey with Stannah Talk readers when we asked our brilliant customers just why they loved their stairlifts. The answers ranged from the funny to the touching and were a source of both amusement and inspiration here at Stannah HQ.
What's more, the survey also shed further light on a trend which we have been hearing about for years: people naming their stairlifts!
We pride ourselves on being a family business, it is great to see that so many people are naming their stairlifts and welcoming them as part of their own families.
Take Ms A, from Oxfordshire, who calls her stairlift 'Scotty' – why? Because each time she rides her stairlift, she likes to exclaim "Beam me up Scotty!" Of course, we are sure that Kirk would approve of this!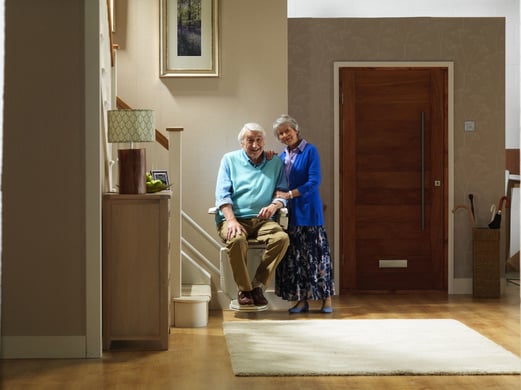 The survey also showed that Stannah users are fans of alliteration, with the highly marketable 'Stanley the Stannah Stairlift' being the most popular name. Mrs M, from Derbyshire, has made Stanley a part of her bedtime routine, each night each says, "right, Stanley, up to bed we go!"
Mrs A, from Cambridgeshire, continued the creative approach, working her stairlift into a rhyming couplet that we are huge fans of:
I love my Stannah,
And call her Hannah,
She takes me up, she brings me down,
In a most dignified manner.
Interestingly, our stairlifts also seem to inspire people to take up their own alter-egos.
Mrs G, from South Yorkshire, becomes the Queen of Sheba each time she rides 'Chariot', a stairlift which she says has become a part of the family.
Elsewhere Mrs H, Darlington, views herself as Mary Poppins when she ascends on her Stannah stairlift. She does however concede that she needs an umbrella and a large handbag to complete the character change.
Naming stairlifts is something that causes much debate here in Andover. Our current favourite is 'Ringo Stair' – a name which has drummed up quite a lot of popularity. It should be noted that we are very open to 'Day Trippers' – you don't need a 'Ticket to Ride', just come and visit one of our showrooms for a trial!
Stairlifts made for you
All our stairlifts whether straight or curved are customised to suit you and your home so call now to arrange a visit to get your FREE personalised quote!