Our talented baking expert Val Stones - best known from her time as a Great British Bake-Off 2016 Contestant - shares baking secrets and recipes bestowed by her beloved relatives, with a pinch of cherished memories. From Val's Auntie Doreen's gorgeous gingerbread tart recipe to a comforting cheese and onion flan, she reflects on timeless treats worth passing onto the next generation.
When I turn my recipes into delicious bakes for all to enjoy, I do so in a delightful reverie. They conjure special memories of much-loved friends and family and, in turn, innumerable feelings. I love to share these memories with you (just like I did for Easter and Mother's Day); having these wonderful times written down is a lovely bonus. As I bake alone in my kitchen through lockdown - a whole year and more of solitary baking - I reminisce on the golden years and think about the wonderful times yet to come.
My inspiring aunts
As a child I was very lucky to have relatives living in London and Bedfordshire. From the age of five, I would travel from Doncaster by steam train to visit my Mum's sisters, spending three weeks with one then three weeks with the other. My childhood was spent between three environments: a mining village, the country's capital and a rural town.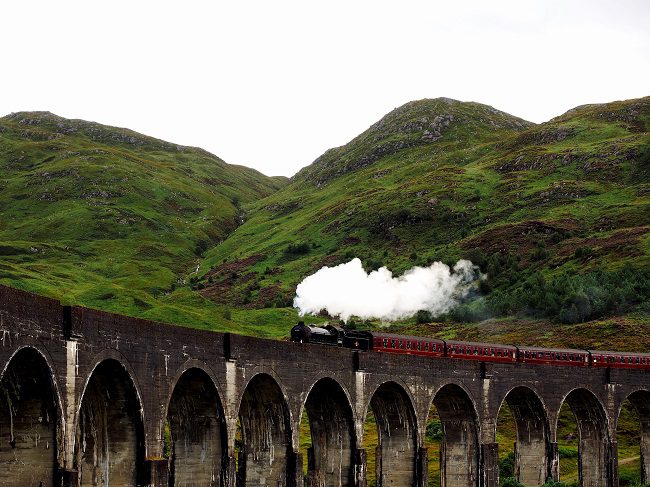 I learnt the art of pastry-making on visits to my Aunty Irene's house. She used to make vegan pastry long before veganism was a popular dietary choice. She introduced me to 'Trex' - a vegetable fat which makes a delicious sweet or savoury pastry. She also taught me a useful tip – to always roll pastry out with cold hands. We would bake on the sunny yellow breakfast table in her kitchen and chat to our hearts content.
Whenever I visited Bedfordshire to see my Auntie Doreen and Uncle Frank, I would learn something new every time like riding a bike, driving a tractor, finding out about crop rotation and - most importantly - baking. My earliest memories were of watching my mum pick runner beans; this was the main summer crop that kept my Auntie Doreen and Uncle Frank going. The runner beans were packaged into boxes, then taken by lorry to Covent Garden where they were sold the next morning. I often wondered if Aunty Irene bought and ate her sister's green beans!
Fond memories of the family harvest
We would always be in Bedfordshire for the wheat harvest, and I helped where I could. This usually involved driving a tractor steadily around a field of wheat sacks while my mum, aunt and uncle hefted sacks onto the trailer. Imagine an 11-year-old doing that now! There were very few health and safety laws in those days. By the time I was 12 I was working alongside my cousins, mum and family doing the heavy work and we were always ready for something to eat. Aunty Doreen was an excellent cook and baker, so it was lovely to watch her and my mum bake and laugh together.
The days started early to the sound of Auntie Doreen hoovering and preparing delicious food. She baked early in the morning so we would wake up to the smell of sweet aromas wafting from the kitchen. We breakfasted, then worked on the land where the beans were grown (known as the meadow) from 8-11am. After that, it was home for tea and cake! On the menu were butterfly buns or coconut tarts that Auntie Doreen had baked that morning. There would also be shop-bought chocolate biscuits but the homemade delights were always the best. At the weekend, when Auntie Doreen had a little more time, she made more extravagant bakes - one of my favourite sweet treats was her heart-warming gingerbread tart. She was especially talented at making tarts; her cheese and onion flan was a summer special.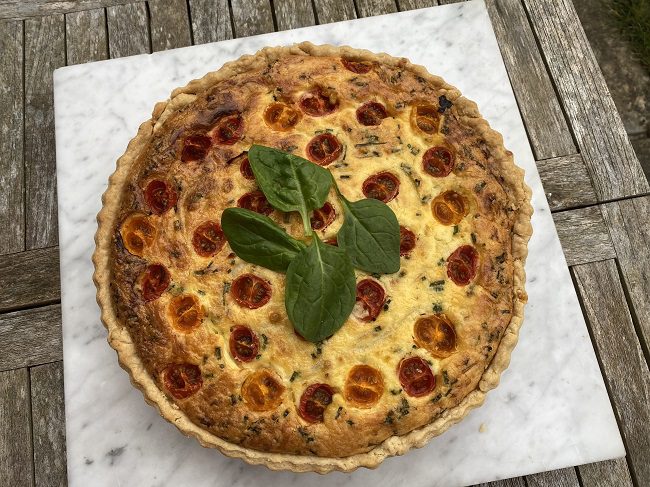 We were treated to a roast dinner every evening. I would often go out into the vegetable garden and dig up fresh potatoes; the art was not to put the fork through any potato as you dug them up. I grow potatoes and runner beans every year in memory of my dear Uncle Frank and Auntie Doreen. It's a happy reminder of the idyllic childhood I spent with them and my love of home-grown produce continues to this day. I wished to be like my Auntie Doreen, baking for all the family and putting smiles on faces – luckily, this came true!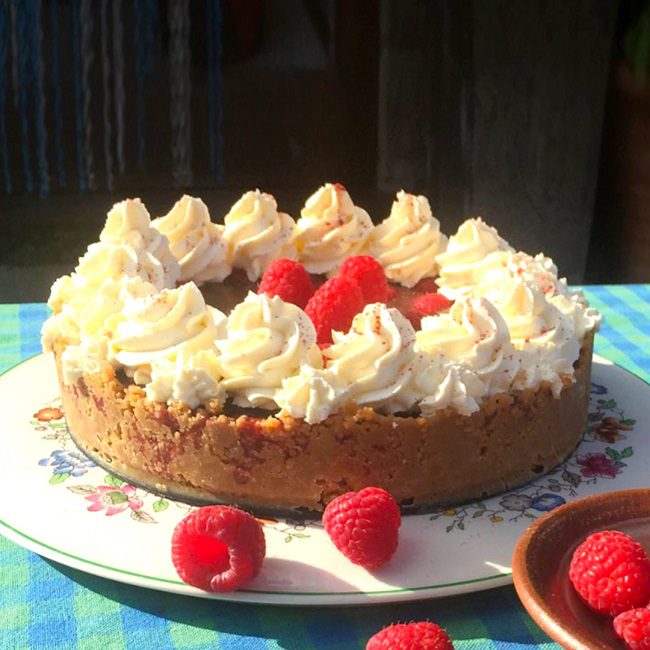 Passing the gift of baking onto my grandchildren
Reminiscing always leads me back to my grandchildren. Until recently, when lockdown lifted, the last time I baked with them was Halloween 2020. It has been so long since I saw them covered in flour and icing in my kitchen, one minute carefully concentrating and the next laughing. We talk on FaceTime and my eldest grandson has promised to make me a cake next time they visit but, until then, my cherished memories will keep me going. Baking really does bring loved ones together; nothing is more binding than to make, bake and eat food together.
I wrote my recipe book for my grandchildren so they will have a lasting memory of their Nana. In doing so, I will pass down to them an important part of me. They will see themselves on the pages – little ones peering up from photos - and know that they were that important in my life that I wrote a book for them, with them at the heart of it. I will ask them to pass on the recipes to their own children and one day tell them about their dotty Great Nana who baked in a tent on television and was famous for a while. They will look at the book, read the snippets at the beginning of each recipe and see a little of their family history.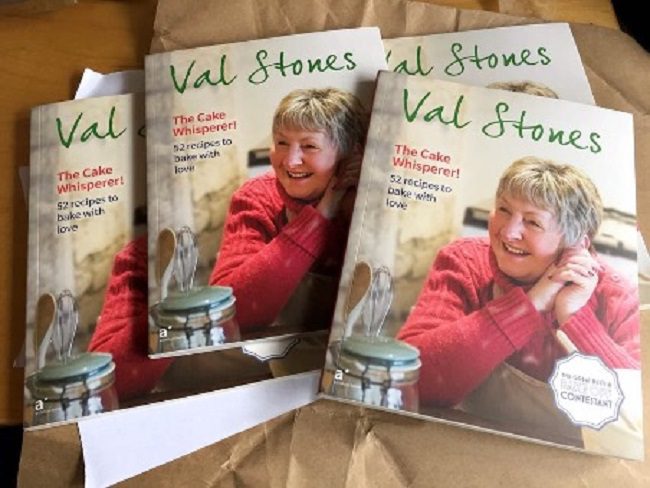 Reverie only comes with age as it takes time (and many bakes!) before memories are made. When I was a child, a teenage and then a new mum, I never realised that that the experiences of baking with different people would keep me going through times of stress and uncertainty. Whenever I have been sad or stressed, I have found calm and serenity by baking family favourite recipes.
I hope that you too find peace when baking. Why not share this feeling with your family by passing down your favourite recipes? Keep on making memories (and tasty treats) with your loved ones and keep on being you.
Stairlifts made for you
All our stairlifts whether straight or curved are customised to suit you and your home so call now to arrange a visit to get your FREE personalised quote!