Our talented baking expert Val Stones' culinary creations are always nice… but sometimes a little naughty! For those looking to curb their sugary snacking, Val has shared her top 10 tips for eating healthier.
When I look back on my childhood in the 1950s, I remember being raised on an organic diet because foods and ingredients hadn't been adulterated with what my Mum would call "rubbish". The growth of supermarkets delighted everyone with so many new products that had extended shelf lives.
We went through two decades of accepting the additional additives to our foods, but I always felt we had lost the purity of our earlier days. I had two babies in the mid 1970s and I wanted to keep their diets as 'pure' as I could. I developed recipes that were healthier based on dishes I had grown up with and chose to feed my family well.
The term 'organic' came into being in the late 1970s but such ingredients were mainly sold in health shops rather than supermarkets. How far we have come since then - we can now buy organic anywhere.
Here are 10 top tips I've learnt over the years to make my cooking a little bit healthier, without compromising on taste:
1. Try one nutrient-rich vegetarian meal a week.
Cooking vegetarian (or vegan) is an excuse to incorporate as many nourishing vegetables and fruits as you can. I suggest experimenting once a week or so to grow your repertoire, especially if you have health or ethical motivations.
2. Look to inspiring meat-free recipe books
I own several plant-based / vegan / vegetarian recipe books; Bish Bash Bosh! by Henry Firth and Ian Theasby and The Vegetarian Kitchen by Prue and Peta Leith are both excellent for those who want to start making foods that are healthy, easy and full of flavour.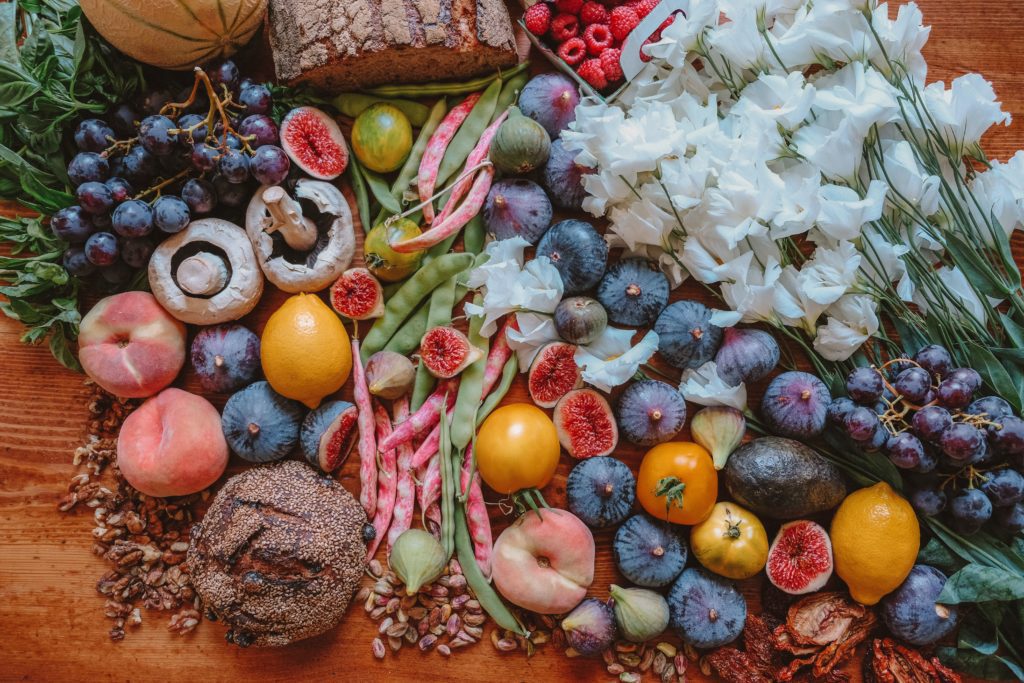 3. Learn to love beans – and opt for dried ones
There are an enormous variety of beans that make delicious additions and base ingredients for meals. I buy the tinned varieties and recycle the cans, rather than use dried beans. Reason being, that dried ones often need a long soak in water and, even then, can be tough. Canned beans are also ready cooked and easy to use in salads.
4. Start with easy swaps
If you are making a meat-based Bolognese, chilli, casserole or stew, reduce the amount of meat by half and replace it with more root vegetables such as carrots, celery, sweet potatoes, parsnips and the humble potato. Adding more beans to a chilli works well; I add baked beans as these break down and thicken the sauce.
5. Roasted vegetables are a nutritious no-brainer
They make a delightful accompaniment to a meal when flavoured with additional herbs (such as rosemary and thyme) and spices (turmeric and smoked paprika are my 'go-to' spices). I like to add pine nuts, sesame seeds, walnuts or pecans to roast vegetables – they're super healthy and delicious.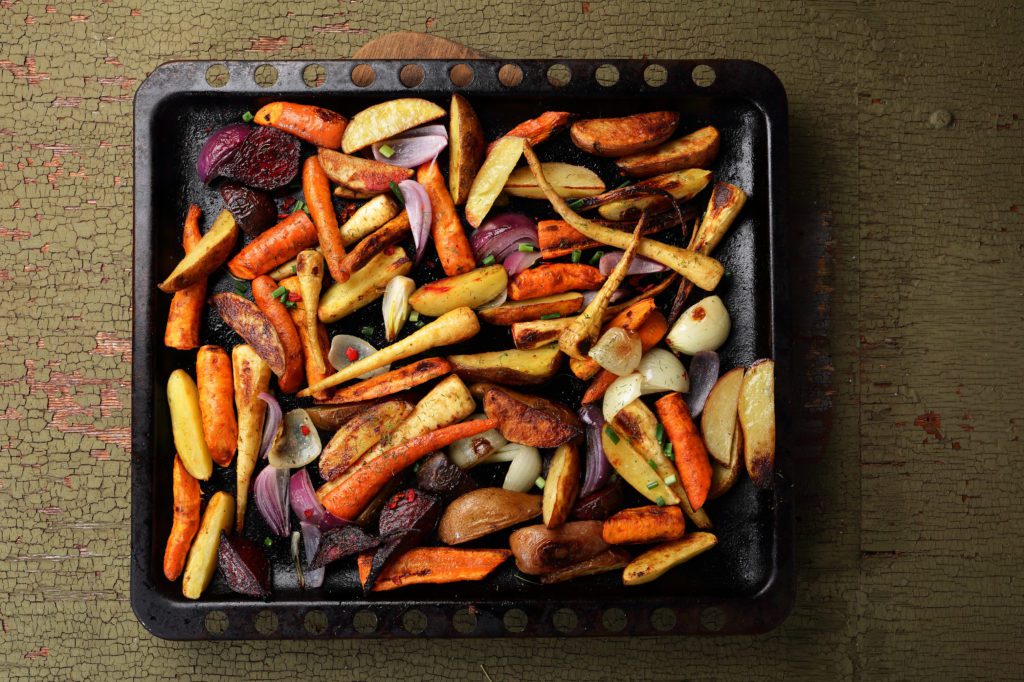 6. Add fruits when you are roasting vegetables
Slices of clementine go well with parsnips and sweet potato. Sliced apples and pears work well, too.
7. Ratatouille is healthy AND hearty
This unctuous French classic is one of my favourite vegetarian meals. It's packed with yummy vegetables, cooked only until they are softened slightly to add a bite (rather than cooked until soft). Top with cheese for a winter warmer or enjoy with salad in the summer. I can hardly think of a more delicious way of getting tonnes of nutritious vegetables into a meal.
8. Drizzle vegetables with different oils and syrups
This adds flavour while keeping produce moist during the bake. You can use maple syrup, pomegranate syrup or different varieties of olive oil, but my present favourite is date syrup. Not only does it add some sweetness to the vegetables, but provides lots of protein, vitamins and minerals – iron being a key advantage.
9. Supercharge your sprouts
There are some maligned vegetables, one of which is the trusty Brussels sprout; I love them, but I have family who doesn't. Sprouts can be turned into an entire meal by adding lightly fried chopped mushrooms and shallots, flaked/roasted almonds and plenty of seasoning. I add bay leaves and smoked paprika, then drizzle with a little date syrup. I only cook the sprouts for eight minutes as I like them to be firm, you might want to cook them for a little longer.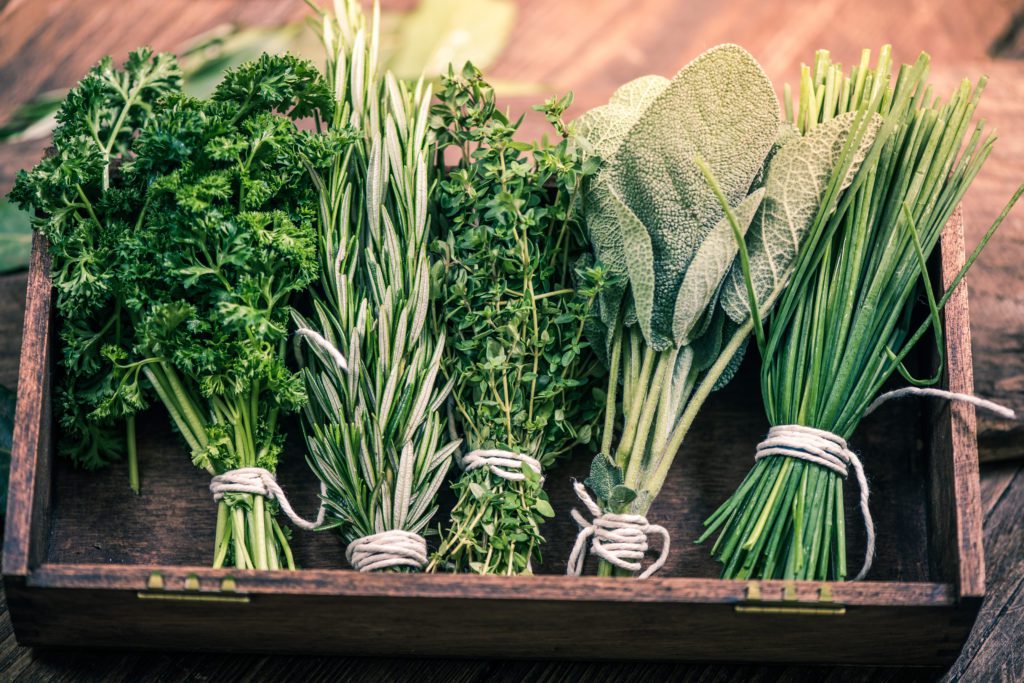 10. Buy herbs little-and-often and always enjoy fresh
Herbs and spices can end up being your best friends when cooking with health in mind, but I advise against buying in large jars or packets unless you are using them regularly as many will quickly go past their 'best by' date. Instead, purchase small amounts – you'll feel the benefits in the freshness of the flavourings – and fresh food provides many more nutrients than dried.
If you can, grow some fresh herbs; I grow mint, bay, thyme, rosemary and parsley and they keep going throughout the winter as I keep them in pots sheltered close to my back door, where I can easily pick them.
Keep enjoying your cooking (healthy or not!) and keep on being you.
Immerse yourself in homegrown produce and find out how Val brings it into her baking, or treat yourself with a less healthy bake in Val's Bake Off-approved herby sausage rolls.
Stairlifts made for you
All our stairlifts whether straight or curved are customised to suit you and your home so call now to arrange a visit to get your FREE personalised quote!