Val Stones shares her love of baking with homegrown produce
30 September, 2020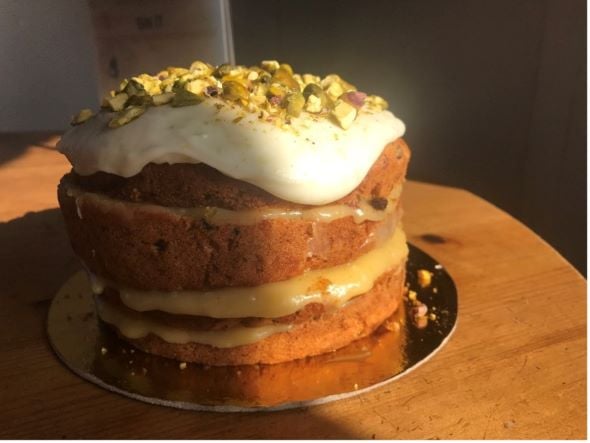 Stannah's resident baking expert and GBBO Contestant 2016, Val Stones aka The Cake Whisperer, shares her love of using homegrown produce in the kitchen. What could be more rewarding than using ingredients straight from your garden in your baking tin?
That Was The Year That Was
I'm old enough to remember a TV programme called 'That Was The Week That Was' and that's what the disappearing months of March, April, May, June and July of this year should be called; 'That Was The Year That Was'. This has been the year Covid-19 devastated the world, but also brought out the best in humanity.
During lockdown, I kept a diary and chatted about the things I wrote down each day on BBC Radio Somerset. Not only did I keep myself busy doing radio broadcasts, but I posted every day on my social media so folk could pick up hints and tips for baking and making it through lockdown. My diary began on Friday 20th March with how to make your own baking powder and continued with alternatives to eggs in baking. Besides toilet rolls disappearing off the supermarket shelves, so did many essential baking ingredients such as flour raising agents, eggs, sugar and yeast. I'd like to think it might become a piece of written history one day, you never know.
The explosion of interest in baking and cooking was phenomenal as there was no other option but to make your own meals, with only a limited number of restaurants, cafes and pubs able to provide takeaway food. It was ironic that the closure of food outlets and restaurants was to reawaken our interest in making meals and experimenting with food - even foraging for wild ingredients became popular. Social media was inundated with sour dough loaves decorated with exotic patterns and banana breads. Baking became fashionable to pass the time, and kitchens became the hub of the home.
Digging for Britain
Those lucky enough to have gardens began to dig for Britain and there was an upsurge in the sale of vegetable, fruit and flower seeds. I'm one of the many who has a garden and was able to use it for growing my own produce. This spring I planted courgettes, rhubarb, strawberries and beans, as well as beautiful Canterbury bells and begonias which added a beautiful splash of colour. I potted pepper seeds until there were no pots left to put them in! When I ran out, I started using trugs instead, slashing drainage holes in the bases which made them perfect for growing rocket, misula salad leaves, potatoes and tomatoes. Anywhere I could see soil - I sowed and planted!
I was so grateful for my tiny garden, as it was such a pleasure to watch the plants grow, flower and eventually flourish. Tiny peppers grew like green pearls, and glistening green tomatoes nestled amongst shiny little courgettes with yellow flower bonnets. The heat wave hit us in mid-April and everything grew like the proverbial beanstalk in fairytale 'Jack and the Beanstalk'. By July, tiny plants were now sturdy and I had begun to give away kale and salad leaves to my daughter and friends.
Come August we ate courgettes with every meal and in salads… 'mmmm' we said, they were so sweet and tasty. But you can have enough of a good thing, and my husband rebelled against anymore courgettes! It was also at this point the rain arrived and the courgettes bolted and became marrows, just in time for me to think of new ways to use them up.
One of my favourite cakes is courgette and lime cake made with homemade lime or lemon curd. This recipe is a little longer than my usual ones as it has three components, but it is well worth the effort as it tastes delicious.
Finally, I have an answer for when our grandchildren inevitably ask one day "Grandma, Grandad what did you do during the Coronavirus lockdown of 2020…?"
Courgette and Lime cake
Serves 12:
Preparation time: 20 minutes
Lime curd making time: 25 minutes
Baking time: 30-40 minutes
What you will need for the cake:
Two 23cm-diameter spring-release baking tins or sandwich tins (an alternative is to use two brownie pans to create a square cake)
Ingredients:
3 medium eggs
125ml vegetable oil, either rapeseed or sunflower oil
150g caster sugar
225g self-raising flour
1/2 teaspoon bicarbonate soda
1/2 teaspoon baking powder
1 level teaspoon ground cinnamon
250g courgette, finely grated and squeezed to remove some of the moisture
Zest of 1/2 an unwaxed lime
100g sultanas
Method:
Set the oven to 160C fan,180-190C,350-375F, gas 4-5.
Grease and line the cake tins.
Beat together the eggs, oil and sugar in a large bowl until creamy. I use a stand mixer but you can use a hand held mixer.
Sift the flour, bicarbonate soda, baking powder and cinnamon then add to the egg mixture and beat well.
Stir in the grated courgettes, lime zest and sultanas until well combined. Divide the mixture into the cake tins.
Bake in the middle of the oven for 25 to 30 minutes. The cake is baked when it is firm to touch and springs back.
Remove the cakes from the oven and leave for two minutes, then turn out onto cooling racks. Carefully peel off the paper lining and leave to cool.
At this stage you can pack the cakes in a freezer container, placing parchment between the cakes and freeze for up to a month.
Val's Top Tip:
To remove the moisture from the courgettes before adding to the cake, place the courgettes in a colander and then place a bowl that is slightly smaller than the colander and press down until no more water runs out.
What you will need for the lime curd filling:
You will need a balloon whisk, preferably a silicon one
A medium sized microwavable bowl
A wooden spoon for testing the set of the curd
Waxed paper discs to cover and seal the curd
4 jars that are clean (I recycle jam jars and wash them by hand or in the dishwasher)
Ingredients:
Zest and juice 5 large juicy unwaxed limes. I use my Magimix juicer for any citrus juicing as it's quicker and less messy (or swap out for four large lemons if you wish to make lemon curd)
4 large free-range eggs
350g golden caster sugar
225g unsalted butter, at room temperature, cut into small cubes
1 level tablespoon cornflour
Method:
Preheat the oven to 150C fan,160C,325F, gas mark 3.
Place 4 jars in the oven to sterilise them before filling with curd.
Place the cornflour in a small bowl and stir in 1 tablespoon of lime juice to form a smooth liquid.
Place the zest, lime juice, sugar, eggs and butter in the microwavable bowl and stir to combine the ingredients and dissolve the sugar. Then stir in the cornflour mixture.
Place the bowl in the microwave and heat on medium heat for 1 minute.
Remove the bowl from the microwave and whisk to combine all the ingredients. Repeat this again and you should see the mixture thickening around the edges of the bowl. Whisk the ingredients making sure the mixture is smooth before microwaving again.
Microwave on medium for a further 1 minute and whisk again. Then for another 2 minutes on full power and whisk again. The mixture should be thickening at this point. Remember that the heat will make the curd seem to be thinner than it is, and as it cools it will thicken further.
Take a wooden spoon and stir the mixture so that the back of the spoon is well coated. Using the handle of a knife or spoon, run it along the back of the wooden spoon through the curd to leave a trail. After half a minute if the mixture hasn't run back and the gap remains open then the curd has reached setting point.
If the mixture runs back, microwave again on full power. At this point it may need one or two more-minutes cooking.
Pour the curd into the jars using a heat proof jug, fill to within quarter of an inch of each jar as the curd will shrink back a little. Cover each with a waxed circle and then lid. Label and date.
Leave to cool completely before storing in the fridge.
Val's Top Tips:
If you are short on time, you can use shop bought lemon or lime curd
If you use limes/lemons at room temperature they will release more juice
What you will need for the lime frosting:
Ingredients:
115g unsalted butter, softened
230g cream cheese, softened
500g icing sugar
2 tablespoons lime juice
40g pistachio nuts, roughly chopped (to decorate on top)
Method:
Beat the butter and cream cheese in a bowl until smooth. Sift in the icing sugar and beat in the lime juice.
To assemble the cake, spread about 3 tablespoons of the lime curd onto each layer and use about two thirds of the cream cheese frosting to sandwich the cakes together.
Use the remainder of the frosting to ice the top of the cake, allowing it to drizzle over the edge a little. Sprinkle on the chopped pistachio nuts to decorate.
Val's Top Tip:
If your cakes have baked a little domed, use a bread knife to level them, if necessary
Make the most of seasonal delights this autumn and get creative in the kitchen. Happy baking!
Stairlifts made for you
All our stairlifts whether straight or curved are customised to suit you and your home so call now to arrange a visit to get your FREE personalised quote!