The scariest day of the year is just around the corner and children across the country are preparing their best outfits in preparation. Here are a few tips from us at Stannah to ensure you make the most of this fun day with your grandchildren: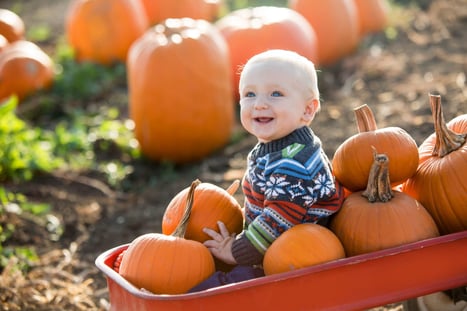 1. Help make a spooky costume
Does your grandchild want to be a spooky witch this year? Or a ghoulish ghost? Or maybe even a pumpkin! Whatever they want to dress up as this Halloween, it's the perfect time for a bit of fun DIY. And remember, the more creative the better!
2. Trick or treating
No Halloween is complete without a trip around the neighbourhood on the hunt for sweet treats. You'll love seeing your grandchildren and all their friends so excited – but watch out for the sugar highs!
3. Decorating the house
To really get in the spirit of Halloween, get to work decorating your house with the help of your family. Kids will love the chance to show off their arts and crafts skills – and your house is sure to look extra scary this year!
4. Pumpkin carving
This is the year for you to be the envy of all your neighbours when you proudly display your intricately carved pumpkin! Grandchildren will love carving out some scary faces – but be warned, it's harder than it looks to get it just right!
5. Apple bobbing
A classic game that's perfect if you've got lots of children to entertain. It's guaranteed to have everyone laughing and what's best is that it takes such little preparation – just a bucket of water and some apples and you're good to go!
6. Bake some Halloween-inspired treats
Kids love getting their hands dirty in the kitchen – and they'll love some freshly baked treats when they come trick or treating! So why not try your hand at some Halloween inspired goodies? Spider cookies, anyone?
7. Make all your meals Halloween-focused
Really commit to Halloween and make all your meals themed. With a bit of imagination, even the simplest ingredients can take a spooky twist, so before you know it sausages can become witches fingers and some squash can be a magic potion!
8. Tell ghost stories
Everyone's got some scary tales up their sleeves and there is no better night to share these with your grandchildren than on Halloween. So gather everyone around and prepared to be spooked!
9. Face painting
Make sure your grandchild really gets into character by painting their face. It's fun for everyone and a chance to get really creative. Just remember to wash it off before bed!
10. Visit a haunted house
If ever there was a time to take your grandchildren to a haunted house, it's Halloween. Guaranteed to scare even the bravest people, this is a great activity that everyone can get involved in.
Stairlifts made for you
All our stairlifts whether straight or curved are customised to suit you and your home so call now to arrange a visit to get your FREE personalised quote!