Our resident baking expert and Great British Bake Off Contestant in 2016, Val Stones aka The Cake Whisperer, shares her favourite festive bakes — with a twist! Here, Christmas pudding and mince pies get a magical makeover as Val reveals how she prepares for the special day.
I love everything about Christmas — from the buying of the gifts that I do throughout the year, to the writing of Christmas cards. When I see something that I know would be just right for a family member or friend — I buy it! The only difficulty with doing this is that I sometimes forget that I have already bought for someone and then buy something else. I store the gifts in a huge drawer under the bed and start adding to it from January onwards (as there are always bargains to be had in the sales).
In October I haul the gift drawer out, spread the presents across the bed, look at them and wonder why I thought any of them were as perfect as I had decided 10 months earlier! I decide who will get what, and perhaps a little extra, so off I go again shopping for Christmas.
When I visit family or friends, I note what 'smellies' are in their bathroom and hope that they are still into them by the following Christmas. Most of the ladies in my family enjoy baking, so I can always find something baking-related to give them. I find the teenagers difficult to buy for — but who doesn't! I never buy them clothes; I just stick to the safety of some sweets and money in a card. I know this is boring, but the recipients are always thrilled to be able to go out and buy what they really want. For the men of the family, I never buy socks or hankies — I try and be more creative. This year I'm gifting them each a cocktail making book called 'Tequila Mockingbird', in which every recipe is linked to a well-known book title; accompanied by bottles of ingredients to make the cocktails with.
For a few years now I have driven around the country delivering my Christmas presents and picking up those from my family. We also usually visit my sister in New York where we go to have an 'early Christmas' at the beginning of December. Sadly, none of this can happen this year. However, I will post their gifts instead as we all love to open presents on Christmas Day and this year will be no different!
In keeping with the idea that Christmas might be a little different from the norm for many of us this year, here are a couple of 'alternative' wintry festive bakes that will go down a treat. These are classic Christmassy flavours that will have your kitchen smelling divine in no time — but with a twist. Mincemeat at the ready!
Mincemeat and Apple Slices
I adore mince pies with rich buttery pastry and my homemade mincemeat. But I have family members that are coeliac and therefore eat gluten-free diets, so I developed this recipe for them. Usual oats and flour can be used instead though.
The mincemeat used in this recipe is my 'Quick and Easy Mincemeat' that I developed to use when I was on 'The Great British Bake Off Christmas Special'. I liked it so much that I make it as my 'go to' mincemeat each Christmas.
What you will need:
A shallow 28cm x 18cm (11x7) baking tin that has been well buttered.
Serves 12-16:
Preparation time: 1 hour for the mincemeat and 10 minutes for the crumb mixture
Cooking time: 20-25 minutes
Ingredients:
160g vegetable margarine
75g soft brown sugar
230g wholewheat flour (gluten-free optional)
110g porridge oats (gluten-free optional)
Pinch of cinnamon
250g mincemeat
100g stewed Bramley apples (it's even more satisfying if you've grown your own)
Method:
Set the oven to 160C fan, 200C, 400F, gas mark 6.
Place the margarine and brown sugar in a large pan. Gently warm until the margarine is melted and becomes liquid. Stir with a wooden spoon to make sure there are no lumps of sugar left.
Mix the oats, flour and a pinch of cinnamon together in a bowl. Begin adding to the sugar mixture, stirring well with each addition until thoroughly combined.
Spoon half the mixture into the prepared baking tin and with the flat of your hand, or a broad fish slice, press down firmly all over and especially in the corners. The more firmly you press in the mixture, the less crumbly the base will be.
Spoon the mincemeat onto the base and spread evenly with an offset spatula.
Layer the stewed apples over the mincemeat and spread all over.
Using a tablespoon, spread the remaining oat mixture over the top, ensuring it covers all the apples. Press down firmly and evenly all over.
Bake on the middle shelf of the oven for about 20 minutes until the top is lightly tinged brown.
Remove from the oven and with a sharp knife, cut into 12 squares and place the tin on a cooling rack until completely cold.
When they are completely cold, lift the slices out with a pallet knife and store in an airtight container. They will keep for up to two weeks or can be frozen for two months (ensure you defrost at room temperature).
Winter Brioche Pudding
This is a twist on the classic summer pudding, using a mixture of preserved bottled and dried fruits. It is delicious and makes a perfect replacement for a traditional Christmas pudding — which again uses my homemade Quick and Easy Mincemeat. This pudding freezes well; however, you will need to open freeze it then double wrap in greaseproof paper and cling film. The evening before you wish to serve it, remove from the wrappings and place on a serving dish, then put it in the fridge to defrost overnight. Prior to eating, leave your pudding out of the fridge for two hours so it reaches room temperature.
Serves 4-6:
Preparation time: 15 minutes plus chilling.
Cooking time: 3 minutes, plus 4 hours (or overnight) chilling
What you will need:
2lb loaf tin or 3-pint bowl
Canned food tins to use as weights
A sheet of greaseproof paper
Ingredients:
2 jars of berries in Prosecco
1lb jar of bought or homemade mincemeat
2 tablespoons orange liqueur
1 cinnamon stick
1 star anise
3-6 cloves
1 medium sized panettone, sliced vertically
Method:
Place the bottled fruits, mincemeat, cloves, star anise and cinnamon stick in a large saucepan and warm through so that the fats in the mincemeat have melted but the fruits still hold their shape.
Allow this mixture to stand for 10 minutes for the flavours to develop.
Drain over a large bowl and allow the liquid mixture to cool slightly. Stir in the orange liqueur.
Dip the slices of panettone into the liquid mixture. Use all but two slices to line the base and sides of the loaf tin or bowl. Fill the inside cavity with the drained fruit mixture (remembering to remove the cinnamon stick) and place the remaining two slices of panettone on top, folding over any edges.
Cover with greaseproof paper and place a suitable plate on the bowl or loaf tin, topped with canned food tins to act as weights.
Put the pudding in the fridge for four hours or overnight.
Turn the pudding out of the tin onto the greaseproof paper and serve sliced with any remaining juice. Fresh cream or crème fraîche also makes a nice addition. If you wish, you could pipe on whipped cream and add a sprig of holly.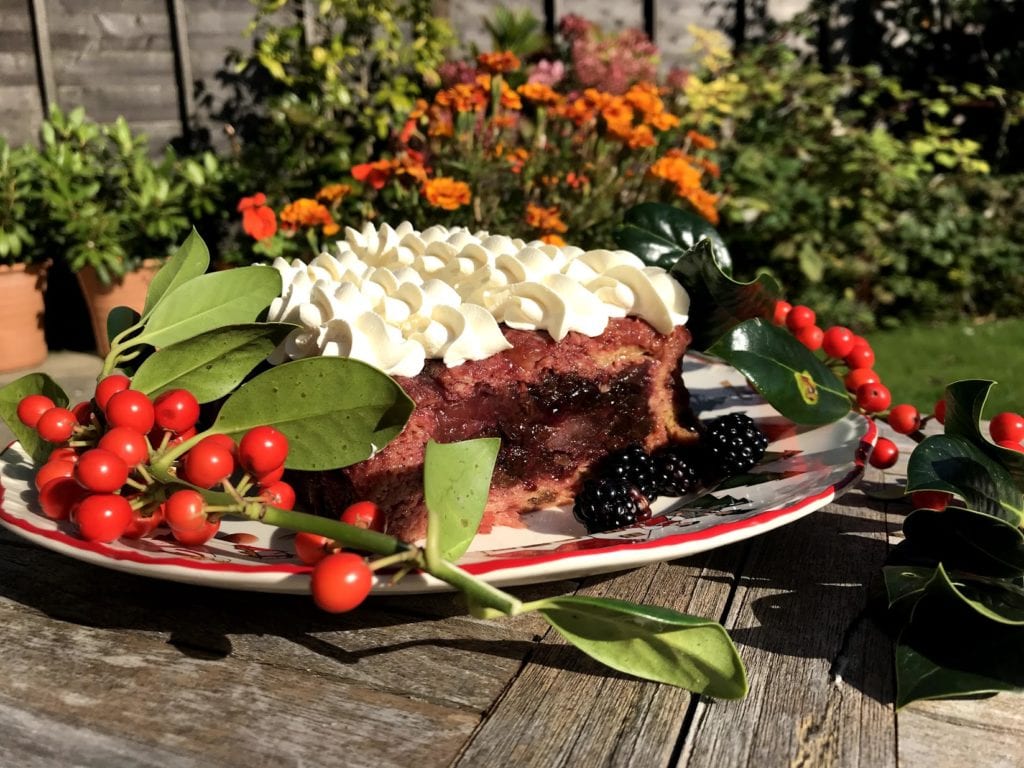 Whatever your plans this year, I hope that your Christmas goes well. I wish you all health, happiness and prosperity!
Stairlifts made for you
All our stairlifts whether straight or curved are customised to suit you and your home so call now to arrange a visit to get your FREE personalised quote!