If you are like us, you spent the end of last year entranced by the Argentine tango, jive and paso doble of Jay McGuiness and Aliona Vilani, the winners of Strictly Come Dancing. However, for us the real star of the show is Len Goodman, the 71 year old judge who is still remarkably active in the UK ballroom dancing scene.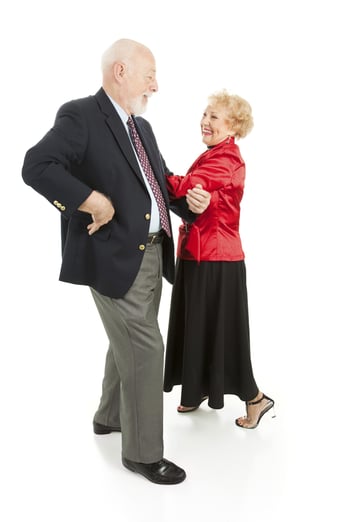 We see the lean and trim Len as an example of the benefits of ballroom dancing. Not only is the pastime a great way to have fun, but it is also a brilliant way of staying fit. More and more we are hearing about older people who are dancing through their retirement and it is easy to see why.
Ballroom dancing requires a good deal of flexibility and even the warm ups will test this. Moves can be tailored towards each individual's flexibility, but just taking part can be an excellent way of ensuring that joints remain supple.
When dancing, a dancer's muscles resist against their own body weight. This resistance strengthens muscles and is particularly high during quick turns, spins and struts. As you would expect, leg muscles gain the most from dancing.
Perhaps less obvious is how ballroom dancing helps keep you mentally fit. Exercise naturally helps keep your mind sharp, and ballroom dancing has the added benefit of being a social activity. Taking part allows you to meet people with a shared interest and create new friendships, whilst it can also be a good activity to try with your partner or a group of friends.
The Strictly phenomenon has meant that it is now easier than ever to take part in ballroom dancing. Classes are available across the country and a number of these are tailored to specific age groups.
Try dancing today, you'll be amazed by the benefits!
To find classes near you search online or enquire at your local library or community centre.
Stairlifts made for you
All our stairlifts whether straight or curved are customised to suit you and your home so call now to arrange a visit to get your FREE personalised quote!