There's a new exercise centre, with a difference, in Andover. The 'I Can' Therapy Centre, operated by independent charity Valley Leisure Ltd., combines the clinical knowledge and expertise of a therapy led service with a community based rehabilitation facility – all for the benefit of people with health conditions or those simply looking for increased mobility to feel better.
With a range of specially adapted power-assisted exercise equipment in place it soon became obvious to the team that they needed an assistive, fully adjustable, REAL 9100 chair from Medicotech in order for the highly valuable cycle machine to be accessed by all clientele. Alongside other equipment, the chair also assists those with standing and transfer difficulties.
Local company Stannah stepped in with £2799 to fund the new chair and everyone is absolutely delighted with the difference it is making at the centre.
[caption id="attachment_2624" align="aligncenter" width="640"]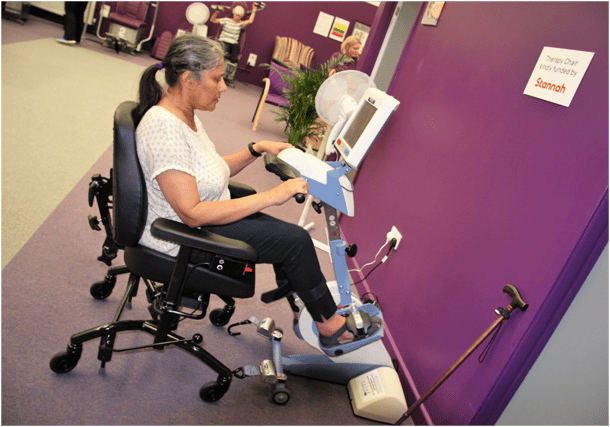 Grace uses the new chair frequently to complete the cycling element of her exercise circuit.[/caption]
Stannah Group Managing Director, Jon Stannah comments:
"Our local sponsorship fund supports the community in which our employees live. Andover's 'I Can' Therapy Centre is a very valuable addition to that community and we were delighted to be able to help. As our own stairlift and lift products also enhance mobility we fully appreciate what a difference the right equipment can make."
Liz Murray, Community Health Development Manager, tells us more:
"The cycle machine is so important for balance, muscle strength, coordination – everything essential in recovery or strengthening exercise programmes. Using a standard chair to access the cycling machine was just not ideal. Our new chair is totally adjustable and that means every individual can be fully supported by the chair before setting off on their cycling challenge. We are delighted with the new chair and, as our friend and model Grace said, the chair feels as if it hugs you. Everyone at the centre is so grateful to Stannah for our new chair and it really has made a difference already."
The centre is used by a complete cross section of the community; all age ranges and all abilities. With no Lycra on show (or at least its optional) and no competitive puffing and panting, the client base is growing rapidly. It really is such a welcoming, reassuring environment. It knocks down the barriers of exercise. Whether severely restricted or mobile everyone can use the equipment in the same way. People can set goals and achieve them. Drinks and a chat with new friends after exercise are all part of the service so no wonder the eleven machines on the exercise circuit are well-used every day.
Physiotherapist Jan Howard explains more about the service:
"Our 'I Can' Therapy Centre is a friendly professionally led exercise centre with a very valuable social aspect too. Our clients have a range of physical challenges but 'I Can' therapy is all about building on exercise you can do and gradually doing a little bit more. It's inspiring just seeing the difference that regular use of our equipment and physiotherapy support makes to our 'I Can' users, not just to their physical fitness but also to their overall well-being. Many people coming to us are recovering from strokes or injuries, or may have life-long conditions that can be improved. We professionally assess people on their first visit and then they return to use the equipment, with our guidance, to slowly build strength. They often build great friendships here too!"
You can find the 'I Can' Therapy Centre in the Salto Centre, off Charlton Road in Andover, or call them on 01264 568241 or email them at info@icantherapycentre.co.uk or simply go to www.icantherapycentre.co.uk
Stairlifts made for you
All our stairlifts whether straight or curved are customised to suit you and your home so call now to arrange a visit to get your FREE personalised quote!