Andover lift company Stannah have pledged three years of support to Hampshire and Isle of Wight Air Ambulance (HIOWAA) to boost their current £1.5M fundraising campaign by £5,000.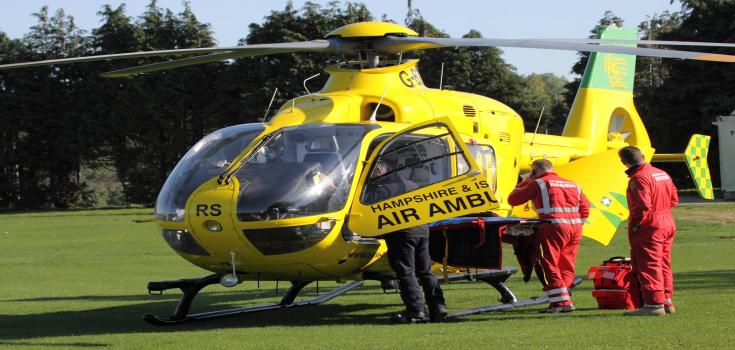 The £1.5M is needed to make major service improvements and to commit to a night flying helicopter. Currently, this life-saving service can only fly in daylight hours, which severely restricts the number of missions the air ambulance can fly.
Jon Stannah, Joint Managing Director of Stannah Lift Services, and John Ottaway, Project Support Engineer for Stannah Major Projects, visited the HIOWAA base at Thruxton, Hampshire to present a cheque to John Perry, Chief Executive of HIOWAA . Reciprocally Jon Stannah was presented with a certificate to formerly welcome Stannah as a sponsor.
Jon Stannah, Joint Managing Director of Stannah Lift Services, explains:
"We employ more than 700 people in the Hampshire area and our employees have needed the air ambulance on two occasions recently, so we know this is a service highly valued by all our people and their families. None of us ever know when we may have to call upon their services and at what time of the day or night.We were amazed that the service is entirely funded by the people of Hampshire and we are delighted to join that band of support. When the target is reached and the night flying helicopter is in place, every supporter and all at Stannah will have reason to celebrate."
The fundraising campaign has already passed the 1million target and this has allowed the number of missions to increase and for the air ambulance to have a pre-hospital trauma specialist on board for 80% of those flights. These doctors, with specialist skills and the ability to undertake anaesthesia and more at the scene of an incident, can and do greatly improve the patient outcomes of trauma.
Rachel Pearson, Campaign Manager, HIOWWA, adds:
"We are delighted to have support from a leading local company, Stannah, and look forward to working with them over the next three years. Their contribution and support is truly appreciated and we can guarantee that it will make a difference to this vital service within Hampshire. A little like stairlifts, no one really wants to need the air ambulance, but it's a great comfort to know that we can call upon them if we do!"
Stairlifts made for you
All our stairlifts whether straight or curved are customised to suit you and your home so call now to arrange a visit to get your FREE personalised quote!