As some of you will know, in 2015 we celebrated 40 years since we added stairlifts to our product set. To mark the occasion Stannah staff took part in a series of exciting events and tasks. Through all the fun and games we managed to collectively raise £21,000 – in addition to a corporate donation f £40,000- for a fantastic cause, The Silver Line.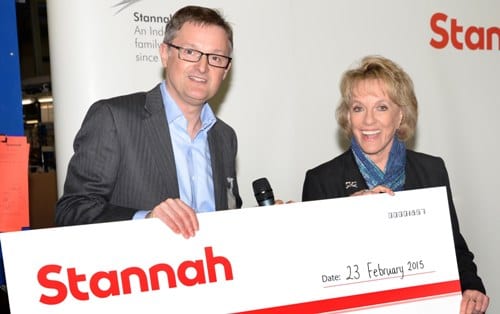 This is a charity that is very close to our hearts. More than half of all over 75s in the UK live alone and one in 10 suffers 'intense' loneliness but often don't know how to ask for help. The Silver Line is the UK's only completely free and confidential helpline that provides everything from information to friendship and impartial advice to the older generation. Open 24 hours a day and 365 days a year, The Silver Line is a vital helpline that keeps older people connected to society and the modern world and we are incredibly proud to support the invaluable work they do every day.
The fundraising fun started in March with a cake sale which saw Stannah staff showing their bake off skills. This was followed by a Smartie challenge, a trek in the Peak District, a climb up Snowden, a half marathon and the Three Peaks Challenge amongst other things.
Despite the gruelling hikes and the sometimes less-than ideal weather conditions, nothing could stop the staff from completing the challenge with smiles on their faces!
Our efforts culminated in December, when some of our braver staff fished out Santa outfits and joined hundreds of other Santa's in a fun run!
At each event our staff donated their time, money and determination into not only creating a great atmosphere but each time raising money for a cause that provides essential help to hundreds of people.
If you have been inspired by the achievement you too can do something to help The Silver Line continues in helping older people, for example to become a volunteer Silver Line Friend. Take a look at their website: https://www.thesilverline.org.uk/
Stairlifts made for you
All our stairlifts whether straight or curved are customised to suit you and your home so call now to arrange a visit to get your FREE personalised quote!