Our talented baking expert and Great British Bake Off icon Val Stones has (trick or) treated us to her super-spooky, extra-tasty graveyard brownie recipe that's freakishly fun for all the family to make.
Val says: "I think brownies are the most delicious chocolate indulgence that can be made. They are so versatile too, in that once you have a basic recipe you can make them fantastic with flavours, ingredients and toppings.
This is my basic brownie recipe used to make a Halloween graveyard. There are a few component items to make but it will be well worth the effort once made and assembled."
Serving suggestions and timings:
Makes 12
Preparation and assembly time: 2 hours (including an hour rest for the chocolate soil)
Cooking time: 20-30 minutes
Equipment:
A square or rectangular shallow brownie pan, lined with greased baking parchment paper
A cake board for setting the brownie on
A silicone baking mat
Two small disposable piping bags
Ingredients:
For the brownies
75g dark chocolate with 70-75% cocoa solids
200g unsalted butter
2 large eggs, beaten
225g granulated sugar
75g self-raising flour
125g chocolate chips
For the chocolate soil
140g unsalted butter
80g caster sugar
200g cocoa powder
A pinch of salt
45g egg whites
For the graveyard
Two packets of orange Matchmakers, broken into different lengths
4 chocolate biscuits for the gravestones
200g white fondant icing for the ghosts (optional 50g extra for pumpkins)
Orange and green food colouring (optional)
A handful of Maltesers (optional)
4 wrapped lollies to shape the ghosts
200g dark chocolate
300ml double cream
1 egg white
200g sifted icing sugar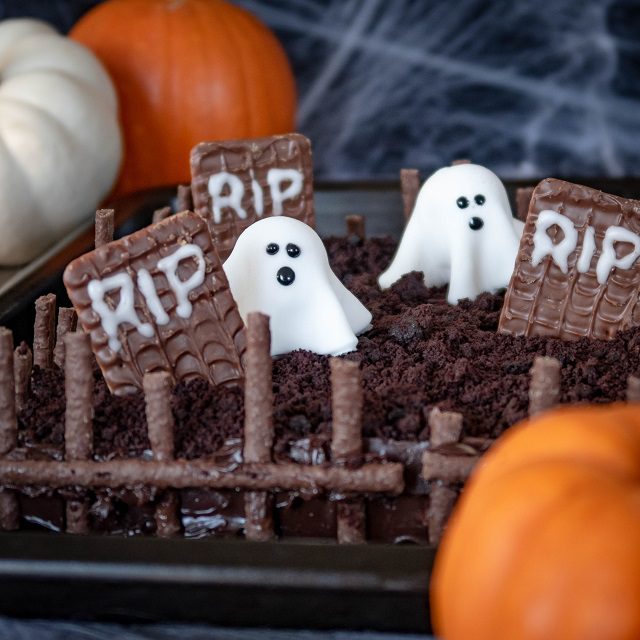 Method:
For the brownies
Set the oven at 160° fan / 180-190°C, 350-370°F, gas mark 4-5
Cut the butter and chocolate into small pieces, then place them in a microwaveable bowl
Microwave on medium heat for one minute. Repeat if needed in 30-second intervals until melted
Beat the mixture smooth and fold in the other ingredients. Blend gently but thoroughly so that you don't knock the air from the mixture, before spreading evenly in the tin
Place on the middle shelf of the oven and bake for 20-25 minutes. The centre should be very moist, and the brownies should wobble slightly when shaken; the mix will continue to set once removed from the oven
Allow to cool completely before use. If you have time, leave in the fridge for a couple of hours
For the chocolate soil
Mix all the ingredients together until a crumb-like texture in a food processor
Spread the mixture onto a silicone mat and rest for one hour in the fridge
Preheat the oven to 160° fan/180-190°C, 350-370°F, gas mark 4-5
Bake for 20 minutes, then remove and allow to cool at room temperature. While the brownie and soil are chilling, prepare the graveyard elements
For the graveyard
First, you will need to make ganache. Put the dark chocolate in a large mixing bowl. Pour the cream into a saucepan and bring to a simmer, stirring continuously so that it doesn't burn
Bring to the boil, then quickly remove from the heat. Pour over the chocolate, leave for one minute and then whisk until smooth and glossy. Use straight away or leave to cool down until thick enough to spread
Next, make the royal icing. Beat the egg white lightly, then gradually add the icing sugar until it reaches a consistency that can be piped. Colour half black for spiders' legs, ghost eyes and mouths. Decant the two colours of icing into small piping bags.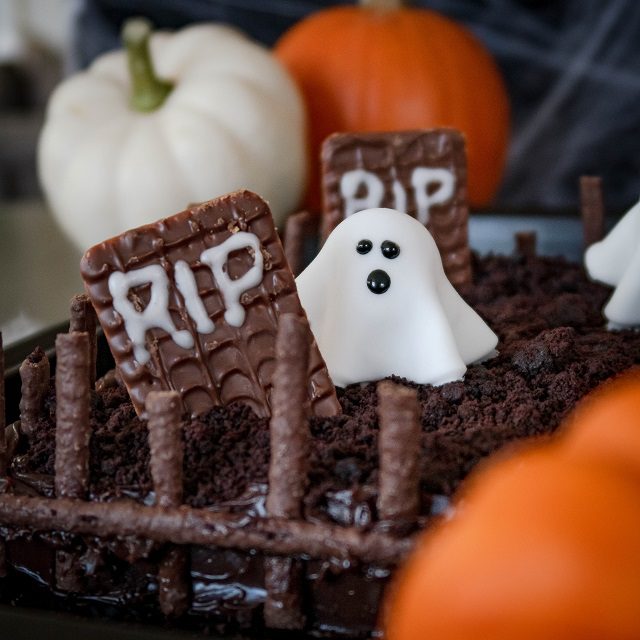 To assemble
Place the brownie on a cake board. Spread the sides of the brownie with ganache, saving a little to stick items on the graveyard. If it's gone hard, place in the microwave for 10-second bursts until spreadable
Stick the Matchmakers around the ganache to make a rickety fence. Scatter the chocolate soil on top of the brownie
Pipe 'RIP' onto the biscuits and allow to set before pushing into the soil
Sprinkle cornflour on a surface and roll out the white fondant. Using a 3-inch pastry cutter, cut out 3-4 circles and shape into ghosts over the lollies, then stick into the soil. Once hardened, pipe eyes and mouths, or use the edible pen to draw features
As an eerie extra, colour the leftover fondant icing orange and shape into pumpkins (and a little green to make stalks). You can also stick two Maltesers into the soil to form the head and body of a spider, then pipe eight legs onto the soil
Happy Halloween baking!
Looking to make terrific (and a little terrifying) plans over the spooky season? Our top 10 Halloween activities are worth creeping over. Val shares more of her baking tips, recipes and memories here.
Stairlifts made for you
All our stairlifts whether straight or curved are customised to suit you and your home so call now to arrange a visit to get your FREE personalised quote!