Our Entertainment Aficionado Richard Allinson shares the iconic albums that inspired him and sound-tracked his favourite memories. The five extraordinary artists behind these musical masterpieces defined decades and revolutionised the industry.
I call this blog my 'top 5 albums of all time' but really, ask me again in a couple of days and this selection will doubtless change. Music does that… it moves me in so many ways and in so many directions that no journey or destination is the same.
This selection includes collections that were hugely inspiring to me at a time when we were all much younger and perhaps more easily influenced. This is not to say that contemporary artists don't move me; I defy you not to be moved by Jacob Collier, who recently waltzed off with his fifth Grammy —this one for 'Best Arrangement' for his song 'He Won't Hold You'. That's after becoming the first British artist ever to win a Grammy Award for each of his first four albums. That's five Grammys from seven nominations — an enviable strike rate. I digress. Time to break out the vinyl.
1. 'Songs In The Key Of Life' by Stevie Wonder
The title says it all: not many albums announce their ambition so confidently. The fact that this collection came after Stevie had given us five albums in four years raises his talent to another level. For me, Stevie's reputation rests on what is one of the most prolific periods of any artist — the first half of the 1970s.
In April 1971, at the age of 20, Stevie gave us 'Where I'm Coming From' — the first album he produced himself. Less than a year later, he followed this with 'Music Of My Mind' and was only just getting into a rhythm. In October 1972, 'Talking Book' was released, winning Stevie his first three Grammy awards. Less than a year later, he dropped 'Innervisions' at only 23 years old. A month after his 24th birthday, he gives us 'Fulfillingness's First Finale'.
Then we waited. It was worth it. It was that long, hot summer of '76. We were expecting something special, but we weren't expecting 'Songs In The Key Of Life'. Twenty-one songs on two albums and an EP. The packaging of that EP felt clumsy — it slipped out of the gatefold — but the music is wonderful.
'Pastime Paradise' is inspired by Bach's 'Prelude No.2 in C Minor'. 'Sir Duke' celebrates not just Duke Ellington but Count Basie, Glenn Miller, Louis Armstrong and Ella Fitzgerald. And yes, that really is his daughter Aisha splashing in the bath on 'Isn't She Lovely'. Stevie sings about love, politics, race, history and childhood. He combines the social and the spiritual. His melodies are joyous, his arrangements are complex and the textures he creates were unique at the time. It became only the third album ever to debut at number one in America, where stayed for an incredible 14 weeks. In 1995, he told Q magazine "'Songs In The Key Of Life' I'm most happy about". The bar doesn't get any higher.
2. 'Zenyatta Mondatta' by Police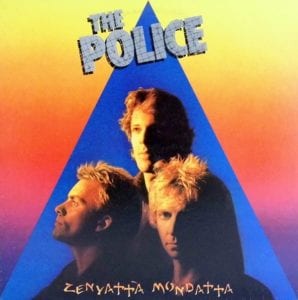 Milton Keynes Bowl was wet and muddy on the 26th of July 1980. I know because I was there, waiting for The Police to kick off the 'Zenyatta Mondatta' tour. They were over an hour late (all to do with lighting, apparently) then through the haze we saw Sting, hanging on an electric double bass singing 'Voices Inside My Head'. He was opening a tour with a song no one had heard before. Brave. But we were wet, cold, merry and ready.
No, this album doesn't hold arguably their best song ever — 'Message in a Bottle' — but Sting's got melody, his words fit and the arrangements are stunning. I remember dropping the needle onto the vinyl. Side one, track one. It took an age before I could hear anything. A low bass synthesizer and Stuart Copeland just warming his kit lead into a seriously sinister first verse. Just when I think it's a little dark in here, I'm jumping around singing 'Don't Stand So Close To Me'. I'm hooked. The sound of the album, those taught arrangements and the sheer glee with which they play — there are no superfluous details here.
Sting has said they were against the clock with this album. They finished it the night before that memorable Milton Keynes show — the first night of a tour that would take them through to February 1981. When listening to 'When the World Is Running Down', 'Driven to Tears', 'Voices Inside My Head' and 'De Do Do Do' over 40 years later, I can't hear how they could have improved upon this one.
3. 'The Royal Scam' by Steely Dan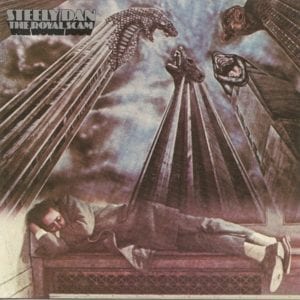 To understand Steely Dan is to appreciate the disdain with which Donald Fagen and Walter Becker viewed the stuff they weren't interested in. In this case, it's the 1970s. Talking to Sounds in 1976, Walter Becker said "not much of a decade". So, 'The Royal Scam' feels good right now.
Steely Dan's fifth album was released in 1976 when D.I.S.C.O. was huge and punk was about to turn the record industry — if not the music business — on its head. The fact that Walter and Donald thought a song about Palaeolithic cave paintings in northern Spain was what the world needed at that time is pure Steely Dan. That's what 'The Caves of Altamira' is all about. If you said Breaking Bad's Walter White is inspired by Kid Charlemagne I'd believe you, but it's still the bonkers guitar solo on that opening song that hooks me in every time. It sounds like one colossal key change gone wrong. Steely Dan's reputation for multiple re-takes with multiple musicians is legendary, so they must have approved. It's priceless, as are the dismal characters all over this album. It's a perfect foil to the joy of Stevie Wonder, the ambition of The Police and the sheer creativity of The Beatles.
4. 'Revolver' by The Beatles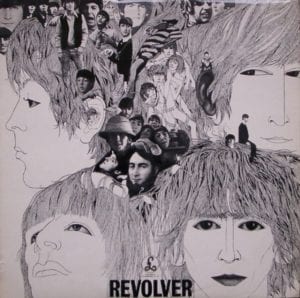 To include any Beatles album in any collection seems almost clichéd. Simply being the most influential and popular group in history is no guarantee of 'favourite' status, but 'Revolver' was a gamechanger. Think of a band whose sound changed so radically so quickly… It may take some time. 'Revolver' is 14 songs dealing with so many subjects in so many new styles that it's still baffling that it comes together so perfectly.
Of the many creative artists I've met, Sir George Martin (The Beatles' genius producer) is the most engaging. His ability to translate what 'the boys' (as he called them) wanted to create onto tape using technologically behind studios remains a startling achievement.
The Beatles didn't play any instruments on 'Eleanor Rigby' yet it still sounds like a Beatles recording. 'Love You Too' is George Harrison's first experiment with Indian instruments. 'Doctor Robert', 'Tomorrow Never Knows' and 'I'm Only Sleeping' confirm John's chemical experiments. 'Here There And Everywhere' is quite possibly Paul's finest song. Initially, it sounds like another McCartney love song, until we realise that he's playing with us — he only sings the title at the very end, and in amongst the key changes and the major to minor movements, he still makes it sound so easy. They all do. This was their seventh studio album in less than four years. Fifty-five years later, it still sounds fresh.
5. 'Pet Sounds' by The Beach Boys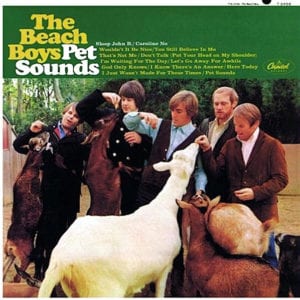 The received wisdom has always been that Paul McCartney was inspired by Pet Sounds which, in turn, is the album Brian Wilson was inspired to create after he heard 'Rubber Soul'. Either way, 'Pet Sounds' remains the best Beach Boys album hidden behind the worst cover. 'Wouldn't It Be Nice', 'God Only Knows' and 'Sloop John B' could only be Beach Boys songs, while 'I Just Wasn't Made For These Times' has to be Brian Wilson at his most sincere. He gave up touring at 22 to concentrate on creating not just an album but "a complete statement".
So, we have a bunch of great songs played mostly by the group of session musicians known as 'The Wrecking Crew' with the addition of — in no particular order — bicycle bells, harpsichords, a Theremin, Coke cans and a dog barking. So yes, the Beach Boys were not that involved in the production; it really is Brian in control of all of this. Crucially, he hadn't forgotten that sound unique to the Beach Boys — harmonies. Their voices have never sounded better. Those vocal harmonies on the second verse of 'Wouldn't It Be Nice' still send shivers everywhere. Brian apparently recommended listening to Pet Sounds on headphones in the dark. Maybe he didn't want the distractions of the album cover.
So, there are five albums that I now realise did so much more than entertain, engage, stimulate, and inspire this writer when he was much younger. They've become a musical timestamp, a non-fungible token of the times in my life that I know were mine. If your memory of the 'good old days' is a little hazy, listening to these epic albums can help. And if you're listening to my recommended collections for the first time, they'll still sound terrific.
If you wish to continue down music memory lane, I encourage you to stop off at my 'pioneering performances that changed music forever' and 'timeline of music technology' blogs. Play your favourite record as you read; you'll be amazed at how much better you feel for it.
Stairlifts made for you
All our stairlifts whether straight or curved are customised to suit you and your home so call now to arrange a visit to get your FREE personalised quote!