We all love a little luxury in our home: the latest comforts and electronic gadgets to help us in our busy lives; so it's no surprise that the trend for building high-specification luxury homes sees developers and owners including the convenience of a lift. It's the ultimate statement, a lifestyle choice and a useful addition to high-end housing. A home with a lift really does stand out from the crowd, propelling a property into a highly- desirable 'must-have' category.
At Stannah we have been providing lifts for generations, in fact 50 years. Therefore, it's no surprise that our lift expertise can help families (like ours) enjoy the luxury of a domestic homelift.
Properties come in all shapes and sizes - and so do lifts. For houses with two or more floors and generously proportioned internal space, executive lifts make an ideal choice. These lifts can accommodate up to four people or a wheelchair user, and all kinds of luggage or household items.
In a new build property, lift shafts can all be part of the architect's plans and building work and costed as part of the whole project. In an existing dwelling there are four clear stages to a project: surveying the site to produce plans, builder's work, lift installation and finally internal decoration.
With an executive lift the choice of product and options are endless. With a wealth of designs doors to match the house interior; automatic single opening doors, different entrance configurations to give flexibility on each landing, and lift finishes to match the home interior.
When a homelift requires only two stops, a simpler compact lift can provide a perfect solution. Installed very simply, with no shaft required, these types of lifts have a small footprint for just two standing passengers, or a slightly larger size to fit a wheelchair user, and can be positioned either in a corner or against a wall.
Installing a compact, through-the-floor lift requires minimal builder's work and within just a few days, the lift is installed and ready to use. Practical and occupying minimum space these products provide quick access over two floors.
At Stannah our compact Salise and Stratum lifts are a popular choice and a luxurious addition to comfortable living.
The trend for the convenience of a lift in luxury homes doesn't end there. The fashionable town house with multiple floors and unconventional layouts may mean bringing the groceries home (or having them delivered) could involve many flights of stairs. That's why high-end developers and city conversions are building in a small service lift to take the strain. At Stannah our market-leading Butler lift is perfect for the job.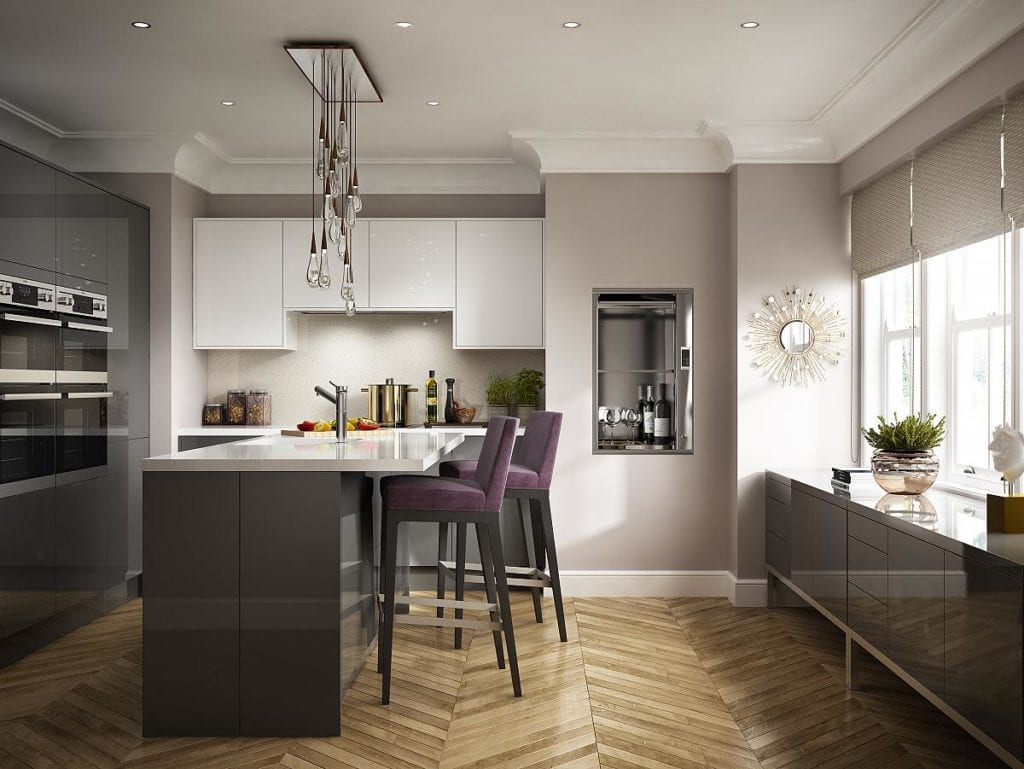 Possibilities of lifts in the home are endless, whether a service lift from garage to kitchen to dining room or a lift to take you, your family and guests around your home.
Stairlifts made for you
All our stairlifts whether straight or curved are customised to suit you and your home so call now to arrange a visit to get your FREE personalised quote!