Mark Lane's top ten tips to make gardening with limited mobility soothing and stress-free
1 August, 2023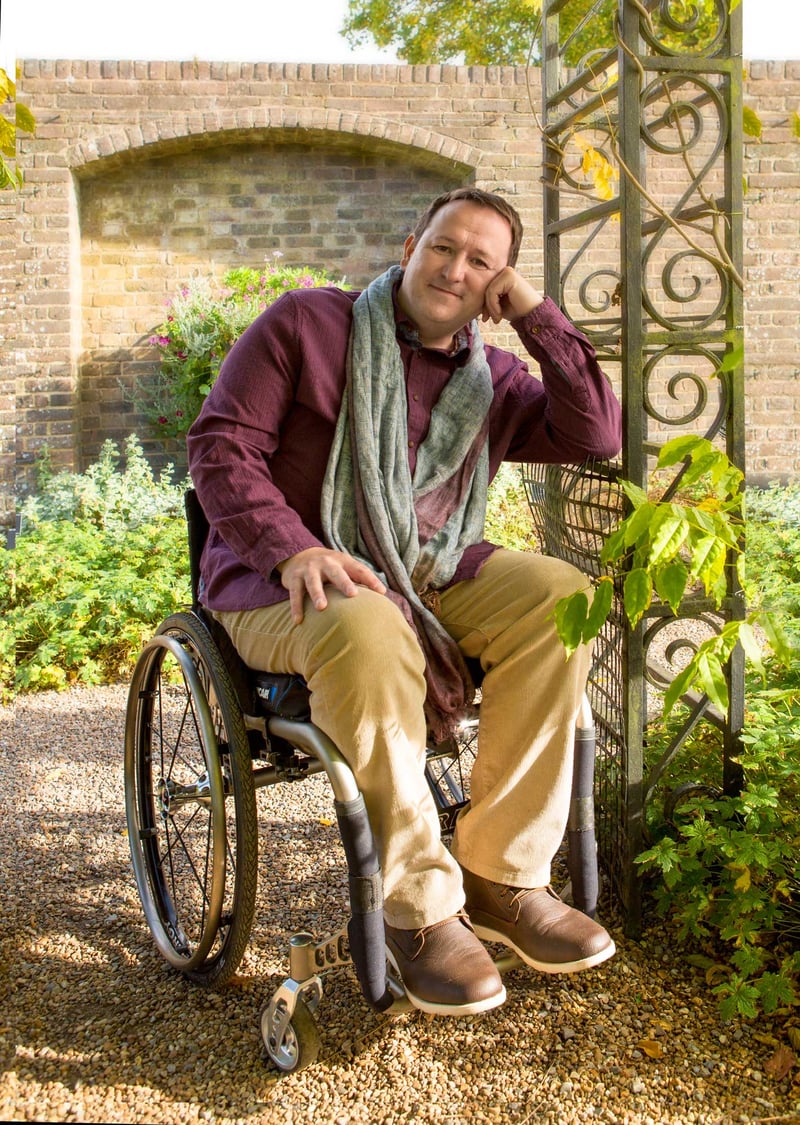 Our talented gardening expert, Mark Lane, shares his top 10 tips to make gardening easy when you have limited mobility. Whether a green-fingered guru or a gardening novice, Mark's expertise will ensure your garden is suitable for anyone to enjoy.
It doesn't matter what level of ability you have, you can still get outside and garden. Gardens and gardening make you feel safe, secure and positively affect your mental, spiritual and physical well-being. Whether you use a wheelchair, a mobility scooter, a walking frame, a stick or other aid, or are born with conditions that leave you thinking you cannot garden, take a breath and re-think. I did this 23 years ago following a car crash, and with these simple tips, you can get outside, enjoy what nature has to offer, feel the sun or rain on your face, be alone for personal reflection or socialise with family and friends.
1.     Pace yourself according to your ability
I always had problems with overdoing tasks. A horticultural therapist told me early on to invest in a cheap egg timer (but now I use the clock on my mobile phone). Pacing your activities is essential, especially if you tire quickly. Set the timer to five minutes. Try working for this period. If you find it is too long, reduce the time. If more than five minutes are needed, think about the task ahead. It is better to do things in shorter periods with gaps in between than working solidly for 30 minutes, after which you will probably be exhausted. Pacing will, over time, result in more work being done because you allow time for rest. Once you find your baseline, you can then work around it every day of the week.
2.     Find the right tool for the task
Tools are very personal. Long-handled tools are great for people in wheelchairs and for people who cannot bend or kneel easily, but when buying, try them out. The ones with interchangeable heads, although more expensive, are a good idea. Alternatively, fix an existing trowel or fork to a length of pole (at your desired length) with cable ties.
Tools can be heavy, especially over a period of time. There are some good lightweight aluminium and 'plastic' tools on the market. Be mindful that some lighter tools are not so robust and may need changing in a year or so. Also, consider looking at children's tools as they are lighter, robust and normally come in a great range of colours. Telescopic tools are a great way to work in a position that makes you comfortable.
If you have difficulties with dexterity, consider ergonomic tools, from moulded handles that sit comfortably in your hand to rotating handles (i.e. on secateurs) and curved handles for ease of use. Again, don't rely on reviews; try them out in the shop. Relief grip bionic gloves can also help to improve dexterity
3.     Build or buy raised garden beds
I often see raised beds installed for people with varying ability levels. For some people, raised beds are great. The plants are lifted to a manageable height, and you can even sit on the side of the garden beds while gardening. For some people, whether in a wheelchair or not, twisting the torso is not possible. Consider the use of 'raised tables'. You can position your wheelchair or mobility scooter underneath or place a chair ready to sit and enjoy sowing, planting and harvesting. Raised tables do not have much depth, but you can still grow lots of salad crops and alpine plants.
4.     Opt for pots rather than ground beds
Think about using pots to grow your plants in. Pots can be used for the smallest alpines to large trees. Pots need ongoing maintenance in the form of watering and feeding, but with water timers and a drip irrigation system, you do not need to worry about your garden maintenance. Use the tables around you. Half-fill the pot with polystyrene and top it up with soil. This will keep the weight of the pot down so that it can be positioned wherever desired. If arranging pots together, turn a couple of empty pots upside down and set your planted pot on top. Place other planted pots around the base, water and feed; over time, the upturned pots will disappear. You can create a whole garden with a combination of pots.
5.     Forget ground planting – think vertical
If you have difficulty bending or can only reach a certain height, consider growing up a wall. There are some excellent vertical planting systems on the market. Ensure they are fitted securely to a wall or fence and have a drip irrigation system. A cheaper alternative, which will need replacing every year, is to use a hanging show organiser. Fill each pocket with soil and your chosen plants. Over time the pockets will disappear behind the flowers and foliage. Keep well-watered and fed for a glorious display.
6.     Turn to tubing when sowing seeds
When sowing seeds in borders, veggie patches, or allotments, use plastic tubing. Clear tubing is best, but standard water tubing is fine. Cut to the right comfortable length, either from a seated position in a wheelchair or a standing position without bending. After making planting holes in the soil, position the tube above the hole and drop a seed into the top of the tube. Let gravity do its thing, and with minimal effort, a seed is planted in the hole. Cover the seed with soil using a cane or a long-handled tool.
7.     Wear the right attire
Always try to remember to wear sunscreen, a hat, long sleeves, and trousers. Some plants, soils and composts can irritate the skin. This will stop you from catching the sun and burning while keeping wasps and unwanted insects off your skin. It's best to avoid gardening during the hottest parts of the day (usually early in the afternoon).
8.     Stay hydrated
Spending time in the garden is a magical thing. Without knowing it, you can spend hours outside. It is, therefore, essential to drink plenty of water. Also, if you need to take medication at certain times of the day, like me, then have a small bag. This should be big enough to carry your pills, sunscreen, sunglasses and snacks.
9.  Find the perfect pathway material
When visiting potential clients to design a garden for someone with a disability, I am always asked what the best material is to use underfoot. Tarmac is relatively cheap to lay and now comes in many colours. Self-binding gravel is a pricier option. The thing to remember is to have a level, firm, stable base with a top material that does not give off too much glare, gives just the right amount of resistance whether on foot or using a wheelchair, is flat and, where possible, has a raised edge so that it stops wheels, or, for more ambulant individuals, makes you aware of the edge of the path. For temporary pathways, consider roll-out trackways or landscape carpeting.
10.  Play on all of the senses
Think about all the senses that can be stimulated in your garden and create a sensory garden. Whether touch, smell, sight or another sense, they can all be stimulated through material choice, plant selection, scents and colours, as well as music and sound for auditory senses.
Looking for more inspiration on creating an inclusive garden? Read Mark Lane's tips on designing a garden for all to access and perfect your garden design skills.
Stairlifts made for you
All our stairlifts whether straight or curved are customised to suit you and your home so call now to arrange a visit to get your FREE personalised quote!