Here at Stannah, our operations have been scaled back significantly to support the national effort against the spread of Covid-19.
We are currently only providing new stairlifts for the most urgent cases - for example, for people who are not able to leave hospital unless a stairlift is installed in their home, or for those whose condition has rapidly deteriorated and can no longer use the stairs - leaving them confined to only one floor of the house, which can not only be dangerous, but is also impractical in many cases.
During this time, we are continuing to take every step possible to protect our customers, as well as our staff, during any domestic visits.
For our existing customers, a stairlift is often an essential lifeline and we will continue to offer call-out support and servicing so that they can remain safe and well in their homes.
Falls in the over 65s are the biggest single cause of emergency hospital admissions and if we can help to minimise pressure on both the NHS, and social care services, the stronger they will be in the battle against coronavirus.
The more people we can keep safe in their homes at any time - but particularly right now - the better.
Of course, this service also extends to those who rely on an existing lift that may have broken down, like Mrs N's from Hampshire.
Supporting Mrs N
Mrs N had a stairlift installed just over a year ago following a fall that left her with a broken pelvis. The stairlift has been central to her recovery, allowing ease of mobility around her home while she healed. Once back to full health Mrs N no longer necessarily needed the stairlift every time she went up or down stairs, but as she appreciated the assistance it gave her in her house, she decided to keep it and described it as a godsend first thing in the morning and last thing at night.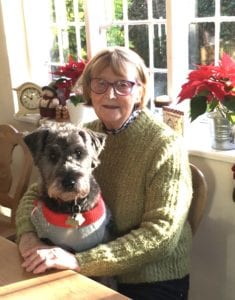 Mrs N's trusty stairlift came back to full use when recently she tore a ligament in her knee and once again, she couldn't do without it - but last week, she accidentally dropped something in the mechanism, and it stopped working. Some customers may have initially feared we wouldn't be able to help, but Mrs N so was delighted that a service engineer was on hand to help her within just an hour or two.
"I want to thank Stannah for the professional way your engineer responded, making sure I was well before coming into the house, washing his hands and making sure he kept his distance. He's an absolute credit to the brand. I don't know what I'd do without my precious stairlift, it is the best thing I have bought in years."
A new contact-free step to the process
To continue to support customers during this time, we have developed a new contact-free assessment process. This involves collecting information over the phone and the use of video calls to assess the staircase, and the needs of the user, therefore reducing the need for face-to-face contact. The new process is already proving to be effective and most importantly, our customers are grateful to still have an option available to them, relieving some of their worries.
To ensure the correct and best fit, especially for curved staircases, we do still need to make a very brief visit to customers' homes to check measurements, and of course our installers will need to visit the home to fit the lift. However, the time spent carrying out these tasks are always kept to an absolute minimum and all staff are following social distancing rules as communicated by the government - doing everything they can to reduce risk. You can read our full guidelines on this, please click here.
Whilst we have reduced our operations considerably and are continuing to find new ways to support customers, we want to make sure that those who need us most, can still rely on us during this difficult time. In a period of lockdown, it is ever more important that our customers can carry on safely in their own homes.
Contact us today to find out more about our contact free assessments.
Stairlifts made for you
All our stairlifts whether straight or curved are customised to suit you and your home so call now to arrange a visit to get your FREE personalised quote!