How to future-proof your Forever Home, by Vaila Morrison
18 May, 2022

Our insightful Inclusive Design expert, Vaila Morrison RIBA of The Inclusive Home, believes that any much-loved home has the potential to become a 'Forever Home'. In a vibrant new infographic, Vaila reveals how to future-proof each area of the home (with a little help from her fellow Stannah experts) so that you can keep living in and loving yours.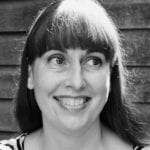 Our home is our sanctuary. It's worth future-proofing this special space to ensure you can live there, and navigate safely around it, for as long as possible. The wonderful news is that a future-proofed, functional home can still be fashionable – it's my ethos, and one I'm very passionate about. Encouragingly, according to Stannah's recent Silver Census study, two in five UK adults aged over 55 agree that an accessible home can be a stylish one.
The Silver Census also revealed that nearly half of over-55s wouldn't consider their current home accessible. If you resonate with this, I'm here to reassure you that it's possible to adapt your home to suit you – based on your current mobility, your proactivity for the future (and what your needs may be then), its current layout and your budget. Re-frame your thinking and see this as an opportunity.
I have crafted a guide to future-proofing your house to make the journey to embracing your 'Forever Home' even easier, simply click on a room within the house below for related content – whether exploring the principles of 'Inclusive Chic' (where accessibility meets aesthetic) or how to create your very sleep sanctuary:
Little changes make a lot of difference
You may want to break it down by room or tackle simpler tasks first. For example, investing in a video doorbell (to communicate with guests and let them know you're on your way to the door) or a smart home hub (which can automate heating or electrics) are small, immediate adjustments you can make that will help to make your house feel more homely and remove any unnecessary pressures. Making your life easier will help you keep on being you.
Expert advice
As well as examples of the enhancements you can bring into your Forever Home, take a look around this house and click on the area you might want more information about. Take Stannah's gardening expert and BBC Gardener's World presenter Mark Lane's advice on designing an accessible garden for all to enjoy or find out how Stannah's baking expert (and former Great British Bake Off contestant) Val Stones future-proofed her kitchen and food storage spaces in her very own home haven.
Feeling inspired to future-proof your own home haven? Why not explore Vaila Morrison's principles of Inclusive Chic or learn more about why future-proofing doesn't mean having to compromise on style.
Stairlifts made for you
All our stairlifts whether straight or curved are customised to suit you and your home so call now to arrange a visit to get your FREE personalised quote!