How to create Halloween Spider Cupcakes with the help of Val Stones
26 October, 2021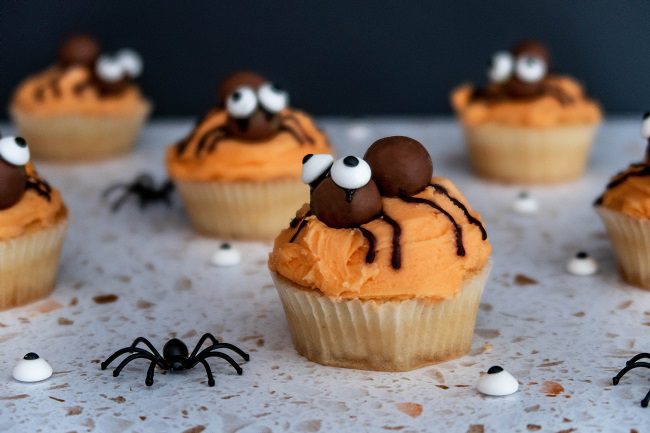 Our lovely baking expert and Great British Bake Off alumni Val Stones loves to bake over the spooky season. These terrifyingly tasty orange and vanilla flavoured spider cupcakes are likely to be a haunting hit with your loved ones!
Val says: "On Halloween I get a huge number of trick-or-treat callers and they always love these funny spooky cupcakes. Orange and vanilla go well together but you can simply make vanilla cupcakes if you wish, and the flour can be replaced with a gluten-free alternative."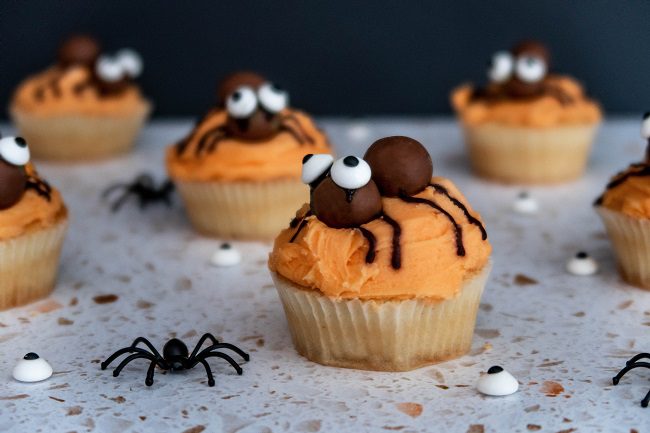 Serving suggestions and timings:
Makes 24
Preparation time: 15 minutes
Cooking time: 20 minutes
Assembly time: 15 minutes
Equipment:
A stand mixer, food processor or electric hand mixer
Two 12-hole cupcake tins, lined with cupcake cases
Three piping bags, then either a 2D nozzle or a 12-point star and a fine plain hole nozzle
Ingredients:
For the cupcakes
190g eggs
190g soft margarine
190g caster sugar
190g self-raising flour
4g baking powder
2 teaspoons orange extract
1 teaspoon vanilla extract
Zest of an unwaxed orange
For the buttercream
60g unsalted butter
20g cream cheese
250g icing sugar
15ml whole milk
½ teaspoon orange extract
Orange food colouring
Green food colouring
For the decoration
1 egg white
200g sifted icing sugar
Black food colouring
48 Maltesers
48 edible googly eyes

Method:
Preheat the oven to 160°C fan, 180°C, 350°F, gas mark 3
Place cupcake cases in a cupcake or muffin tin
Weigh the eggs into a bowl, then add the same weight of sugar and margarine. Sift the flour and baking powder into the bowl
In another bowl, combine the milk, orange zest and orange extract. Next, fold gently into the cake mixture
Slowly combine the mixture. Then, rest for a minute to allow the sugar to dissolve, before beating the mixtures on high for two minutes. Don't overbeat as this will knock the air out
Spoon 40g of the mix into each cupcake case and place the baking tins in the oven. Bake for 15-20 minutes
The cakes are ready when they are even and lightly golden. My top tip is to listen to them (they whisper, rather than shout!). Place on a cooling rack to cool completely
While the cakes are cooling, make the buttercream. Beat the butter and cream cheese until combined in a bowl
Add the icing sugar one spoon at a time into the bowl, then beat until it resembles breadcrumbs. Add milk and orange extract, then continue to mix on high until the buttercream is soft and fluffy
Colour half green and the other half orange, then place into separate piping bags fitted with a nozzle
Make royal icing by beating the egg white and gradually adding the icing sugar until it reaches a soft piping consistency. Then, add black food colouring until the icing is a lovely deep black
Decorate the cupcakes with the coloured buttercream in a swirled pattern
Place two Maltesers on each cupcake to form the head and body of a spider. Then, pipe legs and feet coming from the spiders' bodies. Stick eyes on the spiders using leftover royal icing
For more delicious recipes, top tips and a sprinkling of nostalgia, read Val's generous portion of baking blogs.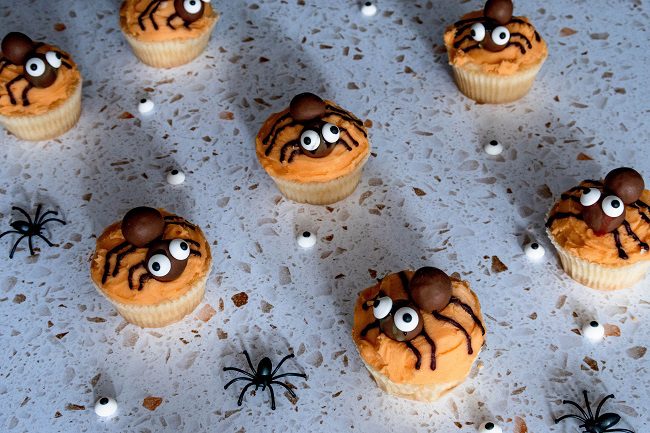 Stairlifts made for you
All our stairlifts whether straight or curved are customised to suit you and your home so call now to arrange a visit to get your FREE personalised quote!