Honesty outscores looks in ensuring a successful long term relationship, according to Britain's over 65s, a YouGov survey has revealed.
The nationwide survey of those aged 65 and over – commissioned by Stannah – found that honesty (86%) and doing things together (76%) are the most important factors for a successful long-term relationship.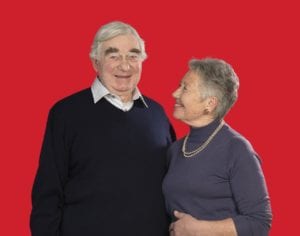 Physical attraction comes fifth, with less than half (41%) saying it is the most important, while sharing a common faith ranks as the least essential attribute to a successful relationship.
The Stannah Silver Census, a bi-annual survey of 1,005 adults aged 65 and over, provides a finger on the pulse of an oft-overlooked segment of British society. A large majority of pensioners (77%) felt that a key reason for Britain's high divorce rate is because people no longer put the same amount of effort into maintaining their relationships as they used to.
Additionally a greater social acceptance of divorce (60%) and women's financial independence (52%) are also seen as significant factors.
Encouragingly, the Silver Census found that age is no limit to love, with 46% thinking that it makes no difference to finding new love.
Patrick Stannah, managing director of Stannah Stairlifts, said:
"Whilst this survey reveals some interesting findings the encouraging thing is that Britain's over 65s continue to have full and active romantic relationships."
"They are positive about the dating opportunities open to them and firm believers that age is no barrier to finding love"
"It is unlikely that previous generations of over 65s had this freedom and extremely heartening to see."
Stairlifts made for you
All our stairlifts whether straight or curved are customised to suit you and your home so call now to arrange a visit to get your FREE personalised quote!