No matter how old you are, or feel, gardening will always delight and stimulate the senses. With so many health benefits, from enhancing well-being to improving mobility, flexibility and strength, there are plenty of ways to make sure you can enjoy a bit of gardening.
To begin with
The following tips will ensure you have a safe and enjoyable time outside in your garden:
Work earlier in the morning or later in the afternoon to avoid peak sunshine hours and hotter temperatures
Ensure you take regular breaks and drink plenty of water
Apply sunscreen to protect yourself from harmful UV rays
Wear a pair of gloves to protect your hands
Waterproof, protective shoes to keep your feet safe and avoid them getting soggy
Have insect repellent and antihistamines ready just in case
Attend to cuts and bruises immediately
Gardening is good for you
Caring for your plants involves using your whole body so gardening will help maintain your general health. It is a form of exercise and so works towards strengthening bones, muscles and joints, and in keeping blood pressure at bay - ultimately working towards reducing the risk of heart disease and stroke.
Another health benefit of gardening is that it can provide nutritious, home-grown produce. Plant what you will enjoy harvesting and eating to aid a diet that is low in fats, sugar and highly processed food.
Spending time in green spaces can benefit your mental wellbeing, from improving your mood to helping you feel more relaxed. Furthermore it can help people connect with others, reducing feelings of isolation.
Use the best equipment
There are many gardening aids available which are designed to help make light work of heavy tasks, reducing physical stress for older people. Some examples of these include:
Easy grip, lightweight tools
Long reach handles or extensions for tools
Kneeling pads or a garden kneeler
Rolling garden seat
Retractable wheelbarrow and hanging baskets
Cordless garden power tool
Garden borders and raised beds
Raised beds are much easier to maintain and require less bending or kneeling. Have them built using railway sleepers as these won't rot easily, then fill the beds with quality top soil and well rotted manure or garden compost.
When shaping your garden borders, try and keep them narrow so your plants are easier to access and maintain. For any existing wide borders, perhaps insert a back-border pathway.
Consider laying a weed supressing membrane beneath garden borders and spread chipped bark as a mulch over exposed soil in borders, especially around shrubs and perennials, to deter weeds.
Picking your plants
Focus on planting low maintenance crops and plants.
Bulbs make beautiful displays and the good thing about them is after planting, not much needs doing to them. In spring opt for daffodils, snowdrops and tulips – they are easy to manage and are such rewarding plants to grow.
Perennial crops are an economical addition. Rhubarb, strawberry, gooseberry, onion, leek are some delicious options to consider planting.
Once established, certain shrubs are unlikely to require regular watering. Hydrangeas, lavender, rosemary and daphne's are all examples of bright, fragrant plants to add to your garden.
Ornamental grasses are easy to grow, deciduous ones only require cutting back in the spring time whilst evergreen ones only need to have dead material removed. They can add real shape and texture to your borders.
Some plants as they require more work and attention so consider whether the following are the right choice for you:
Bedding plants such as geraniums and pansies – they have a short flowering life and will need replacing frequently to keep your garden full
Rapid spreading plants such as mint – they need to be kept on top of on a regular basis and can quickly spread to other areas of your garden where you may not want them
Hedges – they are fast growers and require a lot of pruning. Think about switching to fence panels.
Flowerpots spread around the garden – they need constant watering as they can dry out quickly
Watering made easy
Carrying a watering can back-and-forth or rolling out the hosepipe can be a rather strenuous job in the garden. Why not try setting up water butts in strategic places around your garden for easier access.
One step further could be to install an automatic irrigation system.
Hard landscaping
You might want to consider replacing grass with paving areas. Ensure these areas are laid with non-slip stone slabs and are level as this is essential for safe movement around the garden and in reducing trip hazards.
Turn these additional paved areas into seating spots. These will allow you to take a break from tending to your garden.
Change outdoor steps to wide, gradual sloping paths – particularly important if you need wheelchair access. Installing handrails to your pathways would also aid mobility around your garden.
Pathway lighting, and spotlights around borders and raised beds can also add interest to your garden and extend the time you can enjoy it for.
Tinkering in your greenhouse
Greenhouse gardening can be an absolute joy from tendering plants started from seed to supplying fruit and vegetables out of season. Try to make sure your greenhouse has optimum sunlight but is also well ventilated to avoid overheating.
If you don't yet have a greenhouse, consider the following factors before purchasing:
Plastic or glass? – Plastic it is more cost effective, easier to fit and is less likely to break but glass is more durable and lasts longer
Ensure the base is level – to prevent risk of tripping or pots toppling over
Benches must be sturdy – so they can safely hold your plants
Check your door width – even more so if you are in a wheelchair
Ponds and water features
Ponds and water features can add a sense of peacefulness to your garden, but they can also be very high maintenance.
Reduce the need for pumps, which require regular cleaning attention, by opting for a fish-free or a wildlife pond.
For a low maintenance option try a water feature. They come in all shapes and sizes as well as offering more flexibility to place in raised or elevated positions.
Final top gardening tips
Consider using a professional lawn maintenance company – if budget allows so you are free to enjoy the nicer gardening jobs
Decorate your garden with accessories to create points of interest, allowing you to reduce the amount of planting and the work this might require
Use vertical planting, such as wall and trellis spaces, and plant low maintenance climbers such as jasmine and honeysuckle, to add further interest and aroma to your garden
Gardening is a fantastic hobby that, with a little adjustment, can be managed to suit the level of input you are able to give.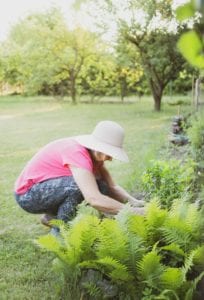 Stairlifts made for you
All our stairlifts whether straight or curved are customised to suit you and your home so call now to arrange a visit to get your FREE personalised quote!