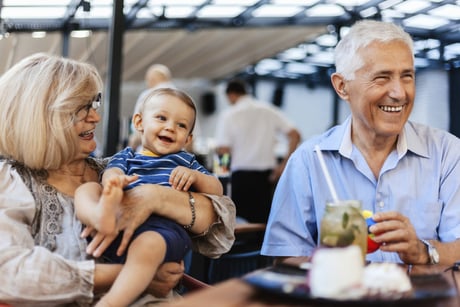 Most grandparents would like to spend more time with their grandchildren, a nationwide YouGov survey of 1,000 over 65s has revealed. The report highlights the strong bond between the generations and how grandparents would appreciate seeing more of their grandchildren throughout the year and not just at Christmas time.
The survey – commissioned by Stannah – found that 62% of grandparents would like to see their grandchildren more; virtually none would like to spend less time with their grandchildren.
The findings are the result of the latest Stannah Silver Census, a twice yearly survey of Britain's over 65s, an often overlooked section of society.
Whilst 64% of grandparents see their grandchildren at least once a month, just 40% see their grandparents weekly, suggesting that grandchildren could do more to maintain regular contact.
London grandparents get to see their grandchildren most often with 47% seeing their grandchildren weekly – a number far higher than in other parts of the country.
Grandparents identified their main role as being that of a companion and friend, perhaps highlighting the difference between parenting and grandparenting.
Acting as a 'financial supporter' was the second most identified as role, reflecting the important part grandparents often play in helping younger generations make financial decisions.
Patrick Stannah, managing director of Stannah Stairlifts, said:
"Grandparents are frequently the backbone of family, especially at Christmas, when many will host, tell stories and generally be the heart of festivities. It is unsurprising that so many identify themselves as being a companion and friend to their children.
"However, it is easy for grandparents to see their grandchildren at Christmas. The challenge is to find the time to see them throughout the year, when many have moved to university or to first jobs. I would encourage all grandchildren to make that extra effort in 2016 to spend more time with their grandchildren."
Stairlifts made for you
All our stairlifts whether straight or curved are customised to suit you and your home so call now to arrange a visit to get your FREE personalised quote!