Slipping you some cheeky pocket money while your parents aren't looking, or sneaking you another biscuit when mum said no, seem to be part of the unwritten, joyful rules of grand-parenthood.
Grandparents are there for memorable weekends together, or all the time as much-loved sources of support that raise children, reassure them and set them on a path to adulthood. Whether it's sharing valuable life lessons, looking after the kids so mum and dad can work (or simply have a little alone time), grandparents are cornerstones of the family and can shape who we become.
The following British celebrities lived with their grandparents at one time or another during their childhood and so can certainly attribute – whether it be in literature, film, music or sport – at least some of their success to them.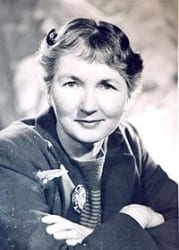 Dame Catherine Cookson
Born an illegitimate child to an alcoholic mother and brought up thinking they were sisters, Dame Catherine Cookson was raised in County Durham by her grandmother, Rose McCullen, and step-grandfather, John McCullen. She dreamed of a better life for herself and achieved exactly that. Catherine became one of Britain's most widely read novelists. She sold over 100 million copies of her books and several of her novels were adapted for television series and films like 'The Black Velvet Gown', 'The Girl', and 'The Black Candle', Then finding herself to be one of Britain's wealthiest women, Catherine returned to the North East of England, using her wealth to help those less fortunate – perhaps inspired by her grandparents' selflessness in supporting her.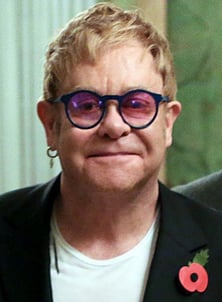 Sir Elton John
Now a world-renowned singer, songwriter, pianist and composer, Sir Elton John did not have the easiest upbringing. He had an incredibly rocky relationship with his parents but was fortunate enough to be taken in by his nurturing and loving grandmother, Ivy Sewell. When Ivy sadly passed away, Elton said that "she was the one that sat me down at the piano when I was three and made me play." Since she would never let him spend money on her when she was alive, he built a chapel on her property after her death. He still goes there now to pay respects to her and others in his life who have died. Without Ivy, we may not still be enjoying Elton's music nearly sixty years later.
Davina McCall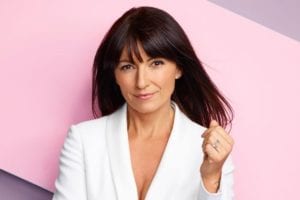 Davina is regularly bringing tears to our eyes on Long Lost Family as she reunites families that have been torn apart. Her mother suffered from alcoholism and abandoned Davina when she was just three years old. She lived with her grandparents in Surrey for several years before seeking out her father and going to live with him at the age of 13. When her grandmother passed away, Davina wrote that she was "the glue that kept us all together. She was like a mother to me… and a rock for so many people in their times of need." Overcoming adversity and finding strength from relatives may have led Davina on her journey to reunite estranged families.
Sir Mo Farah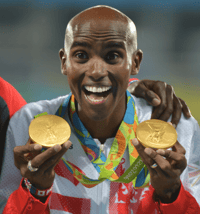 Born in the capital of Somalia but having to travel north as a result of war, Mo Farah and his twin brother, Hassan, moved in with their grandparents. His father came to the UK and worked at Heathrow Airport, but went back when he could to visit the boys and bring gifts. Eventually, Mo's father took them with him to live with their aunt in England. Mo has gone on to successfully represent Great Britain in the Olympics. His resilience and sheer determination to achieve his dreams to provide a better life for his family may have been influenced by his experiences.
Eric Clapton CBE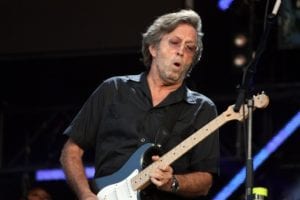 Singer Eric Clapton was raised by his grandparents – even believing that his mother, Patricia, was his sister until the age of nine – having only had him at 16 herself. Given the circumstances, Patricia's mother and stepfather decided to raise him as their own. When Eric was just a few years old, Patricia got married, went travelling and had other children. She still decided, however, not to raise Eric herself and continued the façade that she was his sister. Even when it was revealed Patricia was his mother, they continued to act like brother and sister, and he stayed in the care of his grandparents. This sense of stability in unsettled times may have influenced the emotive lyrics in his music. He has gone on to be incredibly successful as a prominent member of The Yardbirds and Cream as well as a solo artist.
Having already raised their own children, these incredible grandparents of some of the country's most talented and successful stars rose to the challenge to help to raise their grandchildren when needed. They are a tribute to themselves and have watched their efforts be rewarded in the success of their grandchildren.
Stairlifts made for you
All our stairlifts whether straight or curved are customised to suit you and your home so call now to arrange a visit to get your FREE personalised quote!