Exercise is an incredibly important part of our lives. It's enjoyable, it's sociable and it keeps our bodies healthy. But, unfortunately, as we get older we sometimes find that we're no longer able to get involved in the same kind of activities that we enjoyed when we were younger.
But just because you're aging, it doesn't mean that you should stop doing exercise. In fact, quite the opposite: activity in old age is hugely important not just physically but also helps improve our whole sense of well-being. Age just means that you might need to approach it in a different way.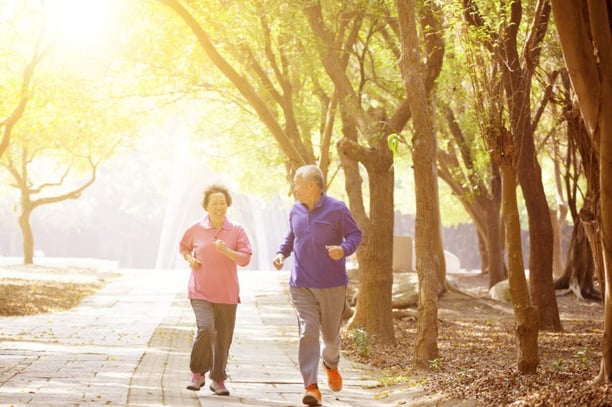 Inspired by some of our amazing customers, we have given some thought to the kinds of things older people can get involved with to keep active.
If you're having some trouble with your mobility, look for activities targeted at people in a similar situation. When you start keeping an eye out for it, you'll see that there are plenty of options for older people that are good exercise and good fun – for instance, dance classes for the over 50s.
Spending time with children is a guaranteed way to keep active (as anyone who's had any will be able to confirm!) Their high energy levels ensure that the supervising adult is always running around, so if you have any grandchildren be aware that playing with them can be more than just relationship building – it can also be great for your health.
Incorporate aerobic exercises into your everyday activities. This is a great way to get your heart-rate up without even really noticing that you're doing it. Think of times when you're usually just standing around – for instance when you're waiting for the kettle to boil or when you're brushing your teeth – and march instead!
If you were a sports fan in your youth, see if there are any sports teams you can join now you're older. Lots of sports are easily adapted to cater for the less mobile, for instance short-court tennis or badminton or walking football, so look at the options in your community and get stuck in!
Take the opportunity to walk as much as possible. This may sound like common sense, but you'd be surprised at the difference small things like getting off the bus a stop early can make on your overall fitness. Having a pet is a great way to ensure you're kept on your feet as animals constantly need exercise. If this is too big a commitment, offer to walk a neighbours pet and reap the benefits without all the hassle!
So keep active, keep moving and enjoy a fit and healthy old age.
Stairlifts made for you
All our stairlifts whether straight or curved are customised to suit you and your home so call now to arrange a visit to get your FREE personalised quote!