Ally Scoops the first Joseph Stannah Award at New Designers Exhibition
5 September, 2018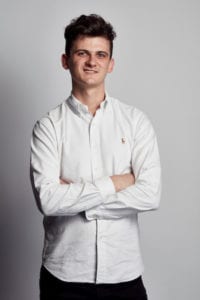 The first Joseph Stannah award has been received by Josh King, for his innovative new device Ally, presented at the New Designers Exhibition 2018 at London's Business Design Centre.
Josh is a third year BSc Product Design student who developed Ally to help those overcoming sexual assault. Worn on the wrist, bra strap or waistband, Ally uses Electrodermal activity (EDA) sensors to monitor the wellbeing of victims. Then through a specially developed mobile app, counsellors and loved ones are able to monitor the wearer's progress to identify when they might need extra support.
The Stannah Judges included Ross Pascoe (Stannah's Product Development Director), Andreas Szentistvany (Concepts Manager), Saeideh Aletaha (Product Designer), Jake Paisley (Product Designer) and Rachel Johnson (Engineering Administrator).
Josh will now receive £1000 to support the further development of his career. The award was presented by Ross Pascoe during a ceremony at London's Business Design Centre on Wednesday 4th July.
Ross said:
"We are very excited to have presented Josh with the first Joseph Stannah award set up to reward innovative and exclusive design that promotes independent living and addresses real life problems. The other judges and I were impressed by the well-considered design and excellent use of prototyping and visualisation for Josh's winning device Ally."
Josh, 22 says,
"If the EDA sensors are showing that someone's particularly stressed or showing signs of anxiety, their counsellor can give them a quick call or contact the wearer directly through the app. It's an honour to receive this award and to be recognised nationally for Ally is a real privilege."
The runner-up prize was awarded to Emily Knott for her device ROMA, a meal reminder which uses music and aroma diffusing technology to encourage people with dementia to eat. As part of her prize, Emily is now in the middle of a 6-week paid placement with Stannah based in the design office. The placement will give Emily a real insight into the business and a chance to experience working in a busy design office with Stannah's design team.
You can find out more about Josh's award-winning design here:
https://www.brunel.ac.uk/news-and-events/news/articles/An-Ally-for-survivors-of-sexual-assault
Stairlifts made for you
All our stairlifts whether straight or curved are customised to suit you and your home so call now to arrange a visit to get your FREE personalised quote!