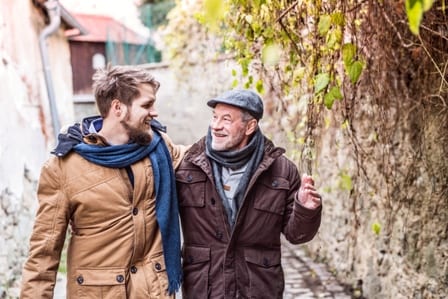 'Interesting', 'wise' and 'experienced' are among the words the younger generation use to describe older folk, according to a new study.
Researchers found young adults are no longer giving blanket stereotypes to older generations, and instead found 88 per cent typically respect those over the age of 65.
Two thirds of 18 to 39 year olds admit they are more inspired by their own grandparents than celebrities – and have a real interest in spending time getting to know their elders.
'Knowledgeable', 'caring' and 'relaxed' are also ways youngsters now refer to those older than them.
The research was conducted by stairlift manufacturer Stannah, whose spokesman Patrick Stannah said: "We are delighted to see that so many young people recognise and value our older generations. All too often older people are portrayed by stereotypes of grumpy old folks who struggle with technology and are generally behind the times but it is heartening to see that image hasn't taken hold with today's 18-40 year olds.
"Alongside outstanding role models such as Sir David Attenborough, Dame Judie Dench and Sir Paul McCartney, it is clear that our older generations – parents, grandparents and great grandparents – are inspiring the generations that come after them."
According to the poll of 2,000 UK adults aged 18-39, and a further 2000 over-65s, more than one in 10 over 65's worry they're seen as 'boring', while 16 per cent think they're considered 'past it'.
One in 10 of the senior generation think they're viewed as slow or elderly, and 14 per cent think they're considered to be 'out of touch'.
But one in five younger folk believe the older generation are inspiring, and half think they're knowledgeable.
And 57 per cent of those under 40 would like to spend more time getting to know older folk in their community – if only they had more time.
While half admit they always take the time to say hello to elderly people if they see them in the street, whether they know them or not.
Some of the reasons younger Brits respect the older generation include hearing their stories from the past, giving insight to what life used to be like.
And a fifth love that older folks can say what they want, when they want, without worrying about the consequences.
However, one in three under-40s wouldn't expect the older generation to have an interest in the lives and thoughts of those younger than them.
Perhaps highlighting the divide, a fifth of over-65s think younger people probably wouldn't be interested in communicating with them either.
While almost half of older citizens believe youngsters would consider them clueless when it comes to modern technology.
And 14 per cent don't think they are considered as interesting by other generations.
A quarter of old folks think the younger generation would be surprised at how much the over-65s love to party.
And 22 per cent report that sex actually gets better once you hit retirement age.
Two thirds would also like those under 40 to recognise that those approaching their winter years are stronger or more resilient than they're often given credit for.
Dr Miriam Stoppard, health and wellbeing advisor at Stannah, commented:
"I found the results of this survey refreshing, particularly the views and attitudes of the younger generation about the old. Many of them painted a picture of the older generation which is not at all stereotypical - instead finding them fun, interesting, inspiring, knowledgeable and wise. It was a joy to find that nearly nine out of 10 younger people respect the over 65s with six out of 10 saying they're more inspired by their own grandparents than by celebrities. Good news for grandparents!
It seems, however, the older generation is selling themselves short because they're concerned they're seen as boring, uninteresting, past it and not worth starting a conversation with. The older generation also feels that the younger generation underestimates how much they love to party and how enjoyable sex still is. Three cheers for the over 60s who have a lot of life yet to be lived!"
Patrick Stannah added: "When we think about what our older generation have lived through – from WWII, to the post war boom, the permissive 60s and rock and roll, moon landings, the economic crises of the 70s and punk, the advent of computing, mobile phones, smart phones, social media – they have seen a pace of change unlikely to be paralleled in any other generation. It is no wonder they have the respect of our younger generations who are eager to hear their stories."
Stairlifts made for you
All our stairlifts whether straight or curved are customised to suit you and your home so call now to arrange a visit to get your FREE personalised quote!