The fashion industry, traditionally, has been obsessed with youthful women, whether they are a designer's latest muse, or the girls and boys who are cited as the current seasons favourite catwalk models. However, we are increasingly starting to debunk those stereotypes and are now revering older women. Older models and grey hair are the new "it" and we hope it's a trend that's here to stay.
Knowing yourself, staying curious and maintaining a sense of humour are all important attributes to having a great personal style. Here at Stannah we celebrate these women over 65 who demonstrate exactly that sentiment, and who are the pioneers of today's 'Greynaissance'…
Baddie Winkle, 91 - Blogger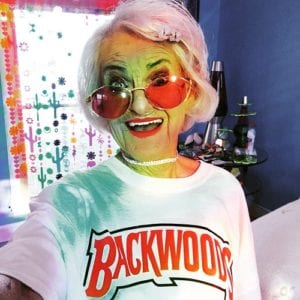 Helen Ruth Elam, better known as Baddie Winkle, is a fabulously fun blogger from Kentucky, USA. A silver social media star, Baddie has amassed an impressive 3.9m followers on Instagram.
Affectionately known as the 'World's Coolest Grandma', the neon-loving nonagenarian's online career began when her 19-year-old great-granddaughter posted a photo of Baddie wearing cut-off denim shorts and a tie-dyed t-shirt on social media. The shot went viral! Baddie has loved the spotlight ever since, oozing confidence and colour on her Instagram account, cheekily captioned "Stealing your man since 1928".
She was inspired to express her personality through her vibrant, wild, eccentric and eclectic mix of clothing following the tragic loss of her husband and son. Baddie is a butterfly — living proof that you can reinvent yourself, view life through a different (more colourful) lens and flourish, at any age.
She is full of joy and confidence.
Carmen Dell'Orefice, 88 - Actress and Model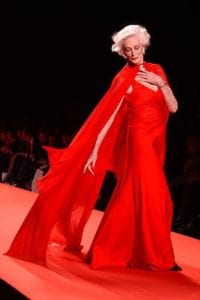 The charmingly chic Carmen is an Italian-Hungarian model, raised in New York. Carmen was just 13 years old when she was approached on a bus by a photographer's wife. By the age of 15, she was on the cover of Vogue. Since her 1948 debut, Carmen's career has spanned an astonishing seven decades. She has even been awarded a Guiness World Record in 2008 for the 'Longest Career as a Catwalk Model'.
Often dubbed the "oldest working supermodel", Carmen has worked with iconic photographers like Cecil Beaton, Richard Avedon and Irving Penn. Beyond photography, Carmen has posed for the paintbrush; she is famously known for being Spanish artist Salvador Dali's muse.
She is elegance personified.
Daphne Selfe, 91 - Model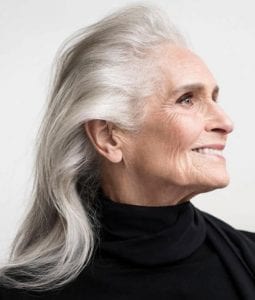 The delightful Daphne is a home-grown talent, hailing from London and the Home Counties. Daphne was discovered while working in her local department store in Reading, when she entered (and won) a modelling competition. Her career began in 1949 when, aged 21, she modelled for fashion brand 'Red or Dead'. Daphne has since modelled for Vogue, Vanity Fair and Harper's Bazaar amongst so many others. Notable for her lustrous silver hair, Daphne received a Guiness World Record for being the 'World's Oldest Supermodel' in 2015.
Beyond the glamorous world of modelling, Daphne loves nothing more than walking in her surrounding Hertfordshire countryside and gardening.
Daphne describes herself as "full of curiosity and optimism, as I have been for most of my 90+ years. My desire is to inspire you to embrace all stages of your life and truly believe it gets better and better - it really can!"
She is an exquisite English rose.
Dame Helen Mirren, 74 - Actress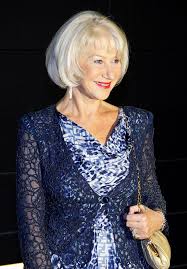 Dame Helen is the epitome of a 'national treasure'. Rightfully appointed a Dame in 2003, Helen is an Oscar-winning actress who has played The Queen and performed with the Royal Shakespeare Company, among countless additional films and theatre productions.
Helen is a figurehead in both beauty and philanthropy. She is the silver starlet fronting L'Oreal's campaigns — their oldest ambassador who hails the beginning of a new 'Golden Age' with the saying "we've still got it. And we're still worth it". At last year's Paris Fashion Week, fun-loving Helen waltzed down the L'Oreal runway barefoot, spinning and twirling in a gorgeous Giambattista Valli gown.
Alongside re-defining perceptions of beauty in the modern age and continuing her illustrious acting career (last year Helen starred in 'The Good Liar' with Sir Ian McKellen), she's an active supporter of numerous charities including Refuge, Oxfam and the Prince's Trust.
She is a golden girl of screen, stage and good causes.
Iris Apfel, 94 - Textile Designer and Interior Designer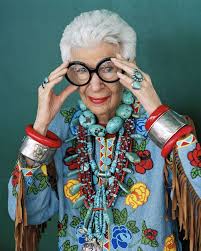 The enigmatic Iris is a kooky New Yorker who has become the world's oldest fashion icon. She was catapulted into the public eye in 2005, when the MET premiered an exhibition of her style.
A 'material girl', Iris comes from humble fashion beginnings. She married husband Carl in 1948 who, two years later, launched a textile firm called 'Old World Weavers' which the couple successfully ran until retiring in 1992. In 2011, she became a visiting professor at the University of Texas in its Division of Textiles and Apparel.
Iris has an eye for style that transcends clothing. She took part in several interior design restoration projects, including at the White House for nine presidents!
From business to Barbie — Iris is the oldest person to have a Barbie doll created in her image!
She is eccentric and eclectic.
Jan de Villeneuve, 72 - Model
Jan has always had an eye for aesthetics, achieving a degree from the University of Michigan in Architecture and Design.
From page, to stage — Jan wowed her first audience on the catwalk in the Seventies and has since been photographed by all the greats, from Norman Parkinson to Steven Meisel.
Jan went onto tread the boards in London's West End in a play called 'Design for Living' with Rachel Weisz and Clive Owen.
The showbiz connections don't stop there. Jan's partner is American drummer Andy Newmark, who has performed with rock-and-roll stars including John Lennon, Pink Floyd, David Bowie and Roxy Music.
Now residing in the idyllic Kent countryside, family is everything to Jan; her closest, and favourite, relative is her 22 year-old granddaughter and she has a Goldendoodle called Charlie.
She is individual and eclectic.
JoAni Johnson, 68 - Activist, Model
Native New Yorker JoAni grew up in the Sixties at the height of the Civil Rights Movement, and hung out at Studio 54 in the Andy Warhol heyday. She went on to study biology and art, before working behind-the-scenes in fashion, with her first job at the denim factory in the Garments District. Besides fashion projects, JoAni is a real advocate for simple beauty products, including appearing in Vaseline's powerful #ListenToYourMoms campaign.
JoAni is also an admirable activist who has fought for diversity in the fashion industry for decades. On JoAni, The Guardian said: "Most of us are lucky to have one shot on life's merry-go-round, but for JoAni Johnson the ride keeps getting faster". Testament to this was global superstar, Rihanna, hiring JoAni to front her fashion and beauty brand, Fenty. The response to a young black designer choosing an older black woman as her muse, was rapturous.
She's graceful, powerful and has an endless river of grey hair.
Dame Judi Dench, 85 - Actress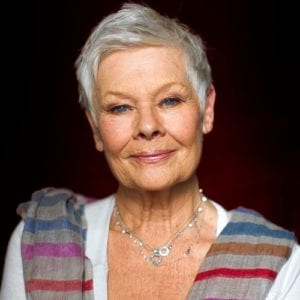 Silver star of stage, screen and now a Vogue magazine model – meaning at 85 years old, Dame Judi is the oldest icon to grace the fashion bible's illustrious front cover.
Dame Judi lived and breathed the theatre as a child. Her father was the GP for the York theatre, while her mother worked as its wardrobe mistress. She initially trained as a set designer, before developing a desire to act. She attended drama school at the prestigious Royal Albert Hall with fellow starlet, Vanessa Redgrave.
In 1957, Dame Judi made her first professional stage appearance with the Old Vic Company, playing Ophelia in 'Hamlet'. This sparked an allegiance to Shakespeare; she starred as Titania in 'A Midsummer Night's Dream', Lady Macbeth in 'Macbeth' and Queen Elizabeth II in 'Shakespeare in Love'. Her regal connections don't stop there; she's taken to the throne playing Queen Victoria twice. Not forgetting her inimitable role as M in the iconic James Bond films, much-loved for her sharp wit and rapport with the spy.
She is a national treasure with unique talent and charm.
Maye Musk, 71 - Dietitian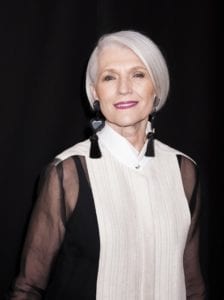 With a twinkle in her eye, the multi-talented Maye has modelled for 50 years and is passionate about science.
Maye appeared nude on the cover of Time Magazine for a health issue and was announced as Covergirl's oldest spokesperson at 69.
Combining beauty and brains, Maye earned a Bachelor of Science degree in Dietetics, before going onto complete a Masters in Nutritional Science. She has since run her own nutrition business for over 45 years.
Being business-savvy is in the blood. You may recognise Maye's family name; the Canadian-South African is mother to Elon Musk, CEO of PayPal and the man behind Tesla. She has written a memoir entitled, 'A Woman Makes A Plan', centred around life as a single parent. Family-first Maye is a twin and has 11 grandchildren.
She is elegant and intelligent.
From careers on the catwalk, to passionately promoting positive causes and bossing their own businesses, these inspiring women are proof that how many years you've lived shouldn't define you — it's how you spend them. The best thing you can do, is to keep on being you.
Stairlifts made for you
All our stairlifts whether straight or curved are customised to suit you and your home so call now to arrange a visit to get your FREE personalised quote!