As we approach a new year, there's no better time to think about refreshing your home. Perhaps your décor feels a little dated, or you've accumulated so many lovely things you're struggling with storage. Whether you're style or solution driven (or both!), here are our top decorating hacks to spruce up a room and steal back space.
Switch up your soft furnishings
From curtains to cushions, throws to rugs, introducing – or replacing – soft furnishings can give a room a new lease of life without breaking the bank. Block colour or patterned print can make a real difference. For a fun, retro look, geometric designs are on-trend. Burnished red with navy or mustard with mauve may seem like unlikely combinations, but they're gorgeously autumnal and complement nicely. Otherwise, neutral tones create a beautiful, calm space.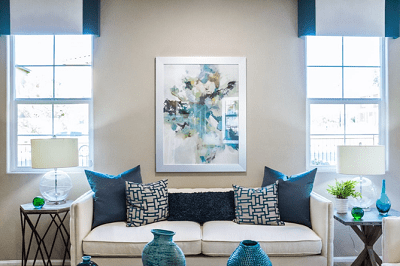 Go for a gallery wall
The best way to brighten up a blank space and inject personality into a room is a gallery wall. Frame statement artwork, family photos or nostalgic record covers and hang them together at slightly different levels. You could even frame fabric cut-offs that match your sofas to tie the designs together. Desenio lets you arrange your prints in a virtual gallery wall, so you can see what the final display will look like before you buy.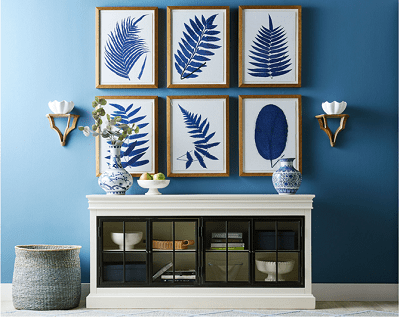 Mirrored surfaces maximise space
Mirrored surfaces bounce light around a room, making it feel bigger. For example; a side table with a lamp on top looks beautiful with a mirror behind it, while also creating the illusion of more space. Choose metallic accessories – whether it's practical items like copper pans and utensil pots, or decorations like plant pots and picture frames – to reflect every beam of light. If metallic isn't to your taste, white works well too.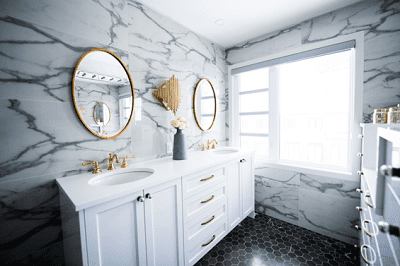 Make mismatching furniture work in harmony
Over the years we inherit and accrue gorgeous items of furniture in different styles and colours. Unify your décor with a lick of paint. If you own a combination of dark and light wood furniture, why not sand down white chalk paint for a distressed, beach house look? Better yet, it's environmentally friendly and healthier than solvent-based paints. Otherwise, make a statement with a striking jewel colour like deep green. A traditional oil-based paint, properly applied, will offer a long-lasting finish; opt for a soft satin sheen over gloss for added style. Why not swap the knobs on your cupboards, chests of drawers and wardrobes for colourful ceramic or chic glass? It's an inexpensive, simple change and little details make a difference.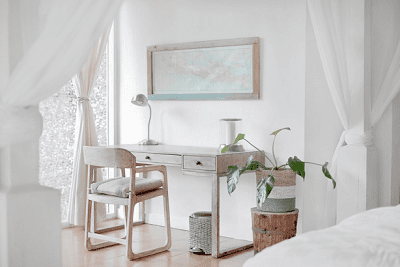 Be space-savvy with shelving
If your mobility isn't quite what it used to be, or you're used to having little ones or pets running around, keeping rooms obstacle-free is crucial to prevent accidents. Protect your floor space with wall mounted shelves. There are many styles and shapes on offer for a modern twist. It's also a good reason to clear out old floor furniture that's stealing space. A freed-up corner of a room could be a lovely spot for a pot plant, as greenery brings the outside in, making a room feel bigger. Otherwise, why not install a desk for crafts or computing? Or an armchair to relax in with a good book?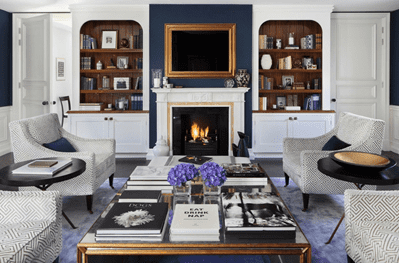 Liven up the layout
It's not always about adding or taking away decorations. Reconfiguring a room can make it look and feel totally different at no extra cost. Why not arrange your armchairs together to create a reading corner? Or facing your bed towards the window so you wake up to a gorgeous sunrise? To avoid injury, enlist a relative, friend or local handyman for heavy lifting.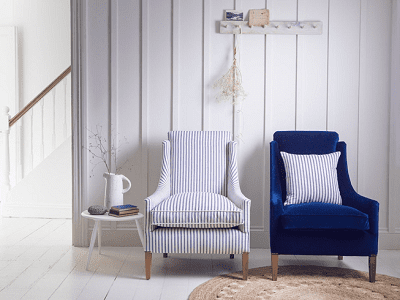 It's never too late to give a much-loved home a mini make-over. Not only will it add character and charm, but a lovely, inviting space can positively impact wellbeing, creating feelings of joy, comfort and pride. You may also relish the creativity and see it as a new hobby, joining the 60% of over-65s who learn a new skill in retirement. Home is where the heart is, so why not show yours a little love today.
Stairlifts made for you
All our stairlifts whether straight or curved are customised to suit you and your home so call now to arrange a visit to get your FREE personalised quote!