There's nothing quite like the unconditional love we feel for our little ones. Whether your own children or grandchildren, keeping them busy and entertained is not always easy, especially when spending more time at home during the drearier winter months.
With Coronavirus measures also restricting many of us, here is our list of fun indoor activities for inspiration to help keep everyone occupied.
From experiencing the joys of a Disney World ride from the comfort of the sofa, to getting inventive with bath time - if you're stuck for ideas, then look no further for simple yet effective ways to keep kids entertained at home.
1. Watch animal livestreams
As many animal attractions, like zoos and aquariums, are either closed or have limited capacity for family days out at the moment, why not take a virtual trip instead?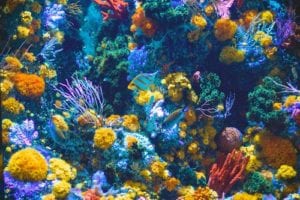 For example, Cotswold Wildlife Park & Gardens are streaming live penguin and meerkat webcams, so they can be seen going about their day from the moment they wake up to the moment they go to sleep.
The Aquarium of the Pacific even has a number of underwater webcams where sharks and coral predators can be seen swimming around. The little ones are sure to be mesmerised! Get them to then draw one of the animals they've seen on paper, before sticking the drawing on cardboard and cutting it up into smaller pieces to create their very own jigsaw.
2. Get back to basics
Playing board games is a classic way of passing the time, with our recent study finding that over a quarter (27%) of Brits enjoy doing so as a hobby. Why not pass this on to your children and grandchildren, by teaching them the joys of Snakes & Ladders and Monopoly.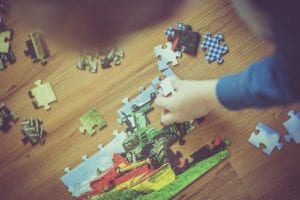 These games provide hours of family friendly fun for the great indoors!
Don't underestimate the power of a good old game of 'Hide and Seek' or 'Sleeping Lions' either – it may just buy you a little peace and quiet, even if only for a few minutes. Blowing bubbles is another handy way of keeping small children occupied and for slightly older children, you could turn it into a bubble blowing challenge and test their number skills to see how many they can count each time.
3. Make household chores fun
Try turning household chores into a game. Children love competition, so why not challenge them to see who can pick up the most toys from the floor, or who can make their bed the neatest? By getting them to choose one of their favourite songs as a 'tidying up' theme tune, it'll help to make doing chores more enjoyable.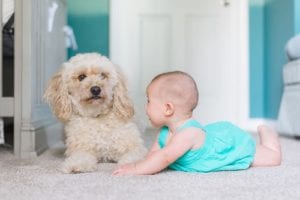 Getting the kids involved with feeding and looking after your pets could help give them a sense of responsibility that they'll relish. So why not brighten up your pet's day too and supervise the children whilst they brush the cat or teach the dog new tricks?
If you've got indoor plants, they could be your little helpers by going around the house watering them with a child-friendly spray water bottle. You could even get them involved in sowing wildflower seeds or kitchen herbs, such as basil. They'll be so proud to see their progress once they start to grow.
4. Bake
If there's one thing all children love, it's sweet treats and they will most likely jump at the chance to whip up some yummy cupcakes. Our baking expert Val Stones' top tip for baking with children is to make the bake first, then invite them to get involved with the decorating.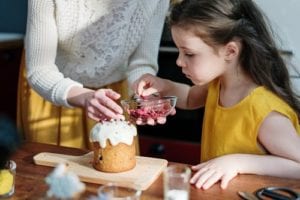 This way there's (slightly) less chance of your kitchen being turned upside down, plus it's the fun and creative part which could keep them engaged for longer and leave them feeling even more eager to tuck in.
You could also try sneaking in some veg to your baking, by making something like a Courgette and Lime Cake; they'll be none the wiser!
5. Create finger puppets
Children have wonderful imaginations, so let them run wild with easy crafting such as creating their own finger puppets using materials like paper, felt or even an old pair of socks.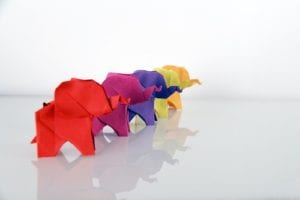 Whether it's creepy finger monsters or cute finger animals, encourage them to create voices for each puppet and put on a show for you. Their creativity will no doubt impress you! Alternatively, older children might enjoy getting creative with other craft activities, such as paper origami.
6. Try jewellery making
For fun, you could set your children or grandchildren the task of creating a nice homemade piece of jewellery for you. There are many handmade jewellery sets for kids available from stores like Hobbycraft.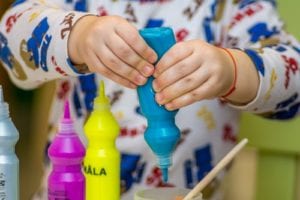 Alternatively, if you're looking for last minute activity, use household items. For example, you could help them to create jewellery using dry pasta, which can be painted and bejewelled before feeding a string through to make a fetching necklace or bracelet. They'll love rising to the challenge of crafting something special for you and, equally, be eager to show off their new accessory to other family members and friends.
7. Be inventive with bath time
If you're stuck for ideas, elongating bath time with fun water play is an easy way of entertaining younger children. Why not make paper boats together earlier that day, then put them to the test in a boat race at bath time?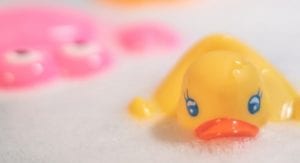 Another lovely idea is testing which objects float and sink, such as a hair band, a sponge or a bouncy ball. This guessing game is a fun distraction for children who aren't such a fan of bath time in the first place.
8. Play word games
Entertaining the kids can also be educational - they just don't have to know it! Using a children's dictionary, ask them to open the book at a random page and pick a word with their eyes closed.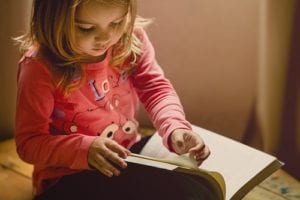 You could turn this into a regular 'Word of the Day' activity. Why not challenge them to use the word in a sentence?
Writing a letter to a friend or family member may be a fun way of learning to use their new vocabulary too.
9. Set up a scavenger hunt
Scavenger hunts are not just reserved for Easter! They are good fun and are bound to get children of all ages excited. Set up clues which take them from one part of the house to the other, before finding a special prize at the end such as a snack or a new toy.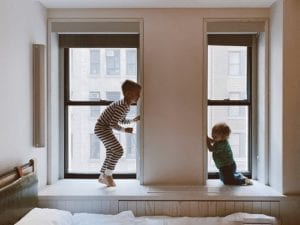 This will keep them occupied, and remember – the more difficult the clues, the longer it'll take them, so get creative.
10. Help to nurture nature
Nature spotting out of the window is an entertaining and educational activity.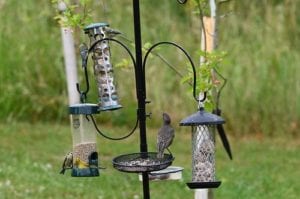 Involve the little ones in helping you put food out in the garden for the birds, then watch your efforts be rewarded through a window throughout the day as they come to feed.
Challenge them to a game of 'I Spy' to see who can spot what's in the garden, from pigeons to squirrels and conkers.
11. Create your own handshake
Choreographing a secret handshake that only you and your little one knows is a lovely way of bonding.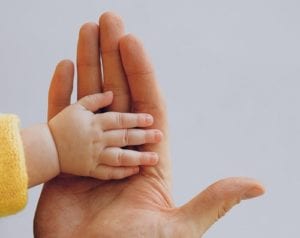 They'll enjoy spending time with you coming up with the hand gestures and enjoy the novelty of the secrecy around it.
Creating a different handshake with each child will make them feel special and can become your 'thing'.
12. Dance together
Playing music to boogie and sing along to together is a simple way of bonding, creating fun memories and burning energy.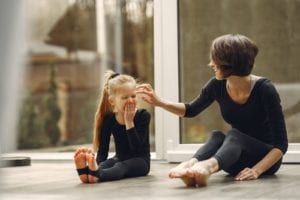 You're score extra brownie points for helping to come up with a dance routine to their new favourite song and suggesting dressing up.
Film your spellbinding performance, as it'll make for a funny home video that brings a smile to your face when you watch it back. If you're on grandparenting duties, your son or daughter will also appreciate the humorous clip to see what you've been up to.
13. Go on a Disney World ride
One activity that's guaranteed to get most children excited is the prospect of going to Disney World. We may not be able to physically visit such attractions at the moment, but it doesn't mean that kids (and adults like) can't enjoy the magic from home.
There are numerous YouTube videos which virtually take you on a tour of the park and even on some of the Disney World rides themselves, all from the comfort of the sofa - perfect viewing for a rainy day. Better yet, there are no queues!
14. Joe Wicks is your best friend
Often on a day when it's not possible to get outside, children can feel pent up energy from being at home. To burn this off, get the kids moving by encouraging them to join in with a home workout.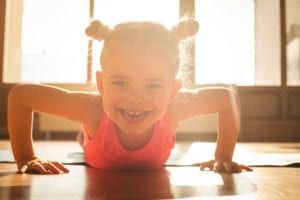 Joe Wicks 'The Body Coach' has a number of roughly 30-minute-long, child-friendly 'P.E with Joe' workout videos which are easy-to-follow for the kids to enjoy with you.
15. Give kids yoga a go
Yoga for kids is another fun physical activity that your children or grandchildren may enjoy at home. There are themed, interactive tutorials available online which help to develop strength, balance and confidence in children. These stretching exercises will mean children can learn a thing or two about yoga and mindfulness from a young age, which can have the same positive stress-relieving effects as they do for adults. It may be a nice activity to try to start the day, or wind down in the evening before bedtime.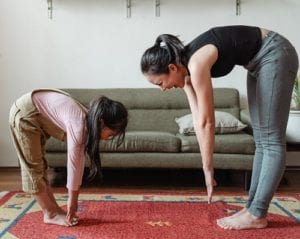 Time spent indoors with small children all day can be notoriously tricky, as boredom and restlessness can easily set in. But hopefully this list of child-friendly activities offers inspiration for creating brilliant memories at home with the little ones – even if they don't always go to plan. The time you spend together is precious, so keep on being you and cherish your bonding time with one another.
Stairlifts made for you
All our stairlifts whether straight or curved are customised to suit you and your home so call now to arrange a visit to get your FREE personalised quote!