"My gift is my song" Elton John first sang in 1970 and continues to serenade stadiums of fans with today. Some of the greatest musicians were born in 1950 or earlier, but their timeless tunes continue to have us, our children and our grandchildren, dancing and singing our hearts out. Their music has us reflecting on memories and making even more with the people we love.
Here at Stannah, we celebrate legends of rock star royalty, pint-sized pop icons and soulful songwriters whose ditties have defined the decades. These British singers and songwriters are over 65 years old, with their colourful lives inspiring some of the greatest tracks of all time, for you to enjoy with the whole family.
Barry Gibb CBE of The Bee Gees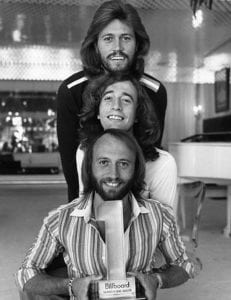 The Bee Gees sold 220 million records worldwide and achieved 19 UK Top 10 singles. They entered the 'Rock and Roll Hall of Fame' in 1997; Brian Wilson of 'The Beach Boys' presented the award, describing brothers Barry, Robin and Maurice as "Britain's first family of harmony". They were honoured with CBEs in 2001.1
In 1955, the Gibb brothers formed a skiffle / rock-and-roll group called 'The Rattlesnakes' with two friends. They allegedly planned to lip-sync to a record in an Isle of Wight cinema… until the record snapped on route. So, they sang live instead, to such rapturous applause that they chose to pursue a singing career. Fast forward three years and 'The Rattlesnakes' had evolved into 'The Bee Gees'.
With their toe-tapping hits, the band were prominent performers in the disco music era dominating the mid-to-late 1970s. Robin's vibrato lead vocals defined their earlier hits, then Barry's R&B falsetto became their signature sound towards the 1980s.
Famous songs: 'Night Fever', Stayin' Alive', 'Jive Talkin'' and 'How Deep Is Your Love'.
Fun fact: The Gibb brothers were talented songwriters, penning 'Grease' for Frankie Valli from the film of the same name, 'Woman in Love' for Barbra Streisand, and 'Heartbreaker' for Dionne Warwick.
Brian May of Queen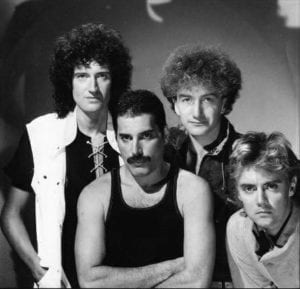 Brian May is the lead guitarist of the rock band, Queen. He co-founded the iconic band with lead singer Freddie Mercury and drummer Roger Taylor, having previously performed with Taylor in the band 'Smile' while at university.
From the mid-1970s to the early 1990s, Queen reigned supreme in the UK charts, selling up to 300 million records in the process. They become one of the biggest rock bands globally, playing some of the greatest venues in the world — most notably their famous performance at Live Aid in 1985. In 2018, they were presented the Grammy Lifetime Achievement Award.
May was ranked number 26 on Rolling Stone magazine's list of the '100 Greatest Guitarists of All Time'. He still performs around the world today, alongside bandmate Roger Taylor and US singer Adam Lambert.2
Famous songs (all written by Brian): 'We Will Rock You', 'I Want It All', Fat Bottomed Girls' and 'Flash'.
Fun fact: Brian May is an astrophysicist.3
Christine McVey of Fleetwood Mac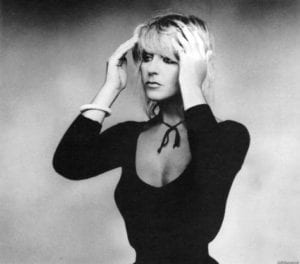 Christine McVie first played the piano when she was four years old, before going onto classic training until she was 15 — this is when she discovered rock-and-roll. She joined local band 'Sounds of Blue' as a bassist, before achieving a UK Top 20 hit with her remarkable version of Etta James' 'I'd Rather Go Blind'. Christine left the band in 1969 after meeting Fleetwood Mac bassist (and future husband), John McVie.
Christine joined Fleetwood Mac as a pianist and a singer, achieving superstardom in 1975 as part of the Lindsey Buckingham / Stevie Nicks version of the band which continued for 25 years. In 2006, Christine was awarded the British Academy of Songwriters, Composers and Authors' Gold Badge of Merit.
Famous songs: 'Everywhere', 'Don't Stop', 'Little Lies' and 'Songbird'.
Fun fact: Christine's grandfather was an organist at Westminster Abbey, which may have inspired her love affair with the piano. Her mother, Beatrice, was a medium, psychic and faith healer — a career path Christine contrastingly never agreed with.4
Sir Cliff Richard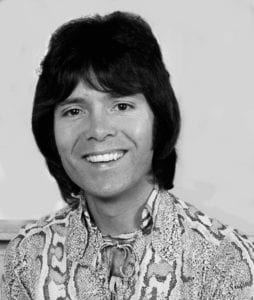 With an illustrious career spanning 60 years, Sir Cliff Richard has sold more than 250 million records worldwide. This makes him the third top-selling musical artist in UK Singles Chart history, behind the Beatles and Elvis Presley. Cliff has achieved 67 UK Top 10 singles and 14 number ones across five consecutive decades. Over 130 of these singles and albums have reached the Top 20 — more than any other artist.
Cliff and his backing group, 'The Shadows', dominated the British music scene in the pre-Beatles era of the late 1950s and early 1960s. His 1958 hit single 'Move It' is considered Britain's first authentic rock-n-roll song, with John Lennon of the Beatles saying: "before Cliff and The Shadows, there had been nothing worth listening to in British music".5
Famous songs: 'Devil Woman', 'Miseltoe and Wine', 'Livin Lovin Doll' and 'Congratulations'
Fun fact: Cliff has donated at least a tenth of his income to charity since 1966. In 1990, he said: "Those of us who have something to offer have to be prepared to give all the time".6
Dave Gilmour and Roger Waters of Pink Floyd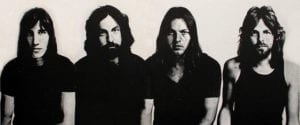 Dave Gilmour and Roger Waters found fame in 'Pink Floyd', a psychedelic rock band celebrated for their philosophical lyrics, musical experimentation and elaborate live shows. Considered a leading group in the progressive rock genre, Pink Floyd are one of the most commercially successful and influential bands in pop music history. 'The Dark Side of the Moon' is the third best-selling album in the world, shifting so many copies that, according to NME, one in 12 people own it.
Bass guitarist and vocalist, Roger Waters, met drummer and future bandmate, Nick Mason, while studying architecture together in London. They joined a student band called 'Sigma 6', performing covers of songs by 1960s rock-and-roll group 'The Searchers'.
Dave Gilmour became the band's fifth member in 1968. Syd (who partnered with Waters in 1962) and Dave were schoolfriends that had played their guitars and harmonicas together at lunchtimes, then busked around France. Relationships soon grew strained over Syd's erratic behaviour, but his imminent departure gave Roger Waters an opportunity to take the reins on songwriting and creative direction. Pink Floyd went on to release a string of successful albums, including 'Dark Side of the Moon' (1973), 'Wish You Were Here' (1975) and 'The Wall' (1979).7
Famous songs: 'Another Brick in the Wall', 'Shine On You Crazy Diamond', 'Comfortably Numb' and 'Time'.
Fun fact: Pink Floyd were highly experimental with special effects at their concerts. They were the first band to use a quadrophonic sound system - an early version of surround sound, it used four different channels of audio. They were also the first British rock group to use a liquid light show and the first act to use gold coloured lasers.8
Sir Elton John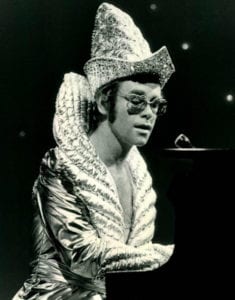 Sir Elton John has sold more than 300 million records worldwide and enjoyed over 50 Top 50 hits in the UK Singles Chart. 9 'Candle in the Wind 1997' — his single re-written in tribute to Princess Diana — sold over 33 million copies worldwide, becoming the best-selling single in the history of the UK Singles Chart. In 2004, Rolling Stone ranked Elton 49th on its list of the '100 Most Influential Musicians of the Rock and Roll Era'. He was knighted by Queen Elizabeth II for 'services to music and charitable services' in 1998.
Elton played his grandmother's piano from a young age; within a year, his mother heard him performing Winifred Atwell's 'The Skater's Waltz' by ear. He won a junior scholarship to the Royal Academy of Music aged 11, then later left school before his A-Levels to pursue his dreams of a musical career — a calling his traditional father tried to steer him away from. Elton later said that his flamboyant stage costumes and performances were his way of "letting go" after a restrictive childhood. Despite this, Elton's family were keen record buyers, exposing him to a young age to artists like Elvis Presley and 'Bill Haley & His Comets'.
Elton has also seen success in musical films and theatre, composing for 'The Lion King' and its stage adaption, as well as 'Billy Elliot: The Musical'. Not forgetting the wonderful, award-winning film 'Rocket Man' which was based on Elton's life and saw international success.
Famous songs: 'Your Song', 'I'm Still Standing', 'Rocket Man' and 'Tiny Dancer'.
Fun fact: Elton owned Watford F.C from 1976 to 1987, then from 1997 to 2002. He is an honorary 'life president' of the club.
Eric Clapton CBE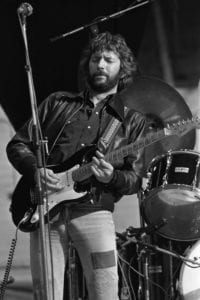 Eric Clapton10 is the only three-time conductee to the 'Rock and Roll Hall of Fame' — once as a solo artist, then as a member of 'The Yardbirds' and 'Cream'. Eric alone sold over 100 million records worldwide. He came second in Rolling Stone's list of the '100 Greatest Guitarists of All Time' and fifth in TIME magazine's list of the '10 Best Electric Guitar Players' in 2009. He has received 18 Grammy Awards and the Brit Award for 'Outstanding Contribution to Music'. In 2004, he was awarded a CBE at Buckingham Palace for his services to music.
Eric was raised by his grandparents and grew up in a musical household; his grandmother played piano, as did his father, for a dance band.
Clapton famously formed power trio 'Cream' in 1966, playing "arty, blues-based psychadelic pop" with hits including 'White Room' and 'Sunshine of your Love'. After Cream broke up, he formed blues rock band 'Blind Faith' then 'Derek and the Dominos'. Eric went onto launch a solo career in the 1970s — his cover of Bob Marley's 'I Shot The Sheriff' helped reggae reach the mass market.
Famous songs: 'Tears in Heaven', 'Wonderful Tonight', 'I Shot the Sheriff' and 'Motherless Children'.
Fun fact: Sometimes Eric plays the guitar so hard that he breaks his guitar strings! His audience have then been known to wait patiently and slow clap while he changes them, which is the origin of his nickname 'Slowhand'.13
Lulu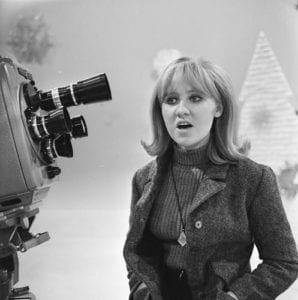 Lulu showed musical talent as a young girl; she was just four years old when she made her first public appearance, performing at a Coronation party, and was always getting in trouble at school for singing in class!
Lulu became a singing sensation when she was 12, appearing on stages with the band 'Bell Rocks'. She then fronted Scottish rock band 'The Luvvers', who featured on her debut chart single 'Shout' — an Isley Brothers cover which rocketed up the UK charts, catapulting Lulu to fame at just 16. She famously entered the Eurovision Song Contest in 1969 with the cheery tune 'Boom Bang-a-Bang', taking the UK to victory. The notable appearances didn't stop there — Lulu performed the title track for James Bond film 'The Man with the Golden Gun' in 1974. Queen Elizabeth honoured Lulu with an OBE in 2000. 11
Famous songs: 'Shout', 'Boom-Bang-A-Bang', 'To Sir With Love' and 'Oh Me Oh My'.
Fun fact: Lulu's real name is actually Marie McDonald McLaughlin Lawre. Her stage name came courtesy of her future manager, who once said; "Well, all I know is that she's a real lulu of a kid".
Marianne Faithfull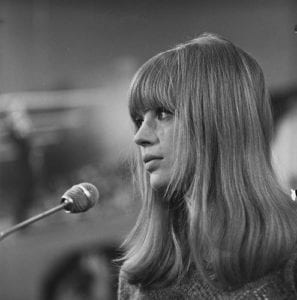 Marianne Faithfull began her career in 1964, aged 16, after being discovered at a Rolling Stones party. Her career as the "crown princess of swinging London" was launched with 'As Tears Go By' — the first song ever written by Mick Jagger and Keith Richards. 12
She simultaneously embarked on an acting career starring in 'Girl On A Motorycle' (1968), and appeared on stage in Chekhov's 'Three Sisters' (1967), as well as 'Hamlet' (1969).
Famous songs: 'The Ballad of Lucy Jordan', 'Come and Stay With Me', 'Sister Morphine' and 'Come My Way'
Fun fact: Upon waking up from a six-day coma, the first words Marianne uttered to boyfriend Mick Jagger were "wild horses couldn't drag me away", after which he wrote the iconic Rolling Stones song.
Mick Jagger, Keith Richards, Ronnie Wood and Charlie Watts of the Rolling Stones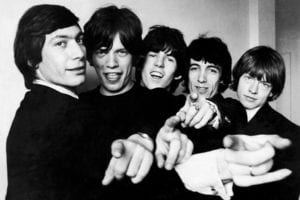 Lead singer Mick Jagger and guitarist Keith Richards were classmates at just five years old. They reunited 11 years later, on platform two of Dartford railway station. The Chuck Berry and Muddy Waters records that Jagger was carrying revealed a shared interest. It was in fact Muddy Waters' single, 'Rollin' Stone' that gave the band their name.
From 1962 onwards, the Stones went from strength to strength, with drummer Charlie Watts joining the rock band in 1963, followed by Ronnie Wood in 1975. In 1978, the Rolling Stones released 'Some Girls' — this album was their response to the punk craze, with fast, guitar-led rock-and-roll, re-establishing their popularity among young people. To this day, the band are still performing, last year selling out stadiums on their 'No Filter' tour.
The Rolling Stones are ranked the fourth best-selling band of all time, with their top single being '(I Can't Get No) Satisfaction', which is widely considered as "the classic example of rock-and-roll". They have released 78 albums and 120 singles. They have sold over 240 million albums worldwide and have held over 48 tours, including three of the highest-grossing of all time. 13
Famous songs: 'Satisfaction', 'Gimme Shelter', 'Jumpin Jack Flash' and 'Start Me Up'
Fun fact: The album cover for 'Sticky Fingers' was designed by legendary pop artist Andy Warhol.
Paul McCartney of The Beatles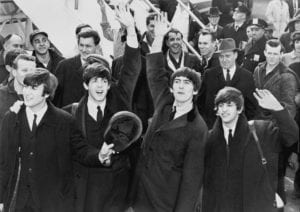 Paul McCartney was encouraged by his father to try out various instruments. He took formal music lessons but always preferred to learn by ear, teaching himself the Spanish guitar, trumpet and piano. By the age of 16, he'd already written 'When I'm Sixty-Four', with hopes of eventually selling it to Frank Sinatra.
In 1957, he met John Lennon at a church festival when Lennon's band, the Quarrymen, were performing. The two soon became the group's songwriters. By 1960, the band had settled on a new moniker: The Beatles. They became regular performers at Liverpool's Cavern Club, often attracting over 500 people to see them in a 200-person capacity club!
The Beatles were pioneers in recording, songwriting and artistic presentation, revolutionising many aspects of the music industry. They're officially the best-selling band in history, with more number one albums in the UK charts (15) and more singles sold here too (21.9 million) than any other act. On the 16th January every year, fans celebrate 'World Beatles Day' — the exact date the Cavern Club opened in 1957.14
Famous songs: 'Hey Jude', 'Here Comes The Sun', 'Come Together' and 'Yellow Submarine'
Fun fact: Paul is a talented artist. In the past two decades, he's had over 70 paintings exhibited in the Walker Art Gallery in his hometown of Liverpool.15
Pete Townshend and Roger Daltrey of The Who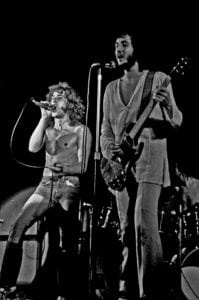 The Who are one of the most influential rock bands of the 20th century, selling over 100 million records worldwide. Their appearances at famous festivals like Woodstock sparked their reputation as one of the greatest live rock acts. They are considered musical mavericks, credited with creating the 'rock opera' and inspiring music legends like Pink Floyd, The Beatles and The Clash. Pete Townshend is considered the founding father of guitar 'feedback'.
Pete was raised in a musical family that supported his rock-and-roll dreams; his father played the saxophone and his mother sang for the RAF during World War II. Meanwhile, Roger Daltrey was creating his first guitar from a block of wood in 1957. In 1959, Roger's father treated him to an Epiphone guitar and skiffle band the 'Detours' was born. Pete joined in 1961, with his musical mother instrumental in securing the band's contract due to connections with a local promoter. The 'Detours' would evolve into 'The Who' that we know and love today.
Their energetic stage presence was punctuated by Roger swinging the microphone around by its chord. His scream near the end of 'Won't Get Fooled Again' later became a defining moment in rock-and-roll. Their breakthrough single, 'My Generation', captured the revolutionary feeling of many 1960s youths with its stuttered expression of frustration. The pair continue to perform today.16
Famous songs: 'My Generation', 'Quadrophenia', 'Baba O'Riley' and 'Who Are You'.
Fun fact: Pete was dreaming up band names, jokily announcing acts to take to the stage like 'No One', 'The Group', 'The Hair' and 'The Who' — you can guess Roger's favourite.
Rod Stewart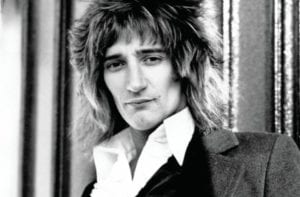 Grammy and Brit Award-winning Rod Stewart is one of the best-selling musicians of all time, having sold over 100 million records worldwide! Now 75, Rod has enjoyed six consecutive number-one albums in the UK. Of his 62 UK-hit singles, 31 reached the top 10 while six gained the number one position. In 2007, he received a CBE at Buckingham Palace for services to music.
Rod's music career first began in 1962 when, at 17, he took up busking with a harmonica. Those skills were put into practice when he joined a band called 'The Dimensions' as a harmonica player and part-time vocalist in 1963. He rose to prominence in the late 1960s and early 1970s with 'The Jeff Beck Group' and then 'Faces'; his aggressive blues work with these bands influenced heavy metal genres!17
Famous songs: Maggie May', 'Do Ya Think I'm Sexy', 'Forever Young' and 'Sailing'.
Fun fact: Rod was a talented footballer when he was young, but his early jobs were unusual. He worked at a funeral parlour, then as a fence erector!18
Tom Jones OBE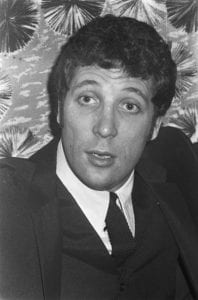 Described as a "shapeshifter", who can "slide from soulful rasp to pop croon, with a voice as husky as it is pretty", the talented Tom Jones — who turns 80 this year — has sold over 100 million records, with 36 UK Top 40 hits. He's enjoyed success in TV and film too, from singing the theme tune to the 1965 James Bond 'Thunderball' to starring as a current judge on ITV's 'The Voice'. Tom was knighted by Queen Elizabeth II for services to music in 2005.
Tom sang from an early age, performing at family gatherings, weddings and in his school choir. But it was while bed-ridden with tuberculosis at 12 that Tom's love affair with music really began. In 1963, Tom became the front man for Welsh beat group, 'Tommy Scott and the Senators'. Tom (then Thomas Woodward) was soon scouted and brought to London, where he was renamed 'Tom Jones' based on the popularity of the 1963 film of the same name. His career catapulted in the mid-1960s, when he enjoyed a strong of top 10 hits.
Tom's blues and R&B sound was influenced by artists like Little Richard, Solomon Burke and Elvis Presley. In a lovely twist of fate, Elvis and Tom became close friends later in life and even duetted together. In fact, Tom has collaborated with many musical icons, from Janis Joplin to Aretha Franklin.19
Famous songs: 'It's Not Unusual', 'Delilah', 'What's New Pussycat' and 'She's A Lady'.
Fun fact: In 1967, Tom formed a 45-year long love affair with Las Vegas, enjoying a residency at Caesar's Palace Hotel. This iconic venue saw his reputation as a singer who fans could fling their underwear at, sealed. Up until 2011, Tom appeared on-stage in Last Vegas for at least one week, every year.
Van Morrison OBE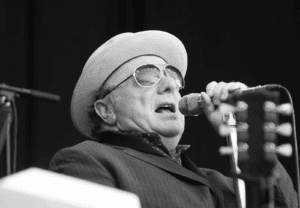 Van Morrison OBE has released 71 singles and 41 studio albums. He has received two Grammy Awards and the 1994 Brit Award for 'Outstanding Contribution to Music'. In 2016, Van was knighted for his services to the music industry and tourism in his home nation of Northern Ireland. Fans fondly refer to him as 'Van The Man'.
Van was immersed in music as a boy; his father had one of the largest record collections in Ulster, Northern Ireland, exposing him to many genres from gospel to folk. His favourite artists were Ray Charles, Jelly Roll Morton and Solomon Burke. Van said: "If it weren't for guys like Ray and Solomon, I wouldn't be where I am today. Those guys were the inspiration that got me going."
Van played a range of instruments, from the acoustic guitar to the harmonica, keyboard and saxophone. Van cut his teeth properly in the music industry aged 17, touring Europe with Irish showband, the 'International Monarchs'.
'Them' — the band that catapulted Van to international fame — had humble beginnings. It all started with an advert at the Maritime Hotel; this music venue in Belfast, frequented by sailors, called for artists to play at the opening night of its new R&B club to great success. Van performed ad-lip, creating songs live in the moment.
Van cemented himself as a solo artist in 1967, with the release of his single 'Brown Eyed Girl'. His first album, entitled 'Astral Weeks' has been compared to French Impressionism and mystical Celtic poetry.20
Famous songs: 'Gloria', 'Brown Eyed Girl', 'Someone Like You' and 'Have I Told You Lately'.
Fun fact: The late Farrah Fawcett was a long-time Van Morrison fan. When she was sadly terminally ill and her condition stopped her from attending his LA concert, Van had the shows filmed and sent her copies to watch at home. There was mutual appreciation between the two — Van equally loved her film work, especially in 'The Apostle'.21
So, why not 'party like it's 1999' or '89, '79, '69…. to the tune of the most talented musical legends of all time?
References:
Stairlifts made for you
All our stairlifts whether straight or curved are customised to suit you and your home so call now to arrange a visit to get your FREE personalised quote!