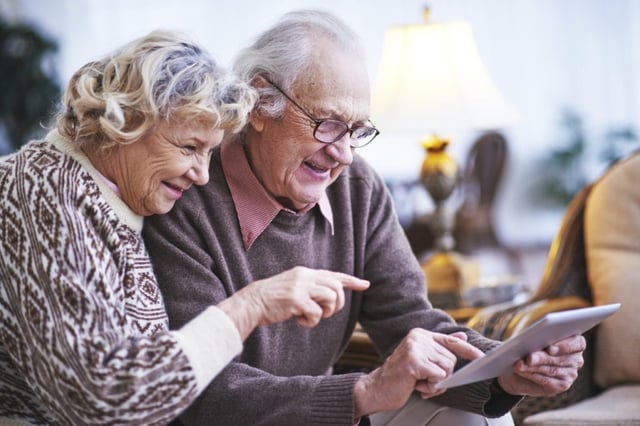 Apps are everywhere, just look at the current popularity of Pokémon Go, an app which lets you hunt virtual monsters across the world. Sadly you are unlikely to catch a Squirtle on a Sadler, Salise or Siena – sorry.
Stairlifts might not be great for chasing Pokémon, but they are great for enabling older people to retain their independence and energy in older age. Similarly, a number of apps also help with maintain a high quality of life in later life.
Here we look at the top apps for older people.
1. Find My iPhone
Free - Download iOS
Find my iPhone is a great app that saves rummaging here and there, locating your phone quickly and easily. Log in to Apple's iCloud and it will help you find your phone and if you have lost it outside your home you can even lock the phone remotely. An easy way to eliminate the frustration of mislaying your phone and great peace of mind if should you loose it while out and about.
2. Instapaper
Free - Download Android | Download iOS
Instapaper is an everyday app which enables you to save interesting articles, videos, cooking recipes or whatever else you come across while browsing the internet. Simply click on what you like and Instapaper saves it to your phone, meaning that you can access anytime, anywhere.
3. FixMyStreet
Free - Download Android | Download iOS
When on call-outs, our engineers often note that their customers are very involved with their local community and helping the area around them. FixMyStreet is an app that helps this. Users can report local faults via the app, which FixMyStreet then send directly to the council. The app is already having a positive impact on streets across the UK, reporting over 8,000 fixes in the past month.
4. Fade
Free
Fade is a fall-detection app which uses your mobile's sensors to track whether you have had a fall. If you have a fall, the app alerts an emergency contact with a message and then phone call to alert them. This can be life-saving and is especially valuable for older people who live alone.
5. TuneIn Radio
Free - Download Android | Download iOS
TuneIn enables you to listen to over 100,000 different radio stations, spanning genres, countries and artists. The app means that you can to listen to radio wherever you go, ensuring that you don't miss any of your favourite shows. The app also hosts over 4million podcasts, which are pre-recorded shows that can include spoken serialised stories and comedy shows.
6. Pill Reminder Pro
£0.79 - Download iOS
A simple and cheap app, Pill Reminder Pro replaces the need for post-its and pin ups on the fridge. An intuitive interface allows the user to create tailored schedules for when medication needs to be taken across a week. This app is also useful when meeting a doctor, allowing the user to easily show their current schedule and work out potential adjustments and improvements.
7. Dragon Dictation
Free - Download iOS
Dragon Dictation is an app which saves you the hassle of typing. Dictation can be used to write texts, email messages, tweets and Facebook statuses. A great app if you have difficulty with the size of keys on a smart phone.
8. Skype
Free - Download Android | Download iOS
It's likely that you've heard about Skype, an app which enables free messaging and videoconferencing. The app is ideal for staying in touch with friends and family, particularly with those who live abroad and would be expensive to call via a landline. The app can also be used on computers, meaning that you can use your phone to chat with family members who might be on their laptop. You can even Skype whilst going up and down on one of our stairlifts!
9. Stitch Companionship
Free - Download iOS
It's likely that you have heard about Tinder, an app that has revolutionised dating for younger people. You may be less aware of Stitch, an app which helps older people date or find companions. Loneliness in older age is a big problem, Stitch is confronting this by championing 'Companionship in all its forms'. The app is set up to help older people date, travel and enjoy hobbies together.
10. iBP Blood Pressure
£0.79 - Download Android | Download iOS
iBP Blood Pressure is a blood pressure tracking tool which syncs with your blood pressure monitor. Using colour codes, iBP inidicates when blood pressure values are normal, high, or at hypertension levels. The data is then fed into a graph which displays trends through highs, lows and averages. A clear, concise app which helps you keep an eye on your blood pressure.
11. Epicurious
Free - Download iOS
Retirement is often a time when people start cooking and baking seriously, using the extra time to become the Delia, Jamie or Ainsley that they always thought they could be. Epicurious can help with these ambitions. The apps hosts over 30,000 recipes and can recommend meals based on your cooking style. Another feature allows users to search for recipes based on ingredients which are in season near you.
12. Song Quiz
Free - Download iOS
Ideal for family fun, Song Quiz plays clips of songs from across genres. Players then have to guess the song and artist, competing against other players. It's a great app for family get togethers, but watch out – it can get very competitive!
13. Dog Whistler
Free - Download Android
Dog Whistler is a dog training app which replaces the need to carry around a whistle. The whistle has different tones and users often train their dogs to each have their own individual tone.
14. PBA Bowling Challenge
Free - Download Android
The Nintendo Wii has proven especially popular with older people, with the console helping its silver players stay active. Possibly the most played game was Wii Bowling, which allowed players to use the motion sensor device to score virtual spares and strikes. PBA Bowling Challenge brings this fun to the iPhone with players bowling by flicking their finger on the screen.
Stairlifts made for you
All our stairlifts whether straight or curved are customised to suit you and your home so call now to arrange a visit to get your FREE personalised quote!