In his second blog as Stannah's Gardening Expert, Mark Lane — who you may enjoy watching on BBC Gardeners' World and BBC Morning Live — shares his tips on arranging a stunning hanging basket, from the materials you need, to flower inspiration and positioning pointers.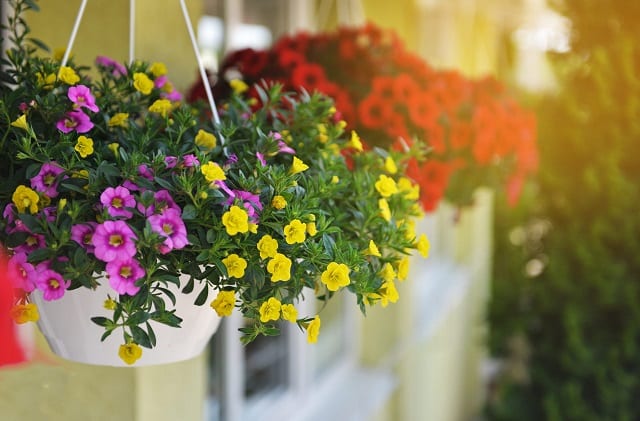 Hanging baskets offer a wonderful welcome to the home, plus are a lovely way of introducing extra colour, texture and scent into a garden without compromising on space. And, with a few adaptations can be accessible and useable by all. If you are designing a garden or looking to add floral features to your home, here are my top 10 steps and top tips to creating a beautiful, bountiful hanging basket:
Step 1: Gather your materials
Before going to the garden centre or shopping online (at Dobbies or Squires, for example), make some notes and a shopping list. You will need the following:
A basket
A liner
Compost
Water-retentive granules
Plants
A slow-release fertiliser
Handy extras include a strong chain, hooks, raw plugs or a metal bracket
To make life that little bit simpler, I recommend a hi-lo mechanism, which means you can pull your hanging basket up and down with ease. Baskets with a self-watering reservoir will help when it comes to watering.
Step 2: Choose your plants
Fashions come and go but I think good reliable plants such as Fuchsia, Pelargonium, Petunia, Surfinia, Calibrachoa and trailing plants such as Hedera, Lobelia, Bacopa, Dichondra and Helichrysum work best. Herbs and wildflowers also make excellent specimens in hanging baskets. Besides looking beautiful, these blooms attract pollinators. Spotting local wildlife is a fun activity with children, which engages their senses — and it's highly fulfilling knowing you're feeding the bees.
For a modern twist on the traditional hanging basket, why not plant up succulents like Echeveria, Dischidia and Sedum? Adding a climber or two to grow up the chains is an often overlooked, but a lovely, touch.
Step 3: Decide on the style of basket
Will it be metal-framed with a liner, or a plastic one with removeable slots for positioning plants? Perhaps you like a natural willow basket, a half basket or a full circular basket, a self-watering basket or one with a water reservoir.
Step 4: Choose where to position your hanging basket
Ideally you want the basket to be sheltered from strong winds and placed in full sun or partial shade and away from the rain shadow of the house. You will also need a strong hook, fixed securely.
Step 5: Line your basket
Traditionally sphagnum moss is used, but ready-made liners are available to buy. If you are on a budget, then why not cut up a compost bag with the black inside facing outwards? An old woollen jumper works just as well as the moss. Whatever you decide to choose, place a pot saucer in the bottom to stop water running straight through it.
Step 6: Use a good peat-free multi-purpose compost
Mix in some water-retentive granules and a slow-release fertiliser (unless the compost already comes with both). Make up this mix before you start, and not as you go.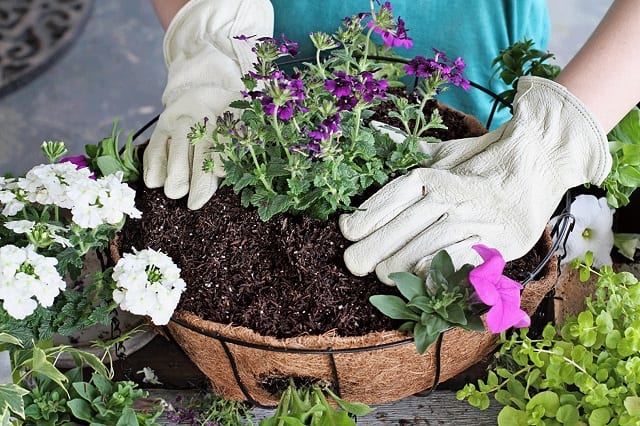 Step 7: Position your plants
Start by inserting a few plants through slots in the side of the hanging basket. Upright plants can go in the middle of the basket at the top, surrounded by more cascading plants. The more you can fit in, the better the display. Gently flatten and spread the root ball of plants so more can be added. Firm the compost around the plants as you go.
Step 8: Hang your basket
Aim for the hanging basket to hang at eye level or just below so that you can enjoy the flowers.
Step 9: Water thoroughly using a fine hose
Hanging baskets can dry out quickly, so water at least once a day — either early morning or late evening. Rotate the basket so that all sides get some sun. If we are blessed with warm, dry weather then you may need to water both morning and evening.
Step 10: Six weeks after planting, start a weekly liquid feed
This could be a tomato or seaweed feed. Don't forget to remove dead flowers regularly to prolong flowering.
If you'd like to let the outdoors in and brighten the interior of your home, you could always consider a hanging house plant. Opt for colours and a style of basket that complement your décor.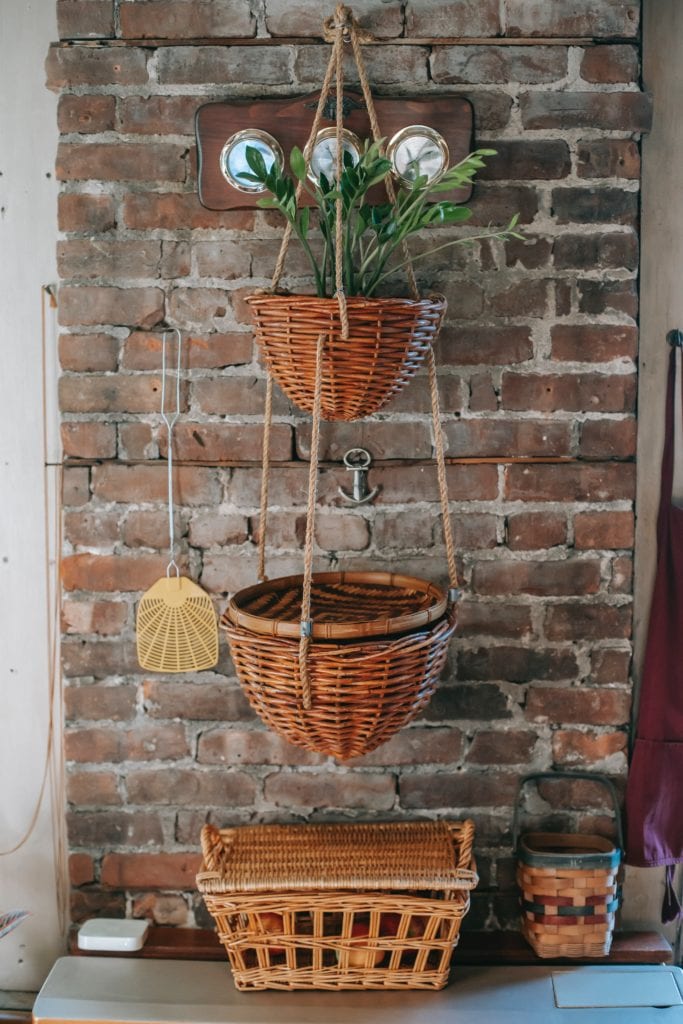 Creating a hanging basket is such a rewarding and relaxing way to spend an afternoon, whether you're enjoying a spot of 'me time' or entertaining a little one. Your physical and mental wellbeing will truly benefit, while your home or garden will look all the more loved!
Stairlifts made for you
All our stairlifts whether straight or curved are customised to suit you and your home so call now to arrange a visit to get your FREE personalised quote!