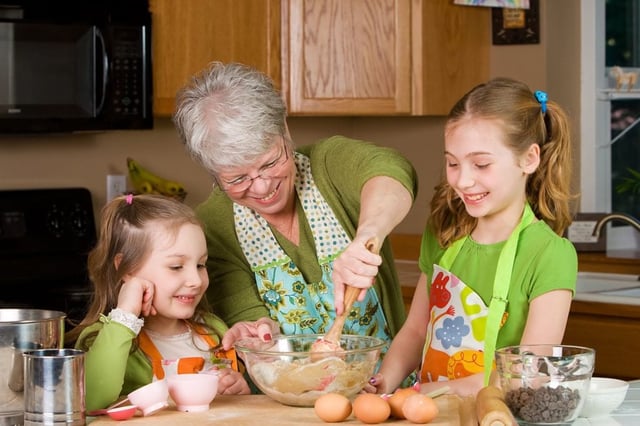 With baking back in vogue thanks to the Great British Bake Off, there's never been a better time to whip out your apron and dust off your wooden spoon! To celebrate this year's Grandparents Day, Stannah has delved into the baking books to find the ten best family recipes which are perfect for cooking with your loved ones.
From teatime classics to delicate dessert, there is no doubt that home baking is the best way to enjoy your sweet treats:
1. Best-ever Brownies
Nothing beats a 'best-ever' brownie. Suitably indulgent but refreshingly easy to make, especially with little ones! Try this classic recipe from BBC Good Food:
http://www.bbcgoodfood.com/recipes/1223/bestever-brownies
2. Mary Berry's Signature Carrot Cake
Make sure you get your 5 a day in a very different way by whipping up Mary Berry's signature carrot cake. Mascarpone makes for a luxurious addition to your average afternoon snack. You'll be appearing on Bake Off before you know it!
http://www.maryberry.co.uk/recipes/baking/carrot-cake-with-mascarpone-topping
3. Devonshire Scones
Is there anything more quintessentially English than a cream tea? Scones have been a firm favourite for generations and it doesn't seem like that will change anytime soon. However, before tucking in, you need to face the eternal question - do you put the cream or jam on first?!
http://www.maryberry.co.uk/recipes/baking/devonshire-scones
4. Chocolate Crispy Cakes
How could this list be complete without the addition of chocolate crispy cakes? Making kitchen counters inconceivably messy for donkey's years, this really is a recipe that never gets old. So simple too, and perfect for kids!
http://www.bbc.co.uk/food/recipes/chocolate_crispy_cakes_25316
5. Double Ginger Gingerbread Men
Combining cooking with fun and games is a great way to get little one's excited about baking. And what better way to get them engaged than making their own (delicious) gingerbread friends! Fairy tale associations can only help in these situations…
http://www.bbcgoodfood.com/recipes/68611/double-ginger-gingerbread-men
6. Mary Berry's Iced Fairy Cakes
Mary Berry strikes again! Fairy cakes are often the first recipe that children are involved with, because they are super simple, fast and satisfying - and they can be decorated according to taste. Perfect for whiling away a rainy afternoon, and happens to go down pretty well with a cup of tea too, thankfully…
http://www.goodtoknow.co.uk/recipes/430522/Mary-Berry-s-iced-fairy-cakes
7. Classic Jam Roly Poly
Retro and comforting! The jam roly-poly is considered to be the ultimate stodgy desert, so this will be a trip down memory lane for you and a glimpse into kitchens gone by for your grandchildren. There'll be requests for this dish on many occasions to come!
http://allrecipes.co.uk/recipe/17612/classic-jam-roly-poly.aspx
8. Mary Berry's Victoria Sandwich
Can anything beat a slice of freshly-baked Victoria Sponge? The ultimate regal afternoon tea accompaniment is still as popular today as it was in Queen Vic's time. The simple bake is another good one for getting children involved in spreading the filling – whether you prefer fresh cream or buttercream!
http://www.goodtoknow.co.uk/recipes/495936/mary-berry-s-victoria-sandwich
9. Mary Berry's Lemon Drizzle Traybake
For those more inclined to citrus cake than anything sweet or chocolatey, lemon drizzle has no competition. In tray bake form, it's also easy to share amongst your family and friends – and even transport it to a party. The bitesize pieces also make it the perfect grandchildren-friendly snack!
http://www.maryberry.co.uk/recipes/baking/lemon-drizzle-traybake
10. Mary Berry's Gingerbread Cake
Bonfire Night is approaching, which means there's even more of an excuse than normal to bake a batch of classic sticky gingerbread. One of the best things about this treat is that it keeps well - which means you can enjoy gingerbread at its yummiest for days on end!
http://www.bbcgoodfood.com/recipes/2147637/mary-berrys-gingerbread-cake
Stairlifts made for you
All our stairlifts whether straight or curved are customised to suit you and your home so call now to arrange a visit to get your FREE personalised quote!