Our lovely Baking Expert Val Stones has spoilt us with another special summer recipe, pairing delicate elderflower with tangy lemon curd in one delightful dessert.
Puddings are my weakness; given the choice between a 'starter' or a 'pudding', I always go for the pud. I once ate two helpings of Huckleberry cheesecake and left out the main course!
I often twist the arm of anyone I'm dining with, insisting they choose a different pudding from me so we can share. Aside from enjoying a slice, it's often where I find flavour inspiration for new bakes and recipe development.
This cake is one of my favourite showstopper bakes. It's a fabulous choice for special occasions and even summer weddings (the tiered version has extra 'wow' factor!)
Portions and timings:
Serves 12
Preparation: 15 minutes
Cooking: 25-30 minutes
Decorating: 15-20 minutes
Ingredients
For the sponge:
170g eggs (which equates to 3-4 medium eggs, but it's best to weigh it out), lightly beaten
170g caster sugar
170g soft margarine
170g self-raising flour
4g baking powder
1 tablespoon whole milk
1 teaspoon lemon extract zest from an unwaxed lemon
For the Chantilly cream:
500ml double cream
1 tablespoon dried milk powder
1-2 heaped tablespoons icing sugar
1 teaspoon of vanilla extract or vanilla paste
You may wish to whip up a delicious, flavoured cream, in which case...
Flavoured cream:
3 tablespoons of liqueur or cordial
3 tablespoons lemon/lime curd, fruit purée or crushed soft fruits
3 tablespoons elderflower cordial or liqueur
1 teaspoon lemon extract
4-8 tablespoons good quality lemon curd
For the lemon drizzle:
2 unwaxed lemons, juiced and zested
75g caster sugar
Keen to try tiered?
If you're feeling adventurous or catering for a larger party, take your baking skills to the next level with a tiered cake. You will need to triple all the ingredients and use three cake tins.
Method
Set the oven to 160°C fan, 180-190°C, 350-375°F, gas 4-5
Grease and line a 23cm cake tin. You will require slightly smaller ones for the tiers as desired – here's a great set of 3
Weigh the eggs into a bowl. Add the same weight (that's 170g) of sugar, margarine, and self-raising flour, followed by your other sponge ingredients. Beat for one minute, allow to rest for one minute, then beat for two more minutes. You can beat by hand or using a mixer. Pour your mixture into the cake tin
Bake in the oven for 25 minutes before checking
Val's Top Tip - Cakes love to be listened to – they have so much to say! If they are too noisy then put them back in the oven for another two minutes and that should do it. If you liked that baking secret, enjoy a helping of my 'tips and twists' here
Place on a cooling rack to cool completely
While the cake is baking, prepare the lemon drizzle:
Place the lemon and sugar in a pan over a gentle heat. Allow the sugar to dissolve, then bring to the boil
Let the pan simmer until the syrup is reduced by half, then turn off the heat and put aside
To make the Chantilly cream:
Chill your mixing bowl and beaters before making the cream. Use a stand or a hand electric mixer if you have one
Place the double cream in the bowl with the dried milk. Let it stand for a minute to allow the powder to dissolve in the cream
Beat the cream on medium power for one minute
Add the icing sugar and any flavour extract, then beat on medium until the cream begins to form floppy peaks
For the flavoured cream:
Gradually add any cordial or liqueurs in a steady stream to the above cream mixture. Beat on slow until blended, then on medium until the cream forms slightly firm peaks
Fold in lemon or lime curd, fruit purée or crushed fruit. If you intend to pipe with the cream, leave a third of the cream without added fruit, as this will block the piping nozzle
Place in the fridge until needed
To assemble the cake:
Place a cake board on a cake turntable
Use a spoonful of Chantilly cream to anchor the first layer of cake to the board
Lightly brush the layer with the lemon drizzle, spread three tablespoons of Chantilly cream on top, then gently layer two tablespoons of lemon curd on top. Repeat with each layer until the last has been added
Gently spread some Chantilly cream around the sides of the cake. If you'd like to create the fashionable 'semi-naked' finish, remove the excess with a cake scraper
Put a nozzle onto a piping bag and half fill with the remaining cream
Holding the bag vertically about 3cm above the cake, pipe swirls and repeat to create your desired look
Add more lemon curd into a separate piping bag and finish with a drizzle over the top
…And there you have it - a fabulously decadent cake, perfect for a summer soiree!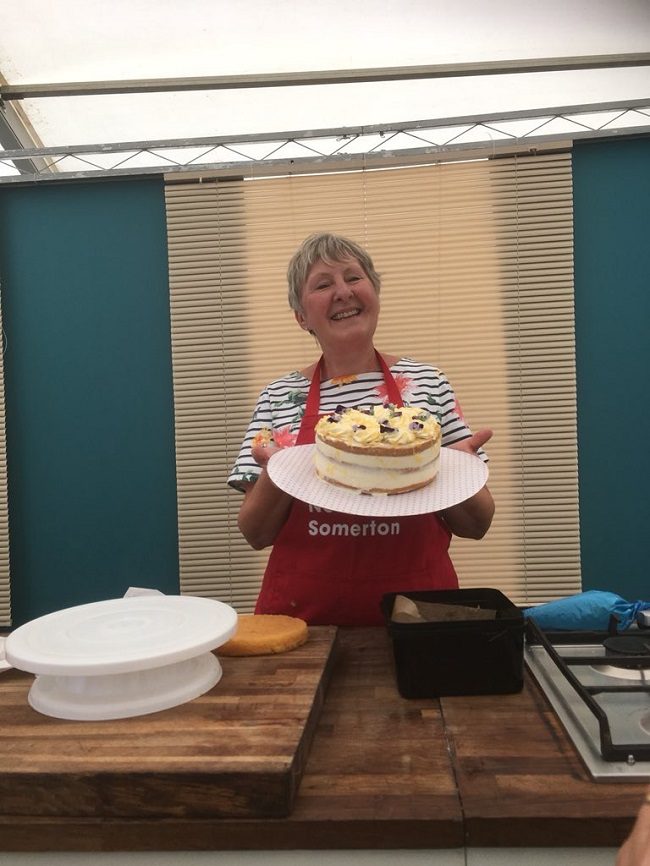 Feeling inspired? Find plenty more of Val's delicious recipes here!
Stairlifts made for you
All our stairlifts whether straight or curved are customised to suit you and your home so call now to arrange a visit to get your FREE personalised quote!