Val Stones shares her 'Home Havens' and how she's future-proofed these special spaces
9 February, 2021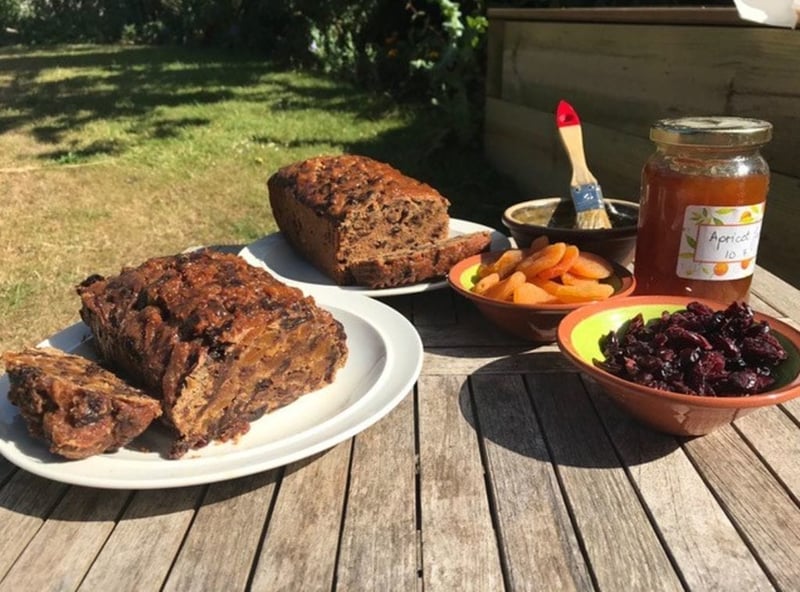 Our baking expert, Val Stones – The Cake Whisperer and former Great British Bake Off 2016 contestant – shares her 'home havens'. These are special spaces in her home, from the cherished kitchen where she whips up culinary delights to a dedicated 'bake room' and sentimental dressing room. Plus, Val reveals how she's adapted her home to suit her needs in later life.
In true Val style, our lovely expert also treats us to a yummy recipe to try at home, which is perfect for those with food intolerances and award-winning to boot!
A fabulous view and family memories make my home
Our homes are special places. Many of us have spent more time in our homes than ever and I hope you have found yours to be a haven, a place of protection, where you can continue creating memories. I feel very lucky to live in a home that I love so much. That's why I haven't moved in 38 years!
What first attracted me to the house was the view of rolling farmland and woodland, some 12 miles into the distance. Each day I am mesmerised by it. In fact, as I write this blog from my sitting room, I see the wonderful vista from my front window. If I look the other way, I can see into the garden and watch the birds feed. It's such a privilege.
When my children were young, we considered moving to a larger house to accommodate the many teenage sleepovers. But no matter which house suited our needs better, it could never compete with our fabulous view. So, we stayed put and the children eventually left for university; then, we had the house to ourselves – problem solved! This is when we decided to make our home perfect for the two of us, by re-modelling and de-cluttering most rooms.
My special dressing room
My favourite place in the house is where I start and finish the day – my dressing room. Here I keep photos of all my loved ones, so that I can see them each day. As I dress, style my hair and do my make-up, I look at each person then say, "good morning" or "goodnight". Some days I spend longer talking to one of them if they're in need of positive thoughts. It's a space that I truly love and, being really into feng shui, I try to decorate each room to create the same lovely harmony throughout the house.
Future-proofing my kitchen
As I bake most days, another room I spend most of my time in is the kitchen. But, a life-changing accident five years ago which has restricted my movement since, was further incentive to adapt my kitchen in order to create a useable space for my husband and I as we grow older.
My old kitchen had a 'get down on your knees' oven. However, I swapped this out for a fitted oven and microwave for easy access and cleaning. It also has a door that retracts under, so I don't have to struggle to reach in. Most of my kitchen utensils are now in drawers too, so I can simply lift them out rather than struggle to reach to the back of a cupboard.
I'm so pleased with these adaptations and I wish I'd implemented them sooner; recognising the re-modelling that was needed continues to make life much easier. I know it will for years to come, too.
What I love most about my kitchen is the floor-to-ceiling larder pull-out cupboard – it's my pride and joy! I put frequently used ingredients – like rice, pasta and herbs – on a shelf at eye level, then heavier tinned items on the bottom shelves. At the top sits accessories that are seasonal, rarely used or special occasion items like jam labels. Life is so much easier with a little future planning, whether in the home or garden.
My bake room
I'm also lucky enough to have my 'bake room' which has floor-to-ceiling steel shelves. Here, all my ingredients and resources are organised into labelled plastic boxes which are well within reach. The advantage of having all my ingredients upstairs is that I go up and down steps at least 15 times each day which is excellent aerobic exercise!
Not only that, but as we experience this latest lockdown, I'm trying to stay fit and healthy by enjoying plenty of walks and eating a healthy diet. I suspect many of you are too as we find ourselves in the new year.
So, I'm delighted to share the recipe for my Virtuous Cake for you to enjoy, without any worries. It is vegan, lactose-free, fat-free, sugar-free and egg-free. You can also make it gluten-free by substituting the flour. It also won a 'Great Taste Award' so I hope you enjoy this guilt-free treat which "for something with so little in it, is delicious".
Virtuous Cake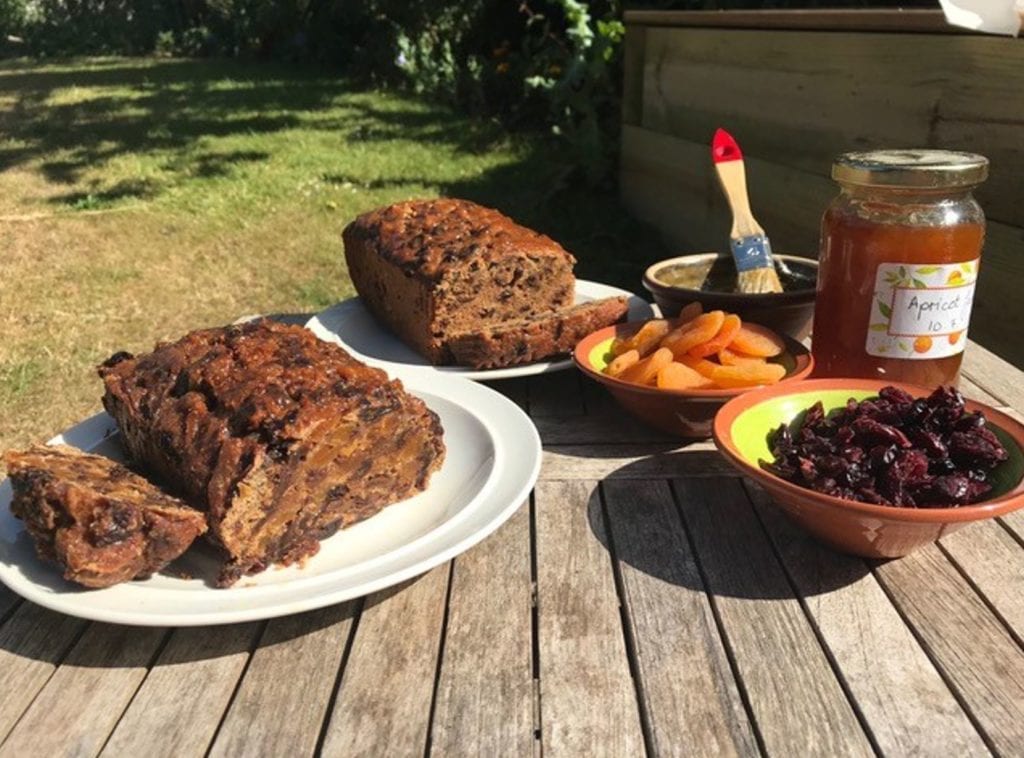 Serves: 8-10
Prep Time: 20 minutes
Cooking Time: 50 minutes for one large cake or 40 minutes for two tins
Equipment:
A sharp knife for cutting the fruit
2lb loaf tin or two 1lb loaf tins
Ingredients:
250g stoned dried dates, roughly chopped
300ml water
170g wholemeal self-raising flour (which can be swapped out for gluten-free flour)
1 level teaspoon baking powder
1 teaspoon mixed spice
1/4 teaspoon cinnamon
500g dried fruit – I use 250g chopped dried apricots, 150g sultanas and 100g raisins. Cherries and dried cranberries also work
50g ground almonds
80ml freshly squeezed orange juice
Zest of two oranges
Method:
Preheat the oven to 160C fan, 180C, 350F, gas mark 4 or equivalent.
Line the baking tins.
Pour the dates and water in a microwaveable bowl, then cook for 10 minutes on medium power so that the water is just bubbling. Remove the bowl and set aside.
Sieve the flour, baking powder and spices into a bowl then add to the date mixture.
Add the dried fruits, almonds, zest and orange juice, then mix well until all the flour is incorporated.
Spoon into the loaf tin(s).
Bake for 45-50 mins, or until a skewer comes out clean. Leave to cool in the tin for 10 minutes then turn out onto a cooling rack.
Store in an airtight container. This will keep the cake fresh for up to a week or more, as the fruits mature and moisten the cake so that it doesn't dry out. If you wish, the cake can be frozen for up to a month.
Val's Top Tip - The cake doesn't rise much in the oven. In fact, it stays flat (which is perfect for a celebration cake) so I slightly mound up the middle of the cake, as it will look like it has risen once baked.
Reflect on your own 'home haven' – that room or cosy corner where you can relax. Take yourself there and enjoy a treat. For me, it's Virtuous Cake with thoughts of my family.
Stairlifts made for you
All our stairlifts whether straight or curved are customised to suit you and your home so call now to arrange a visit to get your FREE personalised quote!