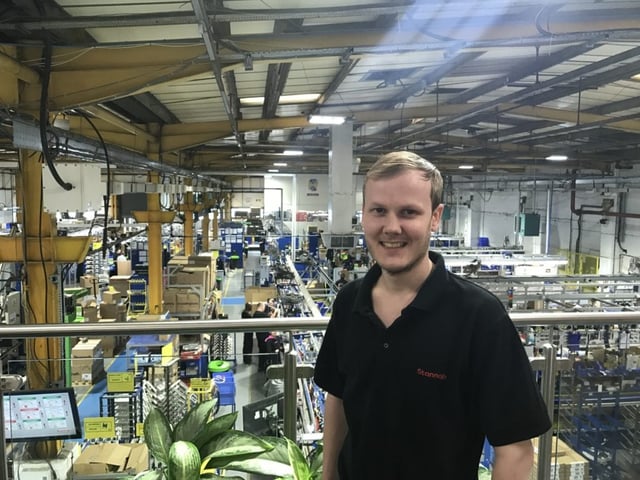 It is 150 years since Joseph Stannah founded the company in the London docks and today Stannah employ over 1700 people. Like our founder Joseph Stannah, we recognise the importance of apprenticeships as a career route. Tom Schofield has been working for Stannah for just over six years, joining the company in September 2010 as a technical apprentice and progressing onto the graduate apprenticeship scheme in 2012.
When Did Your Fascination with Engineering Begin?
I always enjoyed pulling things apart to find out how they worked so the engineering and manufacture route was well suited to me. I particularly liked the prospect of coming up with an idea, developing it, prototyping it and then potentially seeing a little something I designed or created being shipped all over the world.
The Stannah apprenticeship scheme was well reputed but it wasn't until I came to visit the company over summer that I was really inspired. On my visit, I felt welcome right from the outset and the friendly, family culture spoke volumes. I could tell from the people I spoke to that I would fit right in, would feel valued as an employee and enjoy coming to work.
As a technical apprentice, Tom gained a BTEC level 3 in Manufacturing Engineering alongside a NVQ 3 in the same subject. However, he did not stop there. Tom followed this up with an Engineering Technician accreditation from the Institute of Mechanical Engineers and was awarded a nationally recognised Advanced Apprenticeship. In addition to this, Tom chose to study business management at the University of Portsmouth. He completed this and graduated in 2016. He then transferred to the University of Winchester where he is now in the progress of topping up to a full honours degree.
How Has Your Learning and Career Progressed Whilst at Stannah?
Throughout my apprenticeships I was supported and encouraged to achieve my academic qualifications including NVQs and my degree. The company have continued to invest in my development, whether that is professional recognition, on the job training or further academic qualification.
Stannah has funded all of my academic qualifications, so I don't have any student loans to pay off! There is an underlying culture of support within the company. Everyone from the shop floor to management is willing to support and help.
One of the things I love about coming to work is that there is no typical day. Every day is different and presents new challenges and opportunities to learn. It's waking every morning knowing that when I get into work I'll have interesting and stimulating work to do. And I love the family culture within Stannah which makes me feel valued as an employee.
What Do You Like Most About Working for Stannah?
I think Stannah are thought of as 'the stairlift people' but actually our product range and services extend well beyond simply building stairlifts. And we are currently further diversifying our product range so it's far from a boring place to work!
Would You Recommend Stannah to Other Budding Engineers?
100%! It is a great place to work and submitting an application is one of the best decisions I've ever made.
In 2016, Tom successfully graduated from the Stannah apprenticeship scheme to his current role as a manufacturing engineer based at the company headquarters in Andover. Like our other engineers throughout the business Tom's story is not only an inspiration to other aspiring engineers, but also a tribute to the investment that Stannah continues to make in talented young people. If you are interested in becoming our next success story, find out more about our apprenticeship scheme.
Stairlifts made for you
All our stairlifts whether straight or curved are customised to suit you and your home so call now to arrange a visit to get your FREE personalised quote!