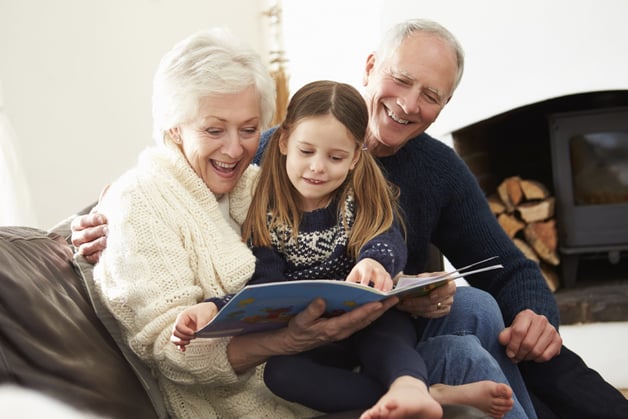 From baby books to teenage tomes, reading with your grandchildren never gets old! Stannah Stairlifts selects the best 15 read-aloud children's books guaranteed to delight your little loved ones:
1. Room on the Broom, Julia Donaldson and Axel Scheffler
This charming read from the creators of the now-classic The Gruffalo, features a friendly witch who welcomes an array of different animals onto her broomstick. The clever refrain is a sure-fire hit with kids – and the story is great for testing out your repertoire of funny voices!
2. Gangsta Granny, David Walliams
The hidden life of a grandparent makes for apt subject matter in Walliams' much-loved story. The perfect platform for telling your grandchild something they don't know about you!
3. The Queen's Hat, Steve Antony
Although this book has mostly won praise for its charming illustrations, it also makes a great set-piece read, especially for little ones. Follow the Queen's hat as it blows through all of London's famous sites – including the tube, Big Ben, and many more!
4. We're Going on a Bear Hunt, Michael Rosen
This award-winner has been read consistently for twenty five years - and counting. Rosen's prose has been aptly christened as a book to 'chant-aloud'. Will you join the bear hunt and chant along?
5. The Twits, Roald Dahl
No children's book shortlist would be complete without a Roald Dahl title. We could have chosen any number of his books (Matilda, James and the Giant Peach…) but The Twits' vividly gruesome descriptions makes for an entertaining performance when reading aloud.
6. The Rainbow Fish, Marcus Pfister
Eye-catching illustrations will set you at an instant advantage when reading aloud with any hard-to-please grandchild. This book has it all: the shiny fins of the rainbow fish combined with the simple yet poignant narrative will win over any tough crowd.
7. The Sneetches and Other Stories, Dr. Seuss
Dr. Seuss's wacky narratives have been firm favourites since the 1950s. Make sure your grandchild does not miss out on these out-there stories, which are always resolved with a neat, satisfying moral.
8. The Lighthouse Keeper's Lunch, Ronda and David Armitage
This food lover friendly book has all the ingredients for the ideal children's story. Pour over the detailed illustrations of the Lighthouse Keeper's scrummy looking lunch and hone your best villain voice for those pesky evil seagulls!
9. Each Peach Pear Plum, Allan Ahlberg and Janet Ahlberg
If you're a fan of rhyme then this is not one to be missed. Your grandchild (and yourself included…) will be reciting the lines before you know it!
10. Charlotte's Web, E.B. White
If your grandchildren are animal lovers, this classic story of a friendship between a pig and spider is sure to keep them engaged. It's also a lovely one if you are searching for that perfect bedtime story.
11. Where the Wild Things Are, Maurice Sendak
If it's good enough for Obama… The US president chose to read this book in March 2016 at the annual White House Easter Egg Roll. His dramatic reading will provide inspiration for any enthusiastic grandparent! And once you've finished the book, you can watch the acclaimed 2009 film together.
12. Don't let the Pigeon Drive the Bus! Mo Willems
Mo Willems may have chosen an unusual animal hero for her story, but the charming illustration and witty prose of this book makes you wonder why nobody has put a pigeon centre stage before.
13. Goodnight Moon, Margaret Wise Brown
Hailed as the epitome of the bedtime story, this colourful book from Margaret Wise Brown was published in the late 1940s. The bunny who wishes goodnight to everything around him, however, is still just as charming as it was all those years ago.
14. The Big Alfie and Annie Rose Storybook, Shirley Hughes
Quintessentially English, Alfie and Annie Rose's adventures span from the seaside to their very own back garden. Shirley Hughes' best-loved stories from this brother-sister act are brought together in this collection - which is bound to provide endless hours of delight for grandchild and grandparent alike.
15. The Very Hungry Caterpillar, Eric Carle
Yes, we almost got to the end without mentioning it… but it felt wrong. The iconic combo of pictures, words and activities as everyone's favourite caterpillar will ensure the Very Hungry Caterpillar retains its rightful place on the bookshelf for many years to come!
Stairlifts made for you
All our stairlifts whether straight or curved are customised to suit you and your home so call now to arrange a visit to get your FREE personalised quote!