Strictly fever is in full force and, if you're feeling inspired, why not take a leap of faith (or should that be a swivel) into the world of dancing! From line dancing to Latin, ballroom to ballet, there are dance classes available to suit all interests and abilities – not to mention the physical and mental health benefits, according to Helen Stirrup, occupational health advisor at Stannah: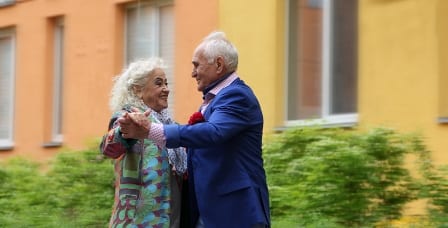 1. You're never too old
First things first, you are never too old to dance – it is universal. If you've always fancied yourself as a Fred Astaire or Ginger Rodgers, why not give it a whirl? There are no rules when it comes to dancing (despite what Craig Revel-Horwood might say). Start small if your mobility isn't what it used to be.
2. Build up a sweat
Dancing is physical exercise which will help to improve cardiovascular health, whilst also improving flexibility and reducing stiffness. Dancing uses lots of different body parts, helping you keep mobile, maintain your agility and strengthen bones. If you're looking to tone up or lose a couple of stubborn pounds, dancing is a fun way to get into shape.
3. Reduce falls with dance
According to the ROSPA, more than 282,000 people over the age of 65 were admitted to hospital because of a fall in 2014/5. Dancing is one of the best forms of exercise to help with balance, which in turn could reduce falls in the over 65s and improve coordination, with the 'Dance to Health' programme having a high completion rate of 73%.
4. Keep your mind sharp!
As we grow older, cognitive function can start to decline. However, a recent study using a number of 60-80 years olds, showed that those who danced three times a week, fared better and experienced less mental deterioration than others. Therefore, remembering steps, and counting the beats when dancing is a proven way to keep the mind sharp.
5. Mood boosting
Exercise releases endorphins, which boost our mood – and dancing is no different. You don't need anyone else to enjoy dancing, nor do you need any equipment, which makes it a very accessible exercise. So, why not reminisce by putting on your favourite music, and having a boogey!
6. Bringing people together
Joining a dance class can be a perfect opportunity to make friends, with research suggesting that 'the social dimension is almost as important as the physical dimension' of dancing. Dancing can help bring people together and strengthen relationships, whether new or old - helping to create a spark with that 'special someone'.
So, while it's lovely to sit back and watch the professionals from the comfort of your sofa, turn admiration into motivation and sign up for the next dance class in your area. Why not kick things off in 2019?
Stairlifts made for you
All our stairlifts whether straight or curved are customised to suit you and your home so call now to arrange a visit to get your FREE personalised quote!