It may now officially be Autumn, but that doesn't mean holidays are over! Better yet, it's the end of peak season prices – so it's the perfect time to pack your bags and spend a few lovely days making the most of all our delightfully diverse continent has to offer.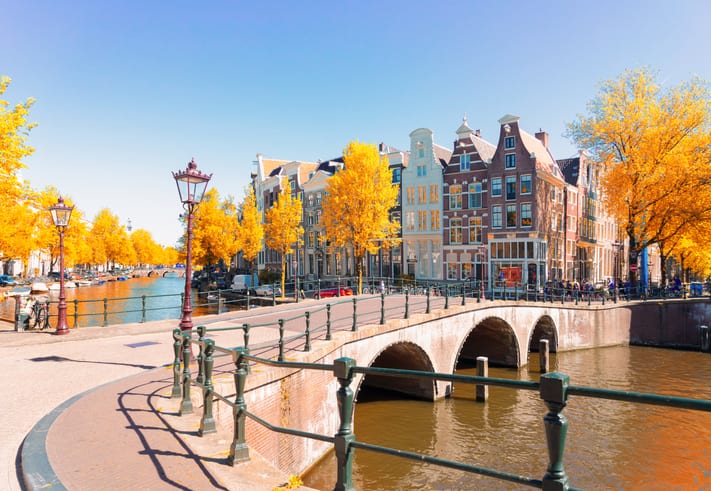 From rolling vineyards in Bordeaux, to the sandy beaches of Barcelona , we have picked out the most enchanting short haul destinations, that also offer accessibility and opportunity for travellers with reduced mobility, to inspire your next escape.
Amsterdam
Winding canals set against a colourful, cultural backdrop.
With so many independent cafes and gorgeous canals, Amsterdam is completely captivating and inspiring. In fact, it's the perfect location to pick up your paintbrush, or even for a bit of creative writing.
Escape the city with a visit to the Hortus Botanicus Amsterdam, where you'll find tranquillity amidst exotic plants. The three-climate greenhouse is wonderfully eye-catching and has separate zones inside that represent the subtropics, the tropics and the desert. The palm greenhouse and butterfly are equally wonderful to see. Guide dogs are allowed inside if they are kept on a leash, there is disabled parking nearby and a wheelchair can be reserved by email in advance.
Relax and enjoy the canal bus if you want to take longer journeys across the city. Head to the Rijksmuseum or the Van Gogh museum, or pop into the unique floating flower market on the Singel canal, known locally as the Bloemenmarkt.
And let's not forget that Amsterdam is where Anne Frank hid for two years during World War II and wrote her diary. The Anne Frank House certainly is a thought-provoking must-see. There is a disabled parking space just 40m from the museum entrance and a dedicated entrance, if required. Be aware that due to very steep, narrow staircases leading to the old part of the museum and the secret annex, those with reduced mobility can only access the modern part of the museum, which alone is a touching experience.
Barcelona
Beautiful, unique architecture with a treasure trove of tapas.
Gently stroll around the beautiful city of Barcelona or rent a bike and cycle along the seafront towards La Barceloneta – a gorgeous seaside neighbourhood with traditional tapas bars and sunbathing spots. Take your time walking along the tree-lined Las Ramblas, dropping into the colourful La Boqueria market for a light bite.
Use the frequent local transport to head to La Sagrada Familia, the first stones of which were laid in 1882, over 135 years ago. Five generations have now watched the construction of this incredible cathedral and it's predicted that Gaudi's architectural masterpiece will finally be finished in 2026. The basilica has a separate entrance if mobility is an issue and wheelchairs are available on request.
Park Güell is a magical destination to watch the world from. An adapted route around in the park has been created for those looking to avoid the many steps and uneven pathways.
You won't regret ordering authentic Spanish paella and for the perfect nightcap make sure to visit Ernest's Hemingway's favourite drinking hole, Marsella.
Bordeaux
A port city famed for its viticulture.
Take full or half day tour to the rolling vineyards in one of France's premier winemaking regions. Learn about the wine-making process and be treated to a glass or two to top off the tour. If the vineyards feel a little far out of the city, go to the Cité du Vin museum, which provides a unique and immersive approach to wine.
The Miroir d'Eau (Water Mirror) is a wonder to behold and, located just across from Place de la Bourse, the location is truly magical. UNESCO has listed it as a contemporary World Heritage site, and it has become the most photographed place in Bordeaux.
Purchase the city pass for 24, 48 or 72 hours and suddenly the immensity of Bordeaux disappears. You have free reign to take trams, the metro and buses to wherever suits you and free access to several museums and cultural points of interest around the city. You may even want to visit the University of Bordeaux, where Nobel Prize winner and famous novelist, Francois Mauriac, studied.
Brussels
An atmospheric, creative city where art deco meets antique.
While revered for its delicious chocolate and beers, Brussels boasts nearly 90 museums, peaceful parks and architecture to marvel at.
Wander along Grand-Place – a vibrant city square encompassed by opulent historical guild buildings dating back to the 14th century. Centuries-old beer bars lie tucked away down alleys, while the Rue des Bouchers offers more than 100 restaurants, many serving sensational steamed mussels.
The National Basillica of the Sacred Heart in Koekelberg, a beautiful church with a distinct copper-plated dome, is the largest Art Deco building in the world. Wheelchair accessibility within the Basilica is excellent throughout, and those with limited mobility can still enjoy spectacular panoramic views from the base of the dome via the escalator.
Revel in Brussels' rich literary history, as some of the greatest writers have called the Belgian capital home. Lord Byron, Charlotte and Emily Brontë and Victor Hugo all traversed Brussels' rustic roads and took inspiration for their 19th century masterpieces.
Arrange a tour, listen to a talk or join a reading session with The Brussels Brontë Group to learn about how life in Belgium shaped the famous sisters. In 1842, Charlotte and Emily Brontë travelled to Brussels to study at the Pensionnat Heger, a school for young ladies on Rue Isabelle. The story goes that Charlotte fell in love with her Belgian professor, whose praise for her talents were misinterpreted by the aspiring author, inspiring her novels 'Vilette' and 'The Professor'.
Copenhagen
Where 'Scandi-cool' meets fairy-tale fun.
The inspiration for Disney, the magical world of Tivoli Gardens is a must-see for all those looking to visit this charming city. The luscious gardens are a part of the Accessibility Label Scheme, so cheaper rates are available for those travelling with a companion. The gardens allow guide dogs and service dogs and wheelchairs are available if required, free-of-charge.
Spend an evening watching a show at the Royal Danish Theatre or visit the oldest functioning observatory in Europe.
The Kronborg Castle is a very scenic train journey away from the city. It's all too easy to spend a full day at this breath-taking UNESCO world heritage site. Also known as Hamlet's Castle, the Kronborg Castle is the exact place in which Shakespeare set his world-renowned play, Hamlet. Shakespeare festivals are now held there every summer, with live performances of his greatest plays.
As birthplace to Hans Christian Andersen, Copenhagen is also home to the bronze statue of The Little Mermaid. Located in the idyllic Copenhagen harbour, why not take a relaxing canal tour to get there and have a look? Or, if you fancy a bite to eat, head over to the H C Anderson restaurant and tuck into a rib-eye steak with crème brulée for dessert or any other delicious treat that takes your fancy!
Porto
A mystical city that inspired one of the greatest authors of this generation.
Porto is an idyllic spot in the north of Portugal, with a historic centre and charismatic locals. The quiet streets make it a perfect holiday location to unwind in.
Watch the Douro River flow down from the hills and through the city, the traditional route for barrels of port wine travelling down from the vineyards. Visit Sandeman's wine cellar and have a taste of what the city is famous for.
Author JK Rowling herself lived in Porto for a couple of years, where she conceptualised the seven Harry Potter novels and even started the first one. Pop into Café Majestic for a coffee, where she used to scribble notes on napkins, or to the bookstore that inspired Flourish and Blotts. Don't miss Fonte dos Leões, - or 'Fountain of the Lions' – the lions of which inspired Gryffindor's house symbol.
With so much to see so close to home, the continent is rich in fascinating culture and beautiful landscapes, you don't need to go further afield. Make the most of these wonderful locations without the stress of swarms of tourists that inevitably arrive in the summer months.
Stairlifts made for you
All our stairlifts whether straight or curved are customised to suit you and your home so call now to arrange a visit to get your FREE personalised quote!