The summer holidays are at an end. Pupils and students across the UK will soon be returning to schools, colleges and universities - making now the time for planning a pocket adventure or an escape to the seaside in the UK, outside of peak season.
From the coastlines of Dorset, to the bonny happenings in Edinburgh, here's our pick of the Britain's most charming destinations, that also offer accessibility and opportunity for travellers with reduced mobility, to inspire your next trip.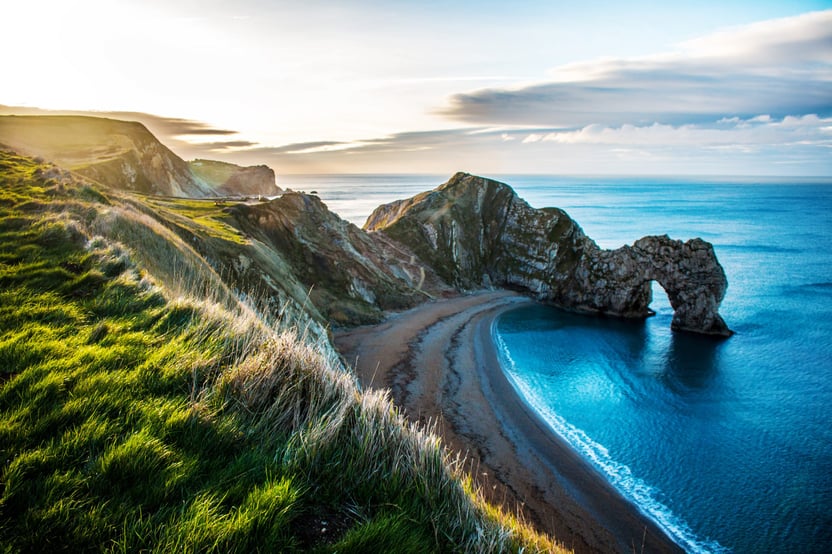 1.Dorset
A county that mixes beaches with countryside and castles.
Weymouth Bay and Portland Harbour are world-class sailing locations. The waters in these bays specifically are more sheltered which are ideal for small boat sailing. Furthermore, these waters are set against the stunning backdrop of the Jurassic Coast. The local National Sailing Academy offer excellent access from parking, facilities, slipways, through to boat hoists.
Lulworth Cove is said to be the most romantic place in the UK. Perhaps because of the link to one of English literature's most romantic poems, Bright Star by John Keats, but it could also simply be because of the scallop-shaped coves natural beauty – chalky cliffs, crystal waters surrounded by grassy hills, filled with wildflowers. St Mary's Chapel, set in the grounds of Lulworth Castle, is a classic must-see.
2. Lake District
Renowned for the lakes, forests and mountains.
Taking in the lakes and handsome countryside is of course a must. There are a number of tour operators to host your journey through this UNESCO-heritage site, including Lake District Mobility.
This was home to one of the most famous children's authors of all time, Beatrix Potter. Her estate was left to the National Trust on her death in 1943 and they have preserved her legacy exceptionally well. Visit her Hill Top home or get up close to original illustrations at the Beatrix Potter Gallery in Hawkshead. The charity has ensured easy access to all sites, so people of all ages can immerse themselves in her tales. Perhaps a spot to enjoy with your young grandchildren?
3. Cambridge
Home to the prestigious university and famed for the city's gothic architecture.
With more than 100 libraries, the city is rich in literary associations. There is no better place to immerse yourself in literacy that the Wren Library, at Trinity College. Built by Sir Christopher Wren in 1676, it is home to one of Sir Issac Newton's notebooks; early works by Shakespeare; a handwritten manuscript of Winnie-the-Pooh by AA Milne, and so much more.
Head half an hour outside of the city to enjoy National Trust property, Anglesey Abbey. A Jacobean-style country house with spectacular gardens which offer a great sensory experience with beautiful florals, subtle streams and a winter garden of Himalayan silver birches. Wheelchair access has been well planned with plenty of flat paths outdoors, and if you don't have your own, scooter hire is also available.
Also a short distance from the city, is The Imperial War Museum Duxford where you can embark on a journey through the history of aviation in times of war and peace. It's a vibrant museum that marries contemporary displays with interactive exhibitions. Much thought has gone into making the location as accessible as possible; with plenty of disabled parking spaces and a free onsite mobility vehicle.
4. Llyn Peninsula
Tucked away beyond Snowdonia's jagged peaks, the Llŷn has distinctive, unspoilt character.
The region inspired twentieth-century welsh poet and priest, R.S. Thomas. His works are rooted in the beauty of nature – and no wonder. An 84-mile section of the Wales Coast Path runs around the Llŷn Peninsula, adorned with immaculate coves, cliffs, beaches, churches, forts and handmade kissing gates. It's the ideal destination to blow away the cobwebs– with plenty of short, circular walking routes to choose from if long distance paths aren't for you.
If ancient culture interests you, sail from Aberdaron or Pwllheli to Bardsey (or Ynys Enlli in Welsh, meaning 'island of the currents'). Christians have travelled here since the sixth century – when a pilgrimmage here was considered as holy as one to to Rome. Now only a few sacred stones remain. Today, Bardsey is a lush nature reserve where you may spot grey seals basking on the rocks and guillemots nesting. If you're looking for a peaceful break, Bardsey is the holiday for you – only four residents live here year-round.
5. Yorkshire
Besides the landscapes, some of Britain's most iconic artists and writers were born here. From the Bronte sisters, poet Laureate Ted Hughes to Henry Moore and David Hockney.
Nestled in a picturesque village near Driffield in the East Riding of Yorkshire, you'll find the beautiful Burton Agnes Hall. A magnificent Elizabethan stately home. Dating back to 1610, the same family has resided here through the centuries and these days the doors are opened to the public too. Enjoy the grandeur of the Great Hall; the Red Drawing Room's collection of French and English porcelain; the Chinese Room and its stunning lacquer screens; and marvel at the impressionist and post-impressionist art housed in the Garden Gallery. Venture outside to enjoy the enchanting walled garden and a mile-long woodland sculpture path. To end the day - the Courtyard Café serves delightful tea and cakes. Accessibility is well-considered, with designated Blue Badge parking available.
Immerse yourself in the home of iconic locomotives at the National Railway Museum in York.
It's your chance to get up close to magnificent machinery that defined a turning point in British history, including Mallard – the world's fastest steam locomotive – and the world's finest collection of royal carriages. Relive the golden age of steam with a ride on a replica of the 1829 world-changing Rocket or enjoy a Flying Scotsman tour. The museum also regularly hosts fascinating talks and exhibitions. It's accessible too, with designated Blue Badge bays at the museum entrance.
Stunning waterfalls, described by Charlotte Brontë as "fine indeed; a perfect torrent racing over the rocks, white and beautiful", sit near Top Withens – the supposed setting of Wuthering Heights. A stone beneath the waterfalls is known locally as the Brontë Chair. The wild landscape also fuelled Charlotte Brontë's imagination for Jane Eyre. Indeed, the Brontë sisters lived and worked in Haworth, with the Brontë Parsonage Museum (their family home), open to fans of their fiction.
6. Edinburgh
Highland heritage, the infamous castle and a city famed for its vibrant cultural scene.
Right in the heart of Edinburgh, sits the Scottish National Portrait Gallery. The gallery is home to the national collection of fine art, with masterpieces from Raphael, Rembrandt and Rubens. You can also find present day portraits of the likes of Robbie Coltrane and Sir Alex Ferguson.
Berthed at the Ocean Terminal, the Royal Yacht Britannia, provides an intimate glimpse into how the Royal Family lived on their floating home. An attraction for naval buffs, ardent monarchists and fans of engineering, this is an attraction many can enjoy. All entrances and levels aboard the yacht are accessible, with disabled visitors also having access to the onshore lift.
Sometimes a change of scenery is all you need, whether it's a picnic on the beach, exploring a new city or town, or stepping aboard for a trip on the water. There are so many captivating destinations in the UK for you to explore, with no worries about access or ability.
Stairlifts made for you
All our stairlifts whether straight or curved are customised to suit you and your home so call now to arrange a visit to get your FREE personalised quote!