Since Stannah was founded by Joseph Stannah in 1867, the family-owned business has always had innovation at its heart. This year, as the company celebrates its 150th anniversary, Stannah continues to provide innovative and forward thinking products for its customers.
Stannah is showcasing three exciting, new products, including a brand new free app at the Occupational Therapy Show, taking place at the NEC, Birmingham 22-23 November.

As a world leader in helping customers with movement, access and mobility, Stannah is launching the new Balance app – designed to help healthcare professionals work with patients to improve balance. Developed in conjunction with the Royal College of Art, leading Occupational Therapy (OT) professionals and potential users, the new free app, can be used alongside other therapy methods, with patients being able to access the app and follow the simple steps in their own homes.
Visitors to the Stannah stand (D42) will be able to see the app for themselves, plus find out more about its many uses and benefits.
Alongside the new Balance app, the Stannah team will be showcasing Stannah Connect - a new system that tracks use of a stairlift and appliances around the home, sending data to an app so friends and family can see that a user is up and about and everything is OK.
Also on display for visitors to see will be a new curved rail which when launched in 2018 will offer shorter lead times and reduce the need for a hinge when fitting.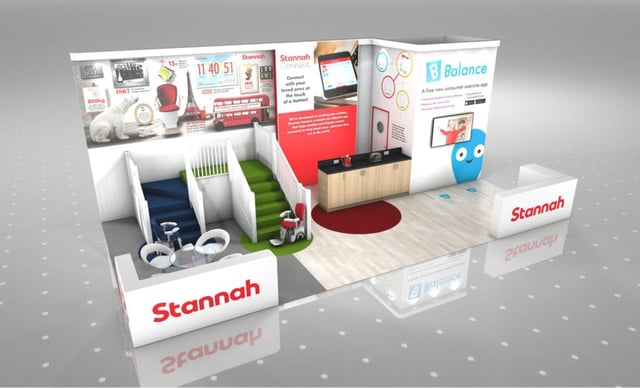 To find out more about the Occupational Therapy Show 2017, visit www.theotshow.com
The Balance app is available for download on iOS devices via iTunes.
We look forward to seeing you there!
Stairlifts made for you
All our stairlifts whether straight or curved are customised to suit you and your home so call now to arrange a visit to get your FREE personalised quote!