Stannah named a Which? Recommended Provider
8 March, 2023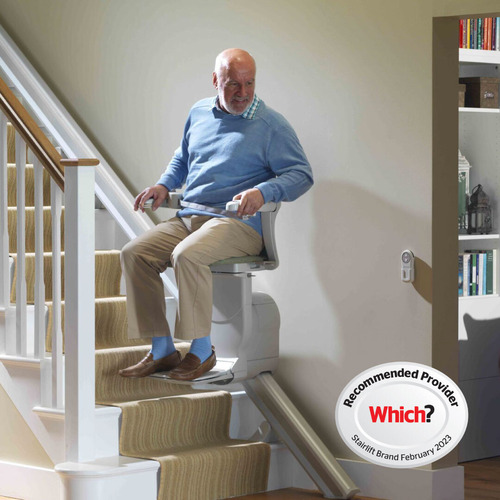 Leading stairlift and home lift company Stannah has been named Which? Recommended Provider – the only stairlift brand to be granted the accolade.
Stannah received recognition as Which? Recommended Provider Stairlift Brand, with an overall satisfaction rating of 75%. The results follow a survey of four stairlift brands in December 2022.
Which? surveyed 663 individuals who had purchased a stairlift, whether for themselves or another person, in the past 10 years. Of those surveyed, 228 were Stannah customers, and three-quarters had bought their stairlifts within the past five years.
The consumer choice experts claim to have only been impressed enough by one brand to grant them Which? Recommended Provider status. The 75% rating is a combination of both customers' overall satisfaction and how likely they are to recommend a brand.
Brands were also ranked on value for money, safety, quality, reliability, comfort, appearance, and ease of use. Stannah received five-star ratings across four of the available categories.
Patrick Stannah, Joint Managing Director, commented "We are extremely proud to be named a Which? Recommended Provider of stairlifts, especially as we are the only brand to be named as such. Our dedication to excellence is a strong commitment across the business as we strive to enhance the lives of all of our customers. Stairlifts can be a life-changing product for our customers, so it's only right that the service we offer holds the same value."
Stannah has evolved from a small family business founded in 1867 to a globally renowned mobility industry leader. Over the past 40 years, it has helped over 900,000 people, confirming the sustainability and longevity of the brand.
About Stannah
Stannah is a world leader in lifting products, supplying stairlifts, passenger lifts, escalators and moving walkways, vertical platform lifts, goods, and service lifts. It is one of Britain's leading engineering companies and remains an independent, family-owned and run firm. The company's experience in the lift industry is unsurpassed, originating in cargo lifts in the 1860s. In 1975, Stannah designed its first affordable, quick-to-install and easy-to-use stairlift and has since sold over 700,000 stairlifts worldwide. 
Stannah is run today by fourth-generation joint chairmen Alan and Brian Stannah, who launched the revolutionary Microlift and Maxilift in the 1960s and the Stannah stairlift in the 1970s. Today they are supported by the fifth and sixth generations of the family – Jon, Patrick, Alastair, Nick, Helen and Sam – who are proud torchbearers for Stannah's long-held family spirit and traditions. Stannah now operates in more than 40 countries and has subsidiaries in 11 countries including France, Italy, and America. 
Stairlifts made for you
All our stairlifts whether straight or curved are customised to suit you and your home so call now to arrange a visit to get your FREE personalised quote!