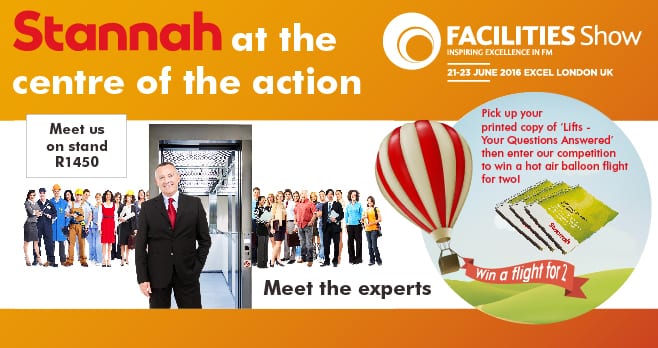 Stannah is centre-stage at The Facilities Show - and sponsors of the FM Operational Excellence Arena.
Stannah Lift Services is demonstrating its continuous support of The Facilities Show and to the thousands of facilities professionals who visit the show over 3 days.
In 2016 Stannah is sponsoring the FM Operational Excellence Arena from which a programme of informative talks will offer practical advice on some of the many challenges facing the facilities industry every day.
Peter Perry, Managing Director of Stannah Lift Services, Maintenance & Repair Division, comments:
"We look forward to meeting old friends and making new ones at the show. Do come along to Stand R1450 and join us for refreshments and plenty of lift expertise.
You may well know Stannah for stairlifts worldwide, part of the Stannah Group. We are proud of our success with our domestic products but we are at the show because we have equal success in our commercial business. We currently look after over 90,000 lift products in the UK and supply and install all types of people-moving lifts, goods lifts, escalators and moving walkways. You will probably use our lifts on your journey to ExCel on the 21st-23rd June as we look after the DLR network, maintain all Network Rail lifts across the UK, take care of the Emirates Air Line to and from the O2, supply and maintain escalators and moving walkways in major infrastructure projects like Kings Cross Station and for national retailers UK-wide. So if you have any questions about lift management we know we can help."
Stannah lift experts will be presenting two sessions in the FM Excellence Arena.
On 21st Mike Wells, Stannah Compliance Manager (Lifts) will be covering those awkward questions of what to do if there is a fire in your building and who does what if someone becomes trapped in a lift. Have you got these covered?
On 22nd Dan White, South West England & South Wales Branch Manager will take you through 'How to get the best out of your service provider'; you may be surprised at some people's unorthodox approaches!
There will be time for questions at the end of each session and our experienced engineers will be available on Stand R1450 throughout the three days of the show.
Don't forget to pick up your free booklet: 'Lifts -Your Questions Answered' and enter our competition to win a hot air balloon trip for two - the ultimate lift!
Stairlifts made for you
All our stairlifts whether straight or curved are customised to suit you and your home so call now to arrange a visit to get your FREE personalised quote!