Stairlift servicing: How to troubleshoot a stairlift in your Forever Home
11 October, 2023
There are thousands of stairlifts across the UK helping to ensure people remain independent in their homes. Before buying or renting a stairlift, you'll need to consider choices, colour schemes, installation and price. But once you, or someone you know, becomes the proud owner of a new stairlift, often the question asked is, "Now what?"
Whether a straight stairlift or on a curved staircase, here's how you can care for and repair your lift, know what to look out for, and the plans you can put in place to ensure complete peace of mind. Remember to get a stairlift service annually, too.
Top tips for new owners
Read your

stairlift manual

thoroughly and take the time to familiarise yourself with its features and operation. Reset features are particularly important – this is often the first option to resolve any issue you may be experiencing

If you are home alone, always carry a mobile phone when using your stairlift to alert others if you need help

Call on friends or family to help troubleshoot minor issues; if unsure, always call your service provider, as they can often talk you through resolving many issues yourself

If your stairlift stops on the stairs, it's best to stay seated and see if you can restart it or contact someone for emergency assistance. If you have to get off, make sure you can do so safely, take it slowly and ideally, have someone with you for support

Know who to call if you have an issue with your stairlift. For some new owners,

servicing, repairs and breakdowns

are included as part of the warranty with the purchase, but if not, ensure you know who to call for assistance and what the associated costs will be for any stairlift service contracts
We have stairlift troubleshooting guides and manuals to help you resolve simple issues. If you cannot resolve any issues yourself, our dedicated service team and branches are available to help.
Ongoing stairlift maintenance
A stairlift is a substantial piece of engineering, and so, just like a boiler or a car, it should be regularly maintained to keep it in perfect working condition. This is typically included as part of a stairlift servicing plan, either provided as part of the cost of the installation or as an ongoing stairlift service contract with your chosen stairlift servicing company.
On a visit for stairlift servicing, one of our stairlift engineers will visit your home and undertake a comprehensive examination of the stairlift components, mechanical parts, electrical systems (including the battery condition), safety features and overall functionality to ensure your stairlift continues to work smoothly and conduct any stairlift repairs necessary and gives you many years of stress-free stair travel!
Even with regular maintenance visits, it's possible to experience some problems using your stairlift in your day-to-day life, and it's always handy to know where to start when checking for a possible problem.
If you're unable to resolve the issue, thankfully, the same service plan that covers maintenance visits should cover you for any callouts and stairlift repairs (though it's worth checking if there are any additional costs). If you don't have a service plan, it's worth contacting a company that can attend should an issue arrive – but always check the likely costs and timeframes.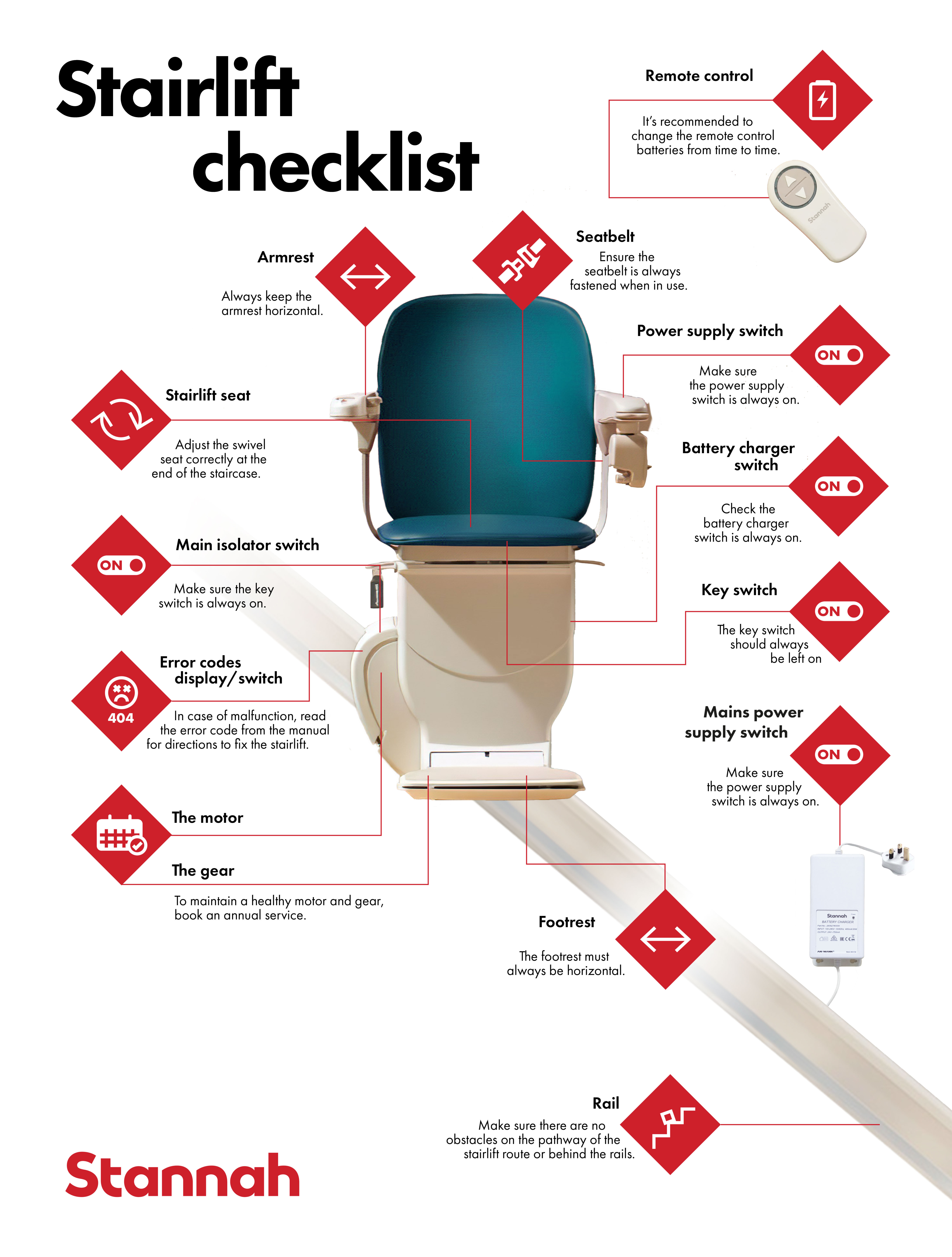 Know how to clean a stairlift
Stairlift cleaning helps to keep it in good working order. Every week or so, stairlifts should be given a once-over with a dry cloth or feather duster to prevent dust from building up. This includes the track, seat and footrest. Typically, no lubrication is required; a stairlift engineer will do this for you as part of any servicing plan. Avoid any trips and falls by only cleaning your stairlift when it is at the bottom of the stairs – call on a loved one for help if needed.
Stairlift FAQs
Have an issue with your stairlift? Read through our FAQs below, which answer all of the questions most commonly Googled by stairlift users.
Why won't my stairlift move?
Firstly, check the stairlift is switched on, then check for any obstructions around the seat and footrest, such as toys or clothes. The stairlifts detect any obstacle, and sensors stop the stairlift for safety.
How does the swivel seat work?
There are several seat styles depending on the model, as well as manual and powered swivel seats. A manual swivel seat will have a lever on each side that will either pull up or push down to allow the seat to be swivelled; a powered swivel seat will automatically turn the seat once it reaches the end of its journey by simply keeping the control pressed.
Why is there a light on my stairlift?
The light around the on/off rocker switch will be on when the stairlift is ready to operate and will pulse when the stairlift is switched off; if the light is completely off, check the key switch and battery isolator switch are both on.
Where is the battery isolator switch?
The battery isolator switch is typically located on the carriage of the stairlift, below the seat; it may be located behind the stairlift or on the front, depending on the model.
Why is my stairlift remote control not working?
If the remote control stops working, check and replace the batteries, remove the remote from the holder and slide the cover off the back, just like a TV remote.
Why is my stairlift beeping?
If the stairlift beeps, this indicates an error, such as a power failure or a problem with the charger. It may also be that the stairlift isn't correctly positioned over the charge point, or the batteries need replacing.
Why does my stairlift show an error code?
There are a variety of codes, but not all are error codes. Refer to your manual or our online self-help guides for what they indicate and any simple fixes.
How do you reset a stairlift?
Remove the key and reinsert it. The stairlift should start once you press the directional control in the direction you wish to travel.
Why is my stairlift making a noise?
If the stairlift starts to make an unfamiliar noise during travel, it should be looked at by one of our qualified stairlift engineers. The sooner any potential issue is diagnosed and rectified, the sooner your stairlift will operate smoothly and quietly again.
Having your stairlift serviced is important, no matter which of our stairlift models you own or how old the lift is. A stair lift service ensures you have extra peace of mind that you can move between the floors of your home safely. To further protect yourself from the unlikely event of future stairlift problems, take out an extended warranty for regular servicing from a trained professional.
Stairlifts made for you
All our stairlifts whether straight or curved are customised to suit you and your home so call now to arrange a visit to get your FREE personalised quote!