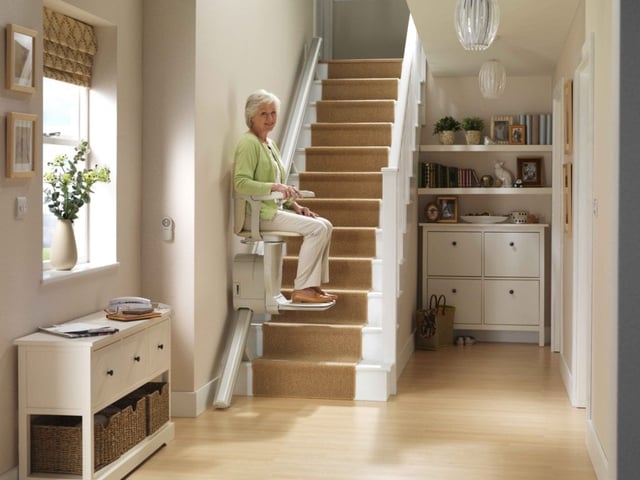 A stairlift brings invaluable independence and many customers come to rely on their stairlifts to keep them active in their own homes. That is why it is vital to ensure that, in the unlikely event you experience a problem with your stairlift, you have a stairlift service package that you can rely on.
A stairlift is a substantial piece of engineering and so, just like a boiler or a car, should be serviced every year to keep it in perfect working condition. Every new stairlift should come with a two year warranty that includes two free services as standard. Often a first service is completed after the first few months just to ensure that everything is working perfectly and any adjustments can be made.
Reconditioned stairlifts should have at least a one year warranty and again a maintenance visit should be included.
Once your warranty has expired any reputable retailer or manufacturer should be able to offer you a service package to suit you. A basic package will include an annual service, priority access and reduced rates for call outs whereas a premium package will often cover parts and call outs during office hours, with reduced rates for out of hours call outs.
Whether or not you choose to take out a stairlift service contract make sure you have access to a 24 hour, 365 day a year service so that no matter what the day or time you can get an engineer if your need is really urgent. Remember though that calls outside of office hours are often charged at a higher rate so if you are able to accommodate an office hours visit it can reduce your bill significantly.
Another way to keep costs down is to buy an extended warranty at the same time as you purchase your stairlift. This can work out significantly cheaper in the long term.
Anyone you invite into your home to service your lift should always be able to show you ID, be suitably qualified and treat you with the utmost respect, explaining what the costs will be and keeping you informed of progress.
Looking after your stairlift
In between services it is important that you continue to look after your stairlift to keep it looking pristine. Keep dust and dirt off your rail and your upholstery looking pristine with an occasional wipe with a damp cloth.
With an annual service and some TLC now and again your stairlift should give you trouble free service for years to come.
Stannah's stairlift service contracts
Here at Stannah we are passionate about delivering world class service to match our world class stairlifts. To ensure we can reach our customers quickly we have a network of over 300 engineers working from 11 service branches across the country. Every one of our engineers is NVQ qualified and our commitment to our customers has been rewarded with the Which? Trusted Traders accreditation.
Our engineers are available 24/7 and we offer two levels of service contract. We can also respond to ad hoc requests from those not on contracts. For more information see our Aftercare page.
Stairlifts made for you
All our stairlifts whether straight or curved are customised to suit you and your home so call now to arrange a visit to get your FREE personalised quote!